Contracts for Marines Corps' new base on Guam are nearing $1.5 billion
By
Stars and Stripes
April 20, 2022
---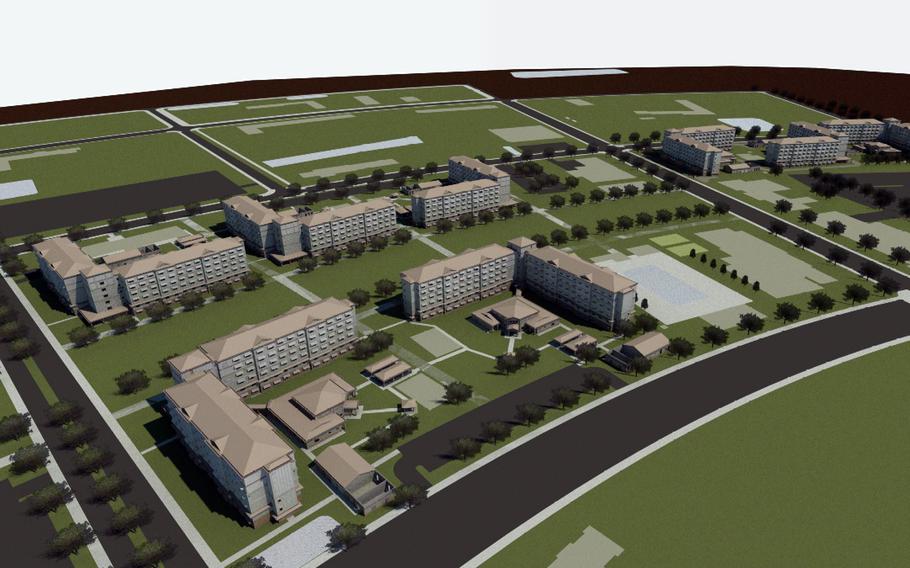 The Navy since January has awarded another $308 million in building contracts at Camp Blaz, the new Marine Corps base on Guam, bringing the total spent on the project since October 2020 to $1.5 billion.
Contracts approved in the past month include $106 million to Black Construction Corp., of Guam, to build bachelor officer quarters; $35 million to Gilbane Building Co., of California, for construction of an armory; $36 million to Hensel Phelps Construction Co., of Hawaii, for a warehouse; and $49 million to several businesses for natural resource management projects, according to news releases from Naval Facilities Engineering Systems Command Pacific.
The Navy awarded two contracts in January and February: $38.7 million to APTIM Construction JV LLC, of Louisiana, to build a police station and $44 million to Environmental Chemical Corp., of California, for a water well field at Andersen Air Force Base.
Blaz is part of an agreement between the U.S. and Japan to relocate some Marine Corps assets from Okinawa. Under the agreement, the Defense Policy Review Initiative, Japan is paying $3 billion to build portions of the base.
Contracts for five more projects, including a public works and maintenance shop and an embarkation facility, are expected to go out for bid later this year, according to the engineering systems command's website. Those projects are estimated to be worth between $275 million and $800 million.
Blaz, the Marine Corps' first new base to be activated since 1952, is expected to accommodate 5,000 members of the III Marine Expeditionary Force who are set to move in over the next five years from Okinawa.
Components slated to move to Guam include the command element of the 3rd Marine Expeditionary Brigade, the 4th Marine Regiment headquarters, Combat Logistics Battalion 4, and elements of Marine Air Control Group 18 and 3rd Marine Logistics Group, said Headquarters Marine Corps spokesman Capt. Andrew Wood in a Tuesday email to Stars and Stripes.
The base will also host two infantry battalions, an aviation logistics detachment and a wing support detachment, along with a mix of rotary wing, tilt-rotor and fixed-wing aircraft, Wood said.
"The current program of record develops Guam as a strategic hub that, combined with the Marines stationed in Japan and Hawaii and rotating through Australia, will allow the Marine Corps to maintain a forward presence in the Indo-Pacific region," Camp Blaz spokesman Capt. Anthony Ramos told Stars and Stripes by email Tuesday.
---
---
---
---