Chinese ambassador warns against a second THAAD battery in South Korea
By
Stars and Stripes
April 11, 2022
---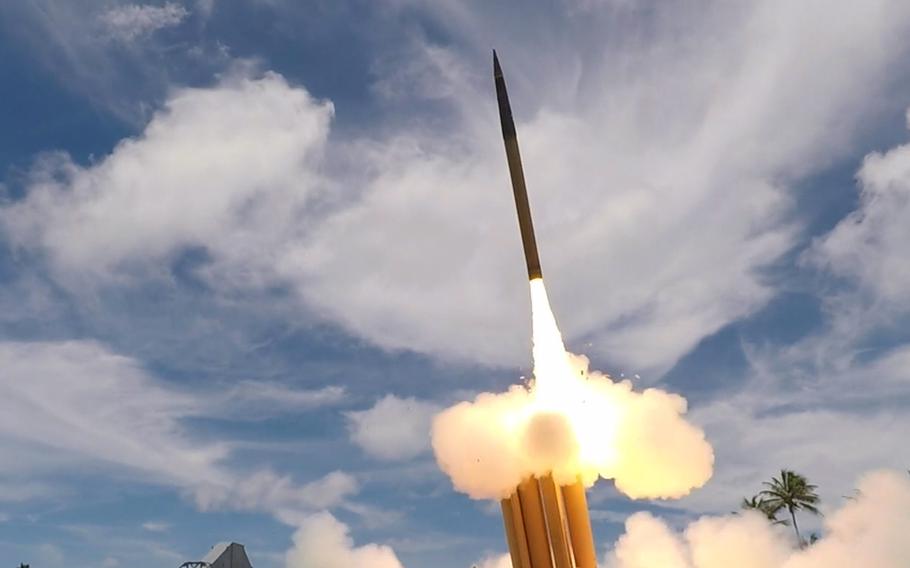 South Korea will hazard its improving relationship with China if it deploys a second American-made missile defense battery, China's ambassador in Seoul implied Thursday.
The Terminal High Altitude Area Defense system, or THAAD, is a sensitive topic in relations between the two countries, and South Korea "should not be treading in that step again," Chinese Ambassador to South Korea Xing Haiming said in a speech Thursday at the Millennium Hilton Seoul hotel, according to news reports the next day.
The $800 million THAAD missile defense system developed by Lockheed Martin has been staged at a South Korean military base in Seongju, roughly 130 miles south of Seoul, since 2017.
The THAAD battery would be deployed "as a defensive measure" against threats from North Korea, U.S. Forces Korea said in 2016.
"When the THAAD system is deployed to the Korean Peninsula, it will be focused solely on North Korean nuclear and missile threats and would not be directed towards any third party nations," the command said at the time.
Xing, speaking at an event hosted by the Institute for Global Strategy and Cooperation, described China-South Korea relations as "really bad" following the THAAD deployment. They had "recovered the right track because the two nations made joint efforts," he said Thursday.
China, one of North Korea's few allies, opposed the THAAD deployment and continues to consider it harmful to Beijing's security interests in the region.
China understood South Korea has a "reasonable defense need, but we could not understand or accept any deployment that goes beyond the defense need," the Foreign Ministry said in 2016.
China responded to the THAAD deployment with what experts believe was a state-sanctioned boycott against South Korea in 2017. South Korea's economic losses with its top trading partner came to around $7 billion, according to South Korean lawmakers.
The two countries have since agreed to normalize relations, but President-elect Yoon Seok-youl raised concern in China by campaigning on the idea of deploying a second THAAD battery to broaden South Korea's missile defense capability.
Xing said relations with South Korea were still recovering and he remained hopeful that THAAD "is a matter that they can overcome" due to the countries being "bound together by a common destiny."
The U.S. has improved THAAD since its first deployment of a battery in 2008. The Army used a remote launch kit for the system for the first time other than tests during a recent exercise in the Northern Marianas, according to a March 16 news release.
Stars and Stripes reporter Yoo Kyong Chang contributed to this report.
---
---
---
---