Army's Guam-based THAAD missile defense system gains agility with remote-firing capability
By
Stars and Stripes
March 12, 2022
---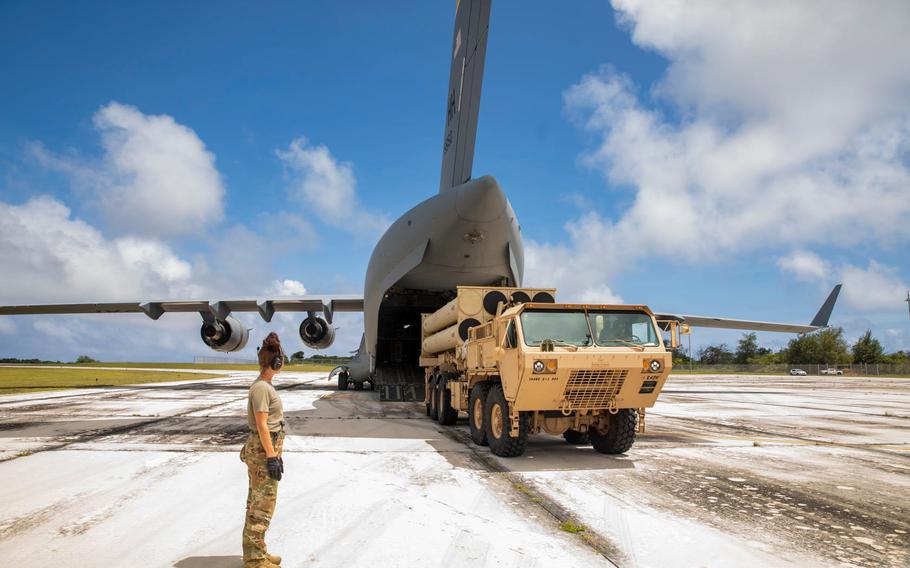 Although a comprehensive missile defense system for Guam remains a work in progress, the Army recently tested technology that makes its Terminal High Altitude Area Defense, or THAAD, system for the island nimbler and more versatile.
The 94th Army Air and Missile Defense Command recently wrapped up Operation Talon Lightning, the first exercise to remotely operate a THAAD launcher in the Northern Mariana Islands, according to Capt. Nicholas Chopp, a spokesman for the Hawaii-based command.
The Army has operated a THAAD – consisting of a command-and-control center, radar array and interceptor launchers – from Andersen Air Force Base on Guam since 2013.
Earlier this month, an Air Force C-17 Globemaster III plane shuttled a THAAD launchers from Guam to Rota Island, about 55 miles to the north. It was equipped with new software designed for remote communication.
"The soldiers have been working since the month of January learning how to operate the new capability and learning how to configure a system in order to make this mission happen last week," Maj. Juan F. Rivera, the future operations planner for the 94th, told Stars and Stripes by phone Wednesday.
No interceptor missiles were brought to Rota, Rivera said. The exercise, which ended March 7, tested only the capacity for the command center on Guam to communicate remotely with the crew of roughly 20 soldiers manning the launcher.
"I think we have achieved 100% mission success on demonstrating remote-launch capability," he said.
The battery was able to communicate and essentially extend its ability beyond Guam to defend the Northern Marianas and Guam simultaneously, Rivera said.
"With this remote launch capability, the fire control officers can stay in Guam and fire missiles from other islands and other places in the second island chain," he said.
Guam is of growing strategic importance to the United States as it grapples with a more assertive China. As the closest U.S. territory to the contested South China Sea, Guam is seen by the Pentagon as a strategic hub for projecting power in the region.
Beijing has taken notice. In 2020, China's air force released a video showing a simulated bomber attack on what appeared to be Andersen.
The head of U.S. Indo-Pacific Command, Adm. John Aquilino, reiterated the importance of Guam and its defense during a hearing Wednesday before the House Armed Services Committee.
"The area in the Indo-Pacific is expansive – half the globe," he said. "And a lot of it is water. So to be able to posture forces in places that matter with the right capabilities, we've focused on Guam as a strategic hub, as you would expect."
Aquilino told the lawmakers that a comprehensive missile defense system for Guam is his "number one unfunded request."
The Pentagon is in the final stages of a missile defense review that will "lay out strategy and priorities" and clarify the way forward on Guam's missile defense, Ely Ratner, assistant secretary of defense for Indo-Pacific security affairs, told committee members.
For the time being, the Army's THAAD remains the island's primary land-based missile defense system. But with the new-found capability of operating as a detached system, it becomes a bit harder for an adversary to disable it.
"It's sort of this concept of, 'Don't keep all your eggs in one basket,'" Rivera said.
"We continue to modernize our weapon systems so that we're not so predictable and one-dimensional," he said. "We will continue to evolve our systems, and this is one example of how we're able to work with our defense industry to make our system more survivable and provide even greater protection than we already do"
---
---
---
---