North Korea could celebrate founder's birthday with nuclear test, US official warns
By
Stars and Stripes
April 7, 2022
---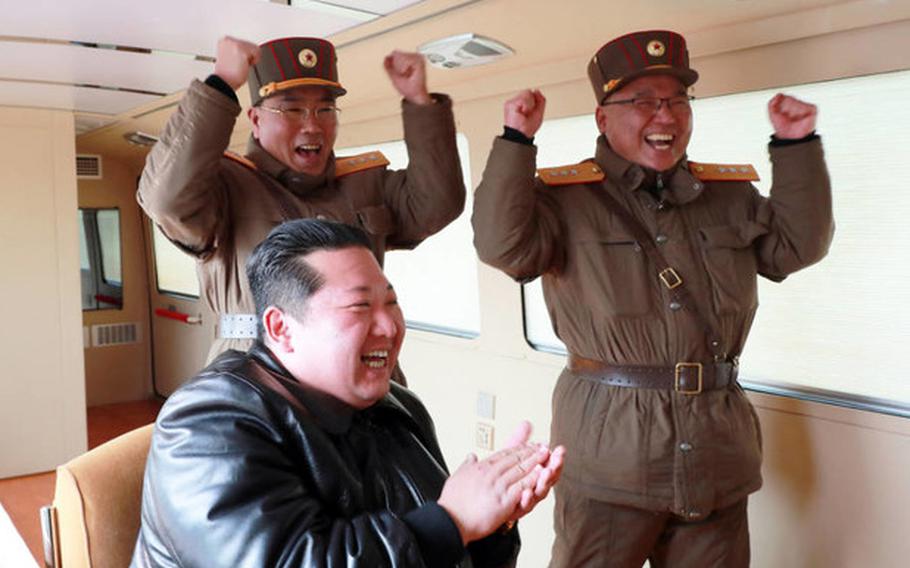 North Korea has ignored U.S. offers for talks and may be preparing a nuclear test to celebrate the birth of the nation's founder, according to the U.S. State Department.
Pyongyang could test a nuclear weapon April 15, when the North will mark the 110th birthday of late leader Kim Il Sung, the U.S. Special Representative for North Korea Policy, Sung Kim, told reporters Wednesday.
"I don't want to speculate too much, but I think it could be another missile launch. It could be a nuclear test," he said, according to a Thursday report by The Korea Times.
North Korea has conducted six known nuclear weapons tests since 2006, the most recent on Sept. 3, 2017. There was a pause in tests during the administration of former President Donald Trump, who held three summits with the North's current leader, Kim Jong Un.
The pair issued a joint statement after meeting in Singapore in June 2018, under which Pyongyang agreed to denuclearize in exchange for normalizing relations with the United States.
North Korea has conducted a series of missile tests so far this year and fired an intercontinental ballistic missile on March 24 that landed in Japan's exclusive economic zone, outside its territorial waters.
And it appears to have launched a construction project at Punggye-ri, a nuclear-testing facility dismantled during inter-Korean negotiations in 2018, according to satellite images seen by U.S.-based analysts.
"The construction and repair work indicate that North Korea has made some decision about the status of the test site," Jeffrey Lewis, director of the center's East Asia Nonproliferation Program, and Dave Schmerler, a senior research associate, wrote in a report last month. "One possibility is that North Korea plans to bring the test site back to a state of readiness to resume nuclear explosive testing."
The North hasn't responded to Washington's offers to restart denuclearization talks, Sung Kim said, according to an Agence France-Presse report Thursday.
"We have not received any response from Pyongyang, which is very disappointing, because we have sent several messages, both public and private, inviting them to a dialogue without any conditions," he said. "Instead, they have initiated a series of missile tests that recently culminated in at least three ICBM launches. These actions pose a serious threat to regional stability."
North Korea is likely to consult China about any potential nuclear test, according to Kim Hyun-wook, an American studies professor at Korea National Diplomatic Academy in Seoul.
If a test happens and China fails to support additional sanctions, the international community would likely be critical of Beijing. So, China could offer the North economic support if it agrees not to carry out a test, he said by phone Thursday.
Pyongyang may be taking advantage of recent world events, including Russia's invasion of Ukraine, according to Ralph Cossa, president emeritus of the Pacific Forum think tank in Hawaii.
The North's provocations are being overshadowed by the war, he told Stars and Stripes by phone Thursday.
"The North Koreans are going to do something … another missile launch or another nuclear test," he said. "They figure this is as good a time as any to create a little mischief."
North Korea can already build a nuclear weapon, but it can learn from more testing, Cossa said. Ultimately, Pyongyang's goal is the removal of sanctions stemming from its nuclear tests, something that is "not going to happen," he said.
However, it seems unlikely that Russia, itself sanctioned due to the war in Ukraine and with U.N. Security Council veto power, would back more sanctions as a result of any new nuclear test by the North, Cossa said.
A nuclear test would help North Korea create division in South Korea as President-elect Yoon Seok-youl prepares to take office next month, he said.
Yoon visited Camp Humphreys, the largest U.S. military on the peninsula, south of Seoul, Thursday, the Yonhap news agency reported that day.
South Korea talked about the possibility of a stronger American military presence on the peninsula, possibly including U.S. nuclear bombers, at a meeting between a delegation sent by Yoon and U.S. national security adviser Jake Sullivan at the White House, Yonhap also reported Thursday.
---
---
---
---