Movement at North Korean port may signal new plans for experimental sub
By
Stars and Stripes
April 1, 2022
---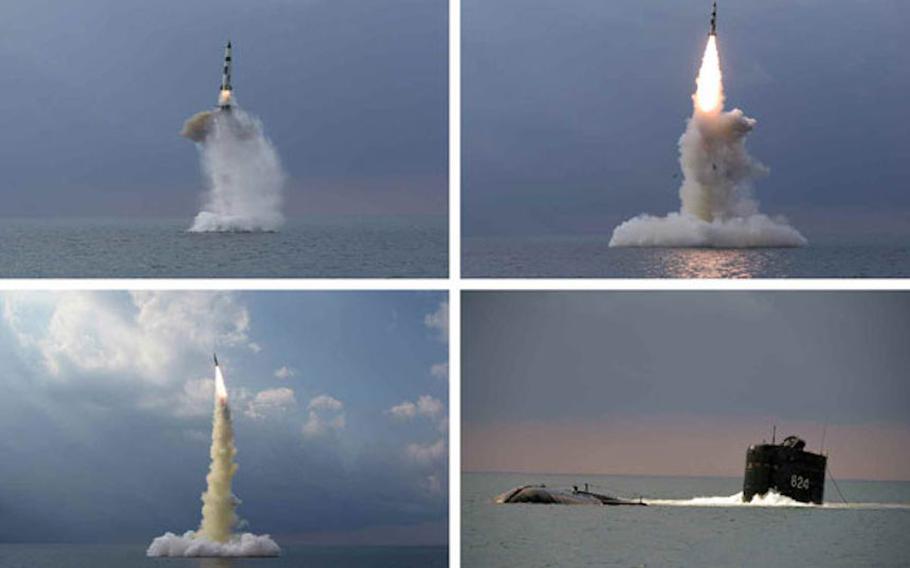 Analysts detected "unusual movement" of an experimental ballistic-missile submarine at a North Korean shipyard after combing through satellite imagery in March, according to a report published Tuesday.
The submarine, docked at the Sinpo South Shipyard on the eastern coast, was spotted being pulled out from under a canopy by a tugboat, according to a report by Beyond Parallel, a Korean Peninsula monitoring group that is part of the Washington, D.C.-based Center for Strategic and International Studies.
The Beyond Parallel analysts surmised that the vessel could be undergoing modifications, repairs or preparations for an upcoming test of a submarine-launched ballistic missile. The movements may also be part of a strategic ruse or a combination of reasons, according to the report.
Satellite images collected between Feb. 16 and March 27 showed a floating dry dock, which is normally stationed at the pier, moved to a larger construction hall and then back to the pier.
North Korea's state-run media agency claimed to have tested a "new type" of SLBM on Oct. 19 that purportedly included "lots of advanced control guidance technologies." It was the first known SLBM test by North Korea since 2019.
The missile "will greatly contribute to putting the defense technology of the country on a high level and to enhancing the underwater operational capability of our navy," the regime's Korean Central News Agency said at the time.
The South Korean military tracked a short-range ballistic missile fired from the same shipyard in October, it said at the time.
That test came one month after South Korea successfully test fired an SLBM of its own design, becoming the first country without a nuclear weapon to do so. Seoul has made advances in its missile technology following the termination of U.S.-South Korean missile guidelines last year that restricted the range and payload of its missile program since 1979.
South Korea's military tested its first solid-fuel rocket on Wednesday, which Defense Minister Suh Wook described as an important step in the country's reconnaissance capabilities amid North Korea's recent provocations. 
North Korea has conducted at least 11 rounds of missile tests so far this year, including its March 24 test of an intercontinental ballistic missile capable of reaching the U.S. mainland on a standard trajectory. The launch was the regime's first ICBM test in nearly five years.
Analysts and the South Korean military expressed doubts about North Korea's claims that it had tested a new type of Hwasong-17 missile on March 24. The Yonhap News Agency reported discrepancies between weather patterns on the test day and photographs provided by the North as proof of the test.
The Pentagon on March 10 said North Korea was planning to test a new ICBM and that its previous two tests on Feb. 26 and March 4 were "likely to evaluate this new system before conducting a test at full range in the future, potentially disguised as a space launch."
---
---
---
---