North Korea takes a victory lap as evidence shows it revamping nuclear test site
By
Stars and Stripes
March 28, 2022
---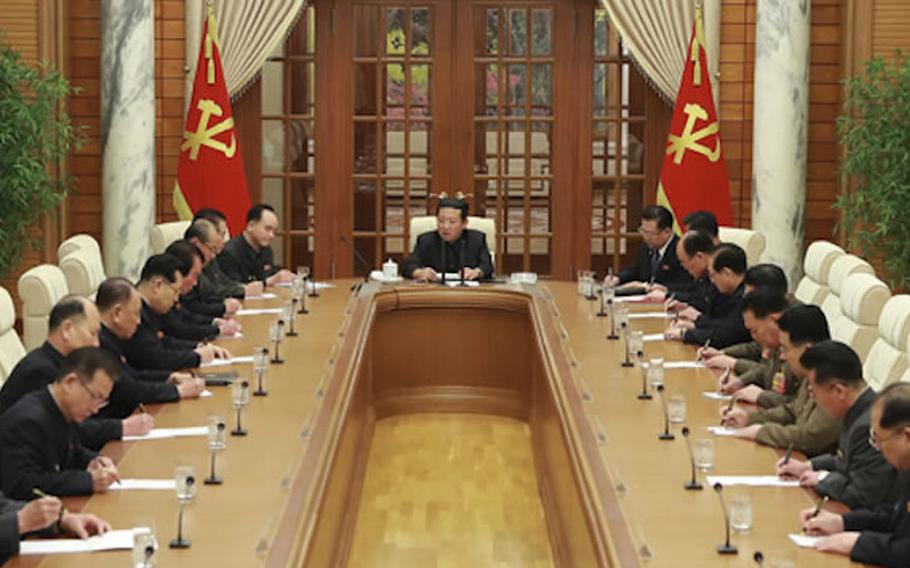 CAMP HUMPHREYS, South Korea — North Korea's leader on Monday pledged to continue the "sacred cause" of developing its nuclear arms as news reports suggested the regime was renovating its nuclear test site.
Kim Jong Un made the remarks at a photo session with workers who purportedly test-fired the Hwasong-17 intercontinental ballistic missile on Thursday, according to North Korea's state-run news outlet.
At the photo session, Kim "expressed … our Party's will for building the strong defense capabilities to defend the security and future of our country and people by more reliable and perfect and stronger, overwhelming strategic force," the Korean Central News Agency reported.
Analysts have downplayed North Korea's claim of success by pointing to discrepancies in the weather patterns during the ICBM launch on Thursday and photographs taken by the regime on that day. Intelligence agencies from South Korea and the United States believe the North likely launched a smaller Hwasong-15 ICBM, rather than the farther-reaching Hwasong-17, according to South Korean news reports.
Despite the contested claims, North Korea's latest missile launch, its 11th test so far this year, renewed concerns from the South and United States. Military officials from both countries in recent weeks assessed North Korea was planning on firing a Hwasong-17 "at full range."
"The United States strongly condemns these launches, which are a brazen violation of multiple United Nations Security Council resolutions, needlessly raise tensions and risk destabilizing the security situation in the region," Pentagon spokesman John Kirby said in a statement March 10.
The ICBM launch represented the first such test since 2017, when North Korea self-imposed a moratorium on testing missiles and nuclear weapons as negotiations between it and the U.S. and South Korea were underway.
Regardless of North Korea's missile variant, the recent test results surpassed the altitude and flight distance of the previous Hwasong-15 in 2017, once again putting the continental U.S. within striking distance.
Kim's remarks came as reports indicate work is underway to restore North Korea's nuclear testing site at Punggye-ri.
South Korea's Yonhap News Agency reported Sunday that North Korea, according to government sources, was working on developing a pathway to an underground tunnel at the test site that was supposedly demolished by North Korea during the inter-Korea peace talks in 2018.
Commercial satellite images previously indicated that North Korea was repairing and building at the site, according to analysts from the James Martin Center for Nonproliferation Studies at the Middlebury Institute of International Studies.
"One possibility is that North Korea plans to bring the test site back to a state of readiness to resume nuclear explosive testing," Jeffrey Lewis, director of the center's East Asia Nonproliferation Program, and Dave Schmerler, a senior research associate, wrote in a report published March 7.
North Korea's public statements and mounting evidence of renovations at its nuclear test site suggest a nuclear test on the horizon, the regime's first since Sept. 3, 2017, when it claimed to have successfully tested a hydrogen bomb.
North Korea has been "introducing a new generation of missiles" for a delivery system without a recent nuclear test for a warhead, Yang Uk, an associate research fellow at the Asan Institute for Policy Studies in Seoul, told Stars and Stripes by phone on Monday.
"They will definitely have that test," Yang said. "It's just a matter of when."
---
---
---
---