North Korea boasts 'new type' of weapon system after first ICBM test in 5 years
By
Stars and Stripes
March 25, 2022
---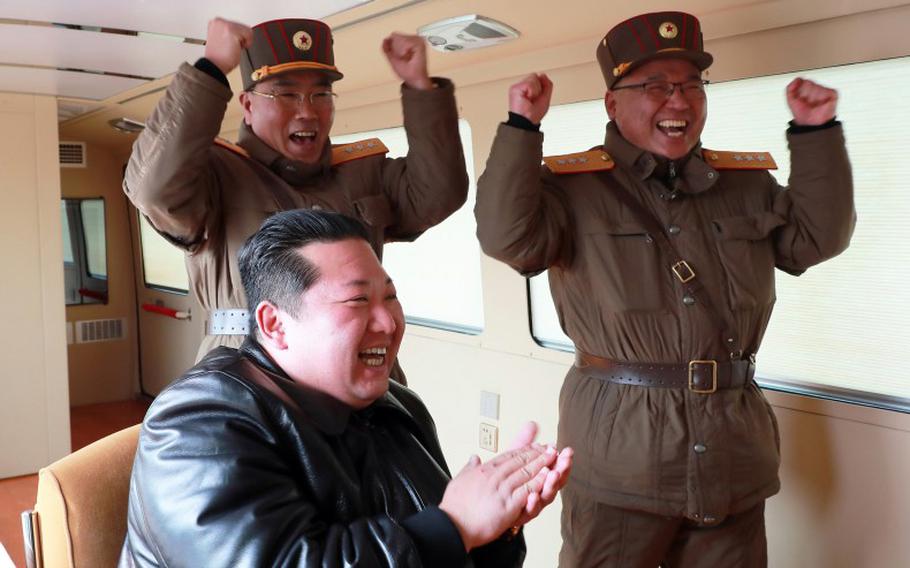 CAMP HUMPHREYS, South Korea — North Korea announced it successfully test-fired a new type of intercontinental ballistic missile Thursday and that the country was "fully ready to thoroughly curb and contain any dangerous military attempts" from the United States.
North Korean leader Kim Jong Un personally guided the ICBM launch from Pyongyang International Airport, the state-run Korean Central News Agency said Friday.
The missile, purportedly a Hwasong-17 class, was touted by KCNA as a novel weapon "and a reliable nuclear war" deterrent.
KCNA said the missile reached an altitude of nearly 3,900 miles and traveled about 680 miles before coming down in the East Sea, which is more commonly known as the Sea of Japan.
South Korea's Joint Chiefs of Staff reported similar data after detecting the launch just after 2:34 p.m. Thursday. The ICBM test was North Korea's first in nearly five years.
"The new type weapon system to be operated by the strategic forces of [North Korea] under a plan for building up the state nuclear force will creditably perform its mission and duty as a powerful nuclear war deterrent," KCNA said.
Analysts say North Korea's latest projectile is the longest-range missile the communist regime has tested, so far, outreaching 2017's Hwasong-15 ICBM, which was capable of reaching the continental U.S. on a standard trajectory.
"The size alone makes it one of, if not, the largest liquid-fuel ballistic missiles out there," Dave Schmerler, a senior research associate at the U.S.-based James Martin Center for Nonproliferation Studies, told Stars and Stripes by phone on Friday.
Schmerler said it's not clear whether North Korea had a simulated payload during the missile test, but in theory, it could have the largest payload capacity in the country's arsenal due to its size.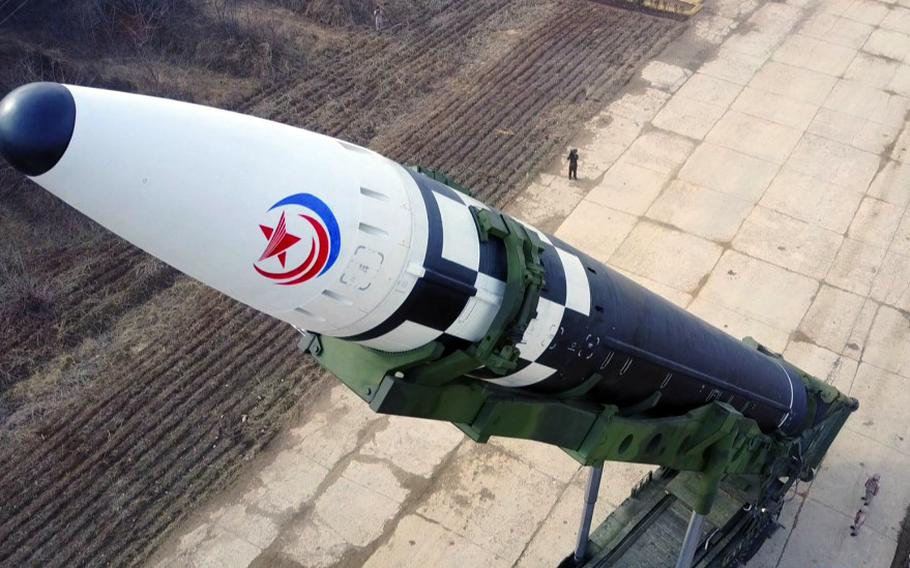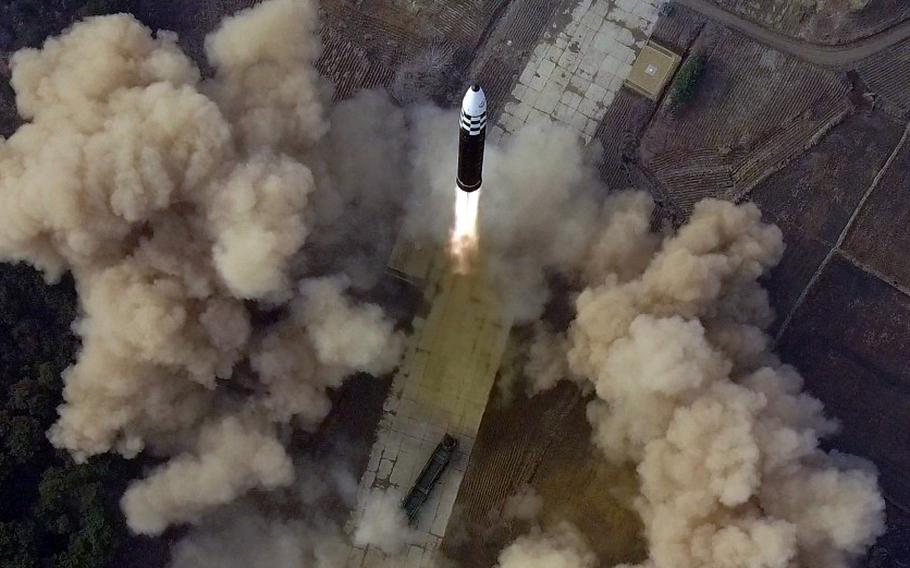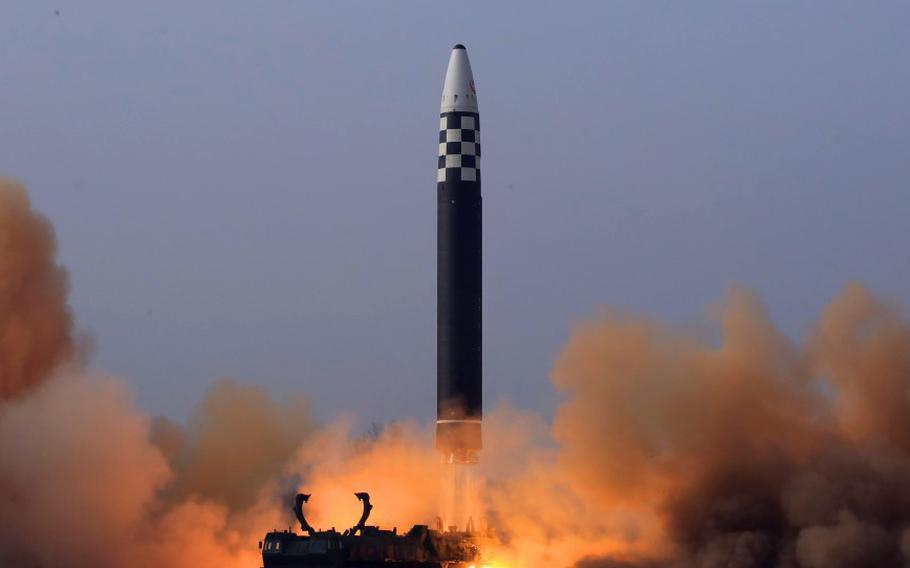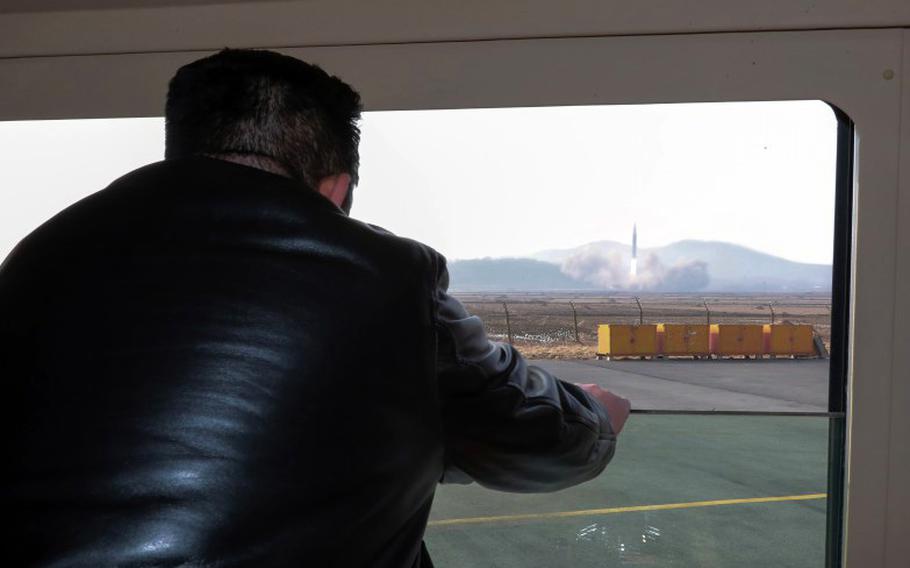 The U.S. and South Korean militaries are still investigating the launch and have yet to identify the projectile, according to statements from both countries.
Kim paused ICBM testing in 2017 as he, President Donald Trump and South Korean President Moon Jae-in expressed a desire to thaw tensions by holding summits. Those efforts now appear moot following Kim's resumption of long-range testing after 10 other rounds of missile tests so far this year.
Moon, who is attempting to broker an end-of-war declaration with Kim before the end of his tenure in May, said the latest test was "a breach of the suspension of ICBM launches promised by North Korea" in addition to violating U.N. Security Council resolutions.
"It is a really emergency and fraught situation," Moon said, according to a statement from the presidential Blue House on Friday night. "We are in a time of changes in government, and we should not allow a gap in national security, even an inch."
Roughly two hours after the North's launch, South Korea's military conducted its own military drill to display "our capabilities and will to react and punish immediately."
The Ministry of Defense said it fired several missiles and dropped Joint Direct Attack Munition bombs at unspecified targets in the sea.
The Defense Department in recent weeks warned that North Korea was planning to test a new ICBM. Pentagon press secretary John Kirby in a March 10 statement said that two tests conducted on Feb. 26 and March 4, which "did not demonstrate ICBM range," were "likely to evaluate this new system before conducting a test at full range in the future, potentially disguised as a space launch."
White House press secretary Jen Psaki said Thursday's launch was a "brazen violation" of U.N. Security Council resolutions and "needlessly raises tensions and risks destabilizing the security situation in the region."
"This action demonstrates that [North Korea] continues to prioritize its weapons of mass destruction and ballistic missile programs over the well-being of its people," she said in a statement Thursday.
The U.S. State Department is imposing additional sanctions against five entities from Russia and North Korea "for transferring sensitive items to North Korea's missile program," according to a statement Friday from department spokesman Ned Price.
"These measures are part of our ongoing efforts to impede [North Korea's] ability to advance its missile program and they highlight the negative role Russia plays on the world stage as a proliferator to programs of concern," he said.
Stars and Stripes reporter Yoo Kyong Chang contributed to this report.
---
---
---
---