Japan mulls acquiring means to counterstrike enemy military bases during an attack
By
Stars and Stripes
April 5, 2022
---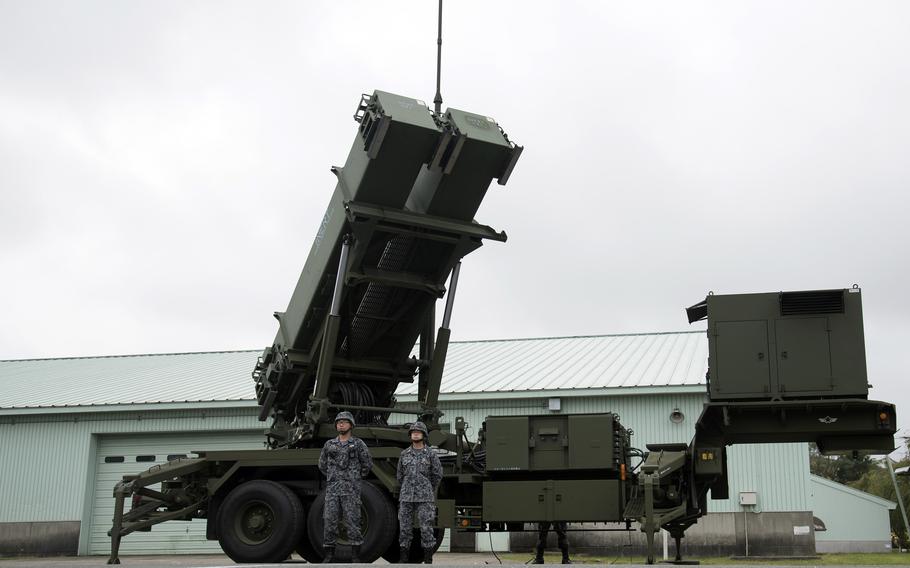 TOKYO – A capability to strike enemy bases would let potential adversaries know they'd "pay a price" for attacking Japan, according to the country's defense minister.
The Japanese government, in closed-door hearings the past few months, has heard from security experts about possibly acquiring the means to conduct counterstrikes, Kyodo News reported Monday.
The Defense Ministry plans discussions over acquiring this capability, Defense Minister Nobuo Kishi said in another Kyodo report Tuesday.
Chinese Communist Party channels screened a video last summer that threatened a nuclear strike if Japan intervenes in war over Taiwan, Australia's Sky News reported July 19.
North Korea test-fired an intercontinental ballistic missile March 24 for the first time since November 2017. The missile splashed down in waters within Japan's exclusive economic zone, prompting Vice Defense Minister Makoto Oniki to call it "a serious threat to our country's security."
There's a consensus among Japanese defense experts that their country needs a strike capability, according to Tetsuo Kotani, a senior research fellow at The Japan Institute of International Affairs.
Japan operates Patriot and Aegis missile defense systems on shore and at sea. But simply aiming to defeat incoming missiles from China and North Korea will not be enough, Kotani told Stars and Stripes by phone Tuesday.
"We are trying to introduce counterstrike capabilities," he said. "We will rely on existing missile defense systems to intercept the first wave of missiles but after missile strikes start, we need to eliminate the missile launchers or runways in enemy territory to disrupt their operations."
The Japanese government might allow the U.S. to deploy medium-range guided missiles inside Japanese territory, Kotani said.
"Deployment of U.S. missiles is more politically sensitive but as the war in Ukraine shows, enhancing air defense and missile deference is critical for national security," he said.
The U.S. military is developing new ground-based ballistic and cruise missiles, Kotani said, noting America's 2019 withdrawal from the Intermediate Nuclear Forces Treaty with Russia, which had prohibited such weapons.
Japan's pacifist constitution can be interpreted to permit the country to acquire a strike capability, according to retired U.S. Marine Col. Grant Newsham, a senior researcher with the Japan Forum for Strategic Studies in Tokyo.
"Japan has finally woken up to the fact that they are pretty much defenseless (against Chinese missiles)," he told Stars and Stripes by phone Tuesday.
However, Japan hasn't thought through what's needed for an effective strike capability, such as the intelligence and surveillance required to target enemy facilities, Newsham said.
Some of the Japanese rationale for seeking the new capability is concern about America's reliability as an ally, he said.
The country would be smarter to focus on improving the military capabilities it has and recruiting and retaining more troops, Newsham said.
---
---
---
---