Air Force pilots at US air base in Japan leveling the odds for military women
By
Stars and Stripes
March 29, 2022
---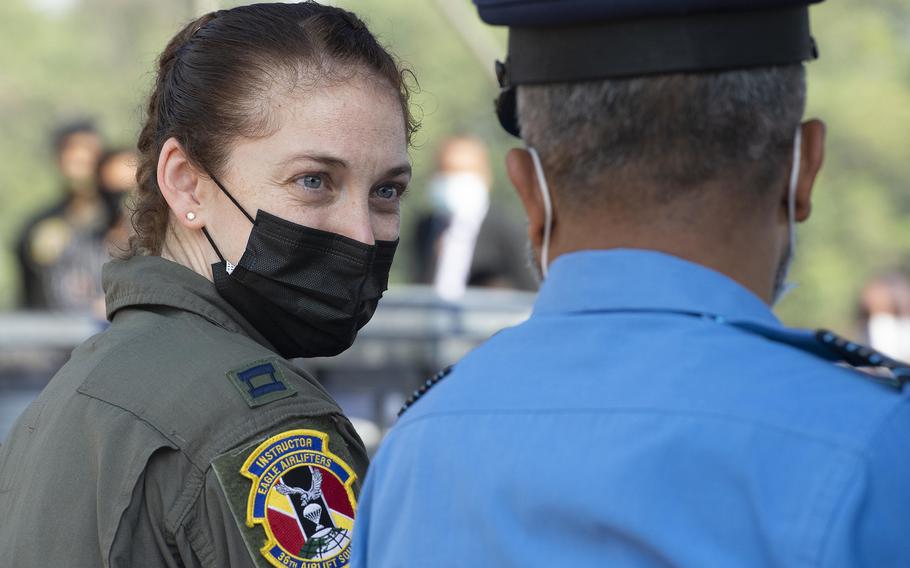 YOKOTA AIR BASE, Japan – Capt. Madeline Atkinson never felt that being a woman interfered with her lifelong dream of becoming an Air Force pilot, she told Stars and Stripes recently.
Her mother, Pamela Atkinson, a Girl Scout leader, always encouraged her to push for her dreams, Atkinson said by phone Thursday.
"My mom was a really strong and a really big influence in my life and instilled in me that, 'Hey, you're not different or anything, because you're a woman; you're the same,' Atkinson said. "And these opportunities are all in front of you."
Atkinson, 29, a C-130J Super Hercules instructor pilot and chief of training for the 36th Airlift Squadron, took her experience to Bangladesh in February as the squadron mission commander for the weeklong Cope South 2022 exercise.
She and squadron operations director Lt. Col. Kira Coffey, the detachment commander, worked with two of the first women in the Bangladesh Air Force and two of the first to fly the Super Hercules. Women were not permitted to become military pilots in that country until 2014.
"The best thing about meeting them was that Col. Coffey and I were saying to them, 'You guys are awesome; you're leaders in your community,'" Atkinson said. "And they were telling us how much they look up to us. I'm not one to usually get emotional about that stuff, but I thought that was pretty awesome, that they were looking up to us, while we were looking to them."
Coffey enjoyed working with the trailblazing Bangladeshi women, she said. Their pilots were inspired by seeing U.S. women aviators in leadership positions, she said Tuesday in an email from the 374th Airlift Wing.
"In return, it was heartwarming and inspiring for me to be able to meet women who were just beginning on a trailblazing journey, knowing that it won't be easy, but that it will be rewarding," Coffey said. "That was probably the coolest part of a very cool experience for me overall."
Atkinson began her journey to the pilot's seat at age 8, when the idea of flight first intrigued her, she said. Women in the United States were first allowed to enter military pilot training 17 years before she was born.
"I liked the idea of kind of getting to see a different perspective of the world, from above, that has always been really fascinating to me," she said.
By weight of numbers alone, Atkinson faced an uphill slog. Of the 329,597 active duty service members in the Air Force in February, 960 of them are women pilots, or about 1/3rd of 1% of Air Force personnel, according to the Air Force's Personnel Center.
A native of San Anselmo, Calif., Atkinson graduated from the Air Force Academy in Colorado Springs, Colo., in 2014. Women were outnumbered there by about 4 to 1, she said.
"When it came time to apply for the academy, I recognized that I would be definitely outnumbered," Atkinson said. "For each class, there's approximately 1,000 students in each class, and there's only about 200 girls."
That ratio apparently improved over the past eight years. The class of 2025, which entered the academy last year, included 325 women and 768 men, a ratio of about 2.4 to 1, according to the academy's class profile.
Atkinson said she never felt handicapped or discriminated against at the academy because of her gender.
"I didn't feel like when I was there it was the factor on how I was treated or my performance," Atkinson said. "Yes, I recognize that most people in my squadron or in my classes were guys and usually I was one of the only girls in the class, but I never felt ostracized, that I was 'different' or that it was a big deal that I was a girl."
The lopsided ratio of men to women in the military is steadily changing due to growing changes in societal norms, she said.
"I think it's a cultural thing," she said. "I think that in the history of humanity, it's usually been men that are in the military. So, as our society develops, and it becomes a more normal for women and men doing the same jobs, you're going to see more and more women being involved in the military."
---
---
---
---