Ramstein Air Base squadron shows some 'girl solidarity' amid flurry of C-130 flights
By
Stars and Stripes
March 21, 2022
---
RAMSTEIN AIR BASE, Germany — Moments after loadmasters Staff Sgt. Devyn Freeze and Senior Airman Marissa Antillonloya greeted Army paratroopers who were supposed to hitch a ride to France on three C-130Js, the mission was called off.
The French had double-booked the drop zone, so the static jump planned Friday, with transportation provided by the 37th Airlift Squadron at Ramstein, would have to be postponed. But the crew and planes still took to the skies on a training run.
The C-130s out of Ramstein are working overtime to support the rapid movement of tens of thousands of troops and help transport thousands of tons of supplies to central and Eastern Europe, as part of a NATO reassurance mission that began in the weeks before Russia's new invasion of Ukraine.
All three of the planes on Friday's mission earned an unusual distinction: they flew the first training formation with all-women crew members in the squadron's history, which goes back to World War II.
Capt. Tiffany Haines, who led the group of 17 women with Capt. Megan Kraynak as her co-pilot, said flying with another female pilot isn't uncommon.
"But as far as a whole airplane full of women … especially a full-blown formation full of women, that's extremely rare and also very rewarding," she said.
The all-female formation was organized in recognition of Women's History Month.
The crew members voiced excitement about the distinction in the runup to the flight, but the focus turned to the changes in the mission scenario once the paratroopers left.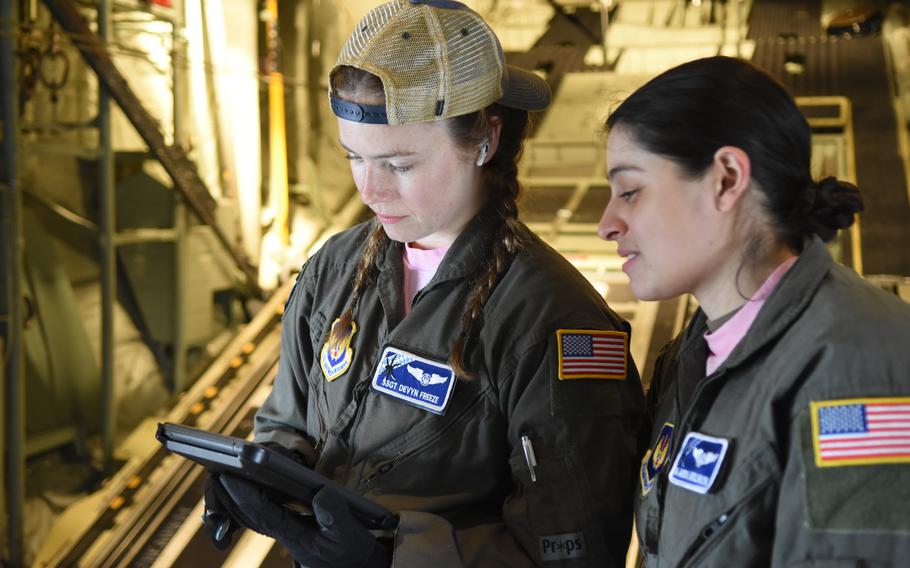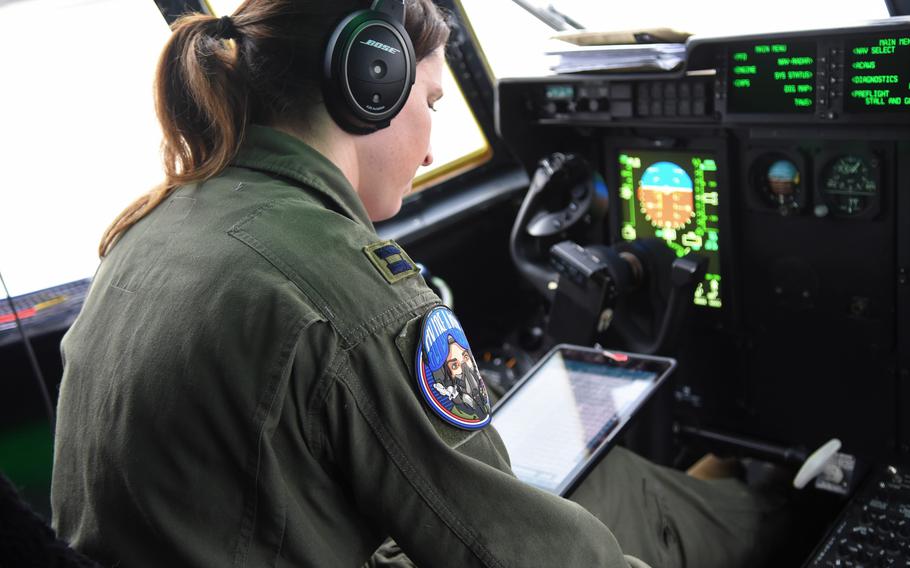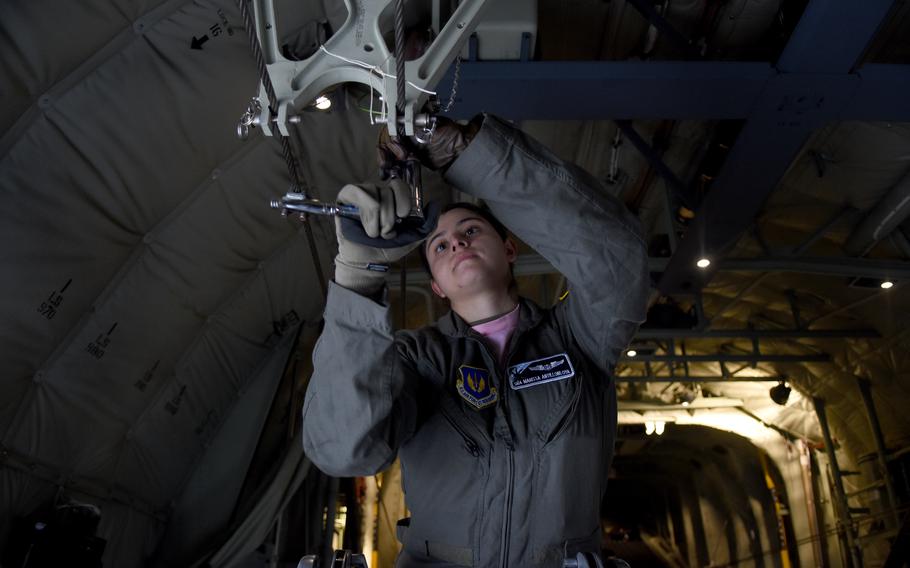 An A-10 had been shot down, and Haines and her crew had to get supplies to the downed airman.
Haines "had to come up with a drop zone, created in the aircraft computer; be able to communicate that to the rest of the formation, in order to provide that resupply … before the simulated enemy overtook his position," said Kraynak, who served as the instructor pilot Friday.
"She did well," Kraynak said of Haines. "We gave her a very complicated scenario that she had to deal with."
Haines was waiting to hear whether, as a result of her performance, she would earn the privilege to lead much larger formations.
The switch from paratrooper drop to emergency assistance underscored the diversity of missions a crew for the workhorse C-130 is expected to execute. The C-130A first took flight in 1956; the most recent C-130J variant was introduced in 1999.
"We train to all scenarios for all times so we can be prepared at any moment," Kraynak said.
While there is always a demand, squadrons flying C-130s have been much busier fulfilling their tactical airlift mission since Feb. 24, when the new Russian invasion of Ukraine began.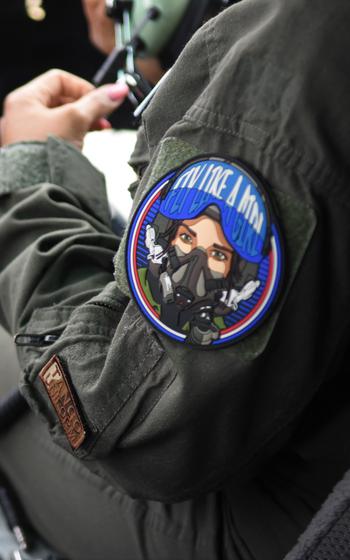 The 37th Airlift Squadron jets have ferried U.S. airmen assigned to the United Kingdom to Lithuania and dropped off equipment in Romania, among other missions in recent weeks.
The training Friday tested their ability to "be creative, to be able to think on the fly," Kraynak said, in a situation they might encounter downrange, Haines added.
And while several crew members have participated in similar training missions before, they did share a little more satisfaction in working alongside other women on Friday.
Men still vastly outnumber women in the Air Force, though the percentage of women in the service has grown steadily in recent decades to about 20%. The 37th Airlift Squadron is about 14% women, 86th Airlift Wing officials said.
However, only about 1% of Air Force pilots are women.
Freeze, 23, said Friday was her first time flying with all women.
"I'm lucky to fly once every 10 flights with another woman," said Freeze, who joined the rest of the crew in wearing a pink shirt under their flight suits, among other actions to build camaraderie.
"Just a little 'women unite' type of thing, girl solidarity," she said.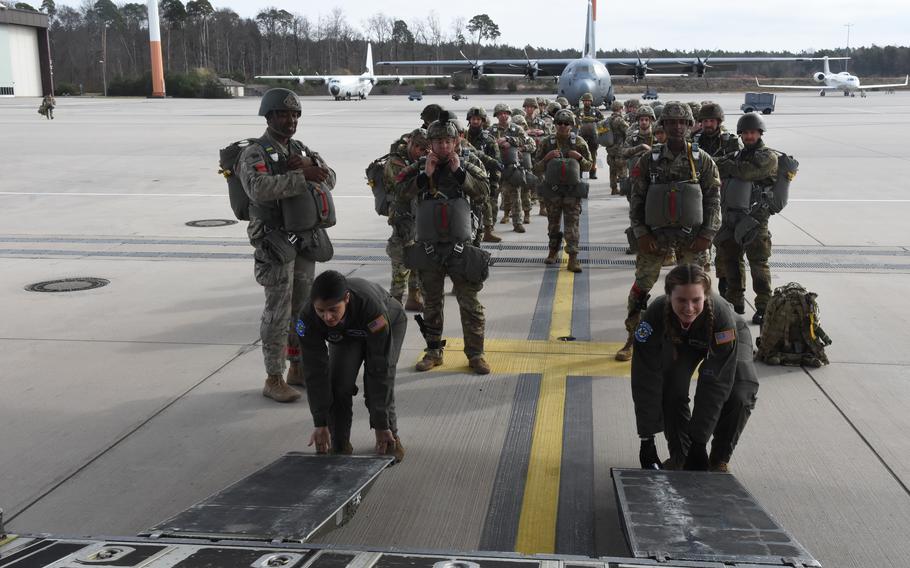 ---
---
---
---