US airmen from Japan are training with their Bangladeshi counterparts on new airlifters
By
Stars and Stripes
February 22, 2022
---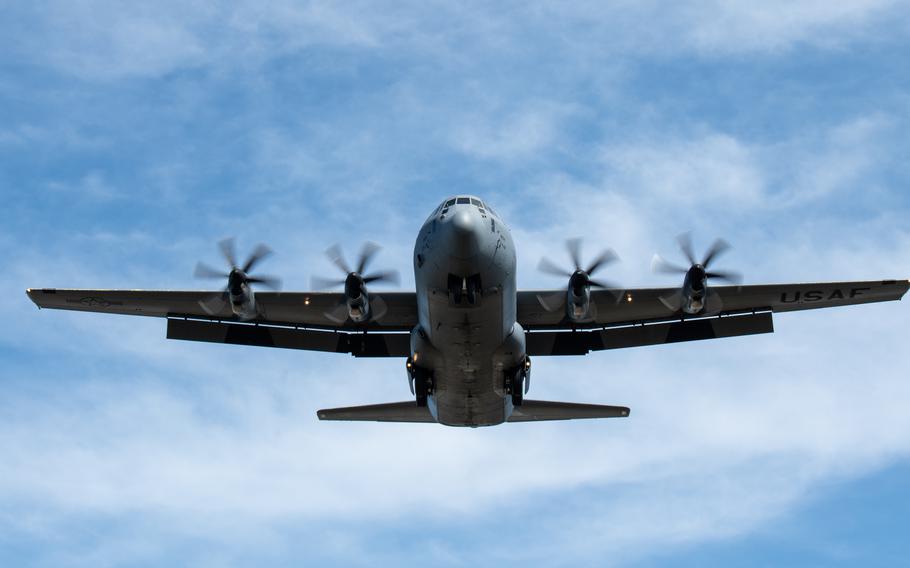 YOKOTA AIR BASE, Japan — The U.S. Air Force has sent a pair of Tokyo-based C-130J Super Hercules to Bangladesh to practice low-level navigation and tactical airdrop with local forces.
The aircraft and 77 airmen assigned to Yokota's 36th Airlift Squadron are participating in Cope South 22, Pacific Air Forces announced Feb. 15. The tactical airlift exercise began Sunday and runs through Friday.
The U.S. airmen are training alongside 300 troops and two C-130Js from the Bangladesh Armed Forces. Aircraft are flying out of Bangladesh Air Force Kurmitola Cantonment in Dhaka and Operating Location-Alpha in Sylhet, according to PACAF's statement.
The exercise aims to improve the forces' ability to work together and support modernization of the Bangladesh Air Force, the statement said.
"The Bangladesh Air Force is one of our most important regional partners, and Cope South allows us to strengthen this partnership through tactical airlift sorties and subject-matter expert exchanges," Lt. Col. Kira Coffey, the squadron operations director, said in the statement. "This is critical to bolstering regional stability for our shared goal of a Free and Open Indo-Pacific."
A pilot from the 36th Airlift Squadron in Bangladesh, Capt. Madeline Atkinson, said she knew only a bit about India's predominantly Muslim neighbor before arriving for the exercise on Friday.
The Yokota airmen are focused on helping their Bangladeshi counterparts become proficient operating a few new C-130J Super Hercules they recently acquired, Atkinson 29, of San Anselmo, Calif., told Stars and Stripes by phone Sunday from Dhaka.
"I haven't done anything like this before, but so far it has been amazing," she said.
Bangladesh Air Force pilots are flying on the U.S. aircraft and local troops will parachute from them during the training, Atkinson said.
The U.S. has good reason to make friends beyond the frame of competition with China and that's the case with Bangladesh, according to Ian Chong, an associate professor of political science at the National University of Singapore.
"Bangladesh is a country that would like to have good relations with both China and the United States, like many others," he said Friday in an email to Stars and Stripes.
The Bangladesh military has previously exercised with the U.S. military but the nation's ties to China are substantial, too.
Bangladesh has joined China's Belt and Road Initiative, which involves Chinese funding for infrastructure projects in countries all over the world. But the country has had to tread cautiously because of pressure from neighboring India, Asia Times reported Feb. 12.
China Harbor Engineering Co. has been upgrading the port in Chittagong near the main naval base in Bangladesh, BNS Issa Khan, the newspaper reported.
In January 2016, three Chinese vessels — the guided-missile frigates Liuzhou and Sanya and the supply ship Qinghaihu — made a five-day port call at Chittagong, according to Asia Times. The visit came months after China launched a frigate specially built for the Bangladesh navy.
Bangladesh purchased another two Chinese guided-missile frigates in 2015. In 2017, two Type-035 Ming Class Chinese submarines were delivered to Bangladesh, the report said.
Engagement with the U.S., including through military exercises, can underscore how and why the U.S. is a valuable partner and why America's vision is worth buying into even if China isn't the focus of training, Chong said.
"If the US is interested in strengthening the rules-based order it is essentially claiming is a good in itself, then it needs to show why such engagement is worth it for other states," he said.
---
---
---
---