Stateside B-52 bombers return to a Guam teeming with Cope North aircraft
By
Stars and Stripes
February 17, 2022
---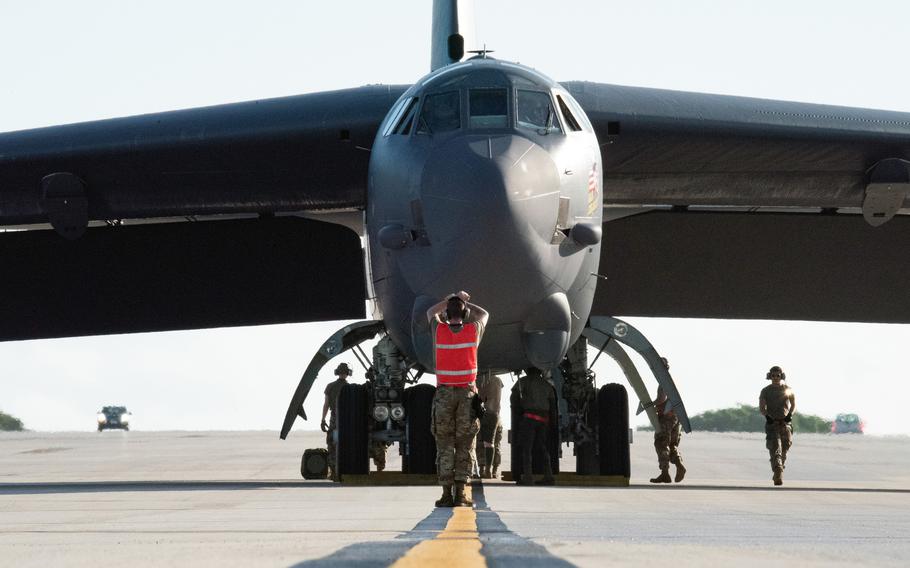 Four B-52 bombers and more than 220 airmen recently arrived on Guam, joining thousands of U.S., Japanese and Australian service members already on the island for the annual Cope North exercise.
The Stratofortress bombers and airmen, assigned to the 96th Expeditionary Bomb Squadron at Barksdale Air Force Base, La., arrived Feb. 8 and 10 at Andersen Air Force Base, the Air Force said in a news release Wednesday.
The B-52s squeezed into an air base already crowded with aircraft and personnel for Cope North.
About 2,500 U.S. service members are training in the exercise through Friday with another 1,000 personnel from the Japanese Air Self-Defense Force and the Royal Australian Air Force during the exercise, according to the Air Force.
The roughly 130 aircraft involved are operating out of Andersen; the islands of Rota, Saipan and Tinian in the Northern Marian Islands; Palau and the Federated States of Micronesia. Training is focused on disaster relief and aerial combat.
The inclusion of the four B-52s, which the Air Force said are there to train with other U.S. forces and allies, underscores the growing strategic importance of Guam as the U.S. grapples with an emerging and assertive China.
As the closest U.S. territory to the contested South China Sea, Guam is seen by the Pentagon as a strategic hub for projecting power in the region.
The missions of the B-52s while deployed to Guam are also intended to reassure allies that America is committed to defending the region, the Air Force said.
Over the past several years, the Air Force has sought to make the pace and length of bomber deployments unpredictable in the eyes of adversaries.
B-52s operated out of Guam several times last year, with the last deployment in August.
---
---
---
---