South Korea's navy seizes vessel carrying 7 unarmed North Koreans at maritime border
By
Stars and Stripes
March 8, 2022
---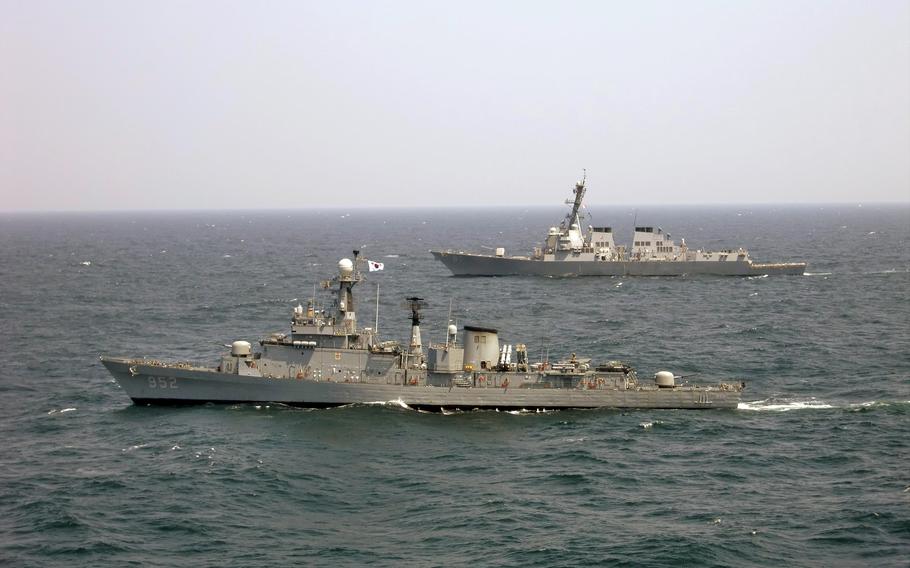 CAMP HUMPHREYS, South Korea — The South Korean navy fired a warning shot at a North Korean patrol boat chasing a vessel carrying seven unarmed North Koreans at the maritime border between the two countries on Tuesday, a South Korean military official said.
The North Korean patrol boat crossed the Northern Limit Line at around 9:30 a.m., a South Korean military official told Stars and Stripes by phone Tuesday. It was sailing near Baekryeong Island on the western coast and "violated" the disputed maritime boundary, forcing a high-speed South Korean navy vessel to fire a warning shot.
It's customary in South Korea for some government officials to speak to reporters on condition of anonymity.
The North Korean patrol boat appeared to be chasing a steel vessel that crossed the maritime border 15 minutes earlier, South Korea's Joint Chiefs of Staff said Tuesday, according to the Yonhap news agency.
The North Korean boat retreated after the warning shot.
The steel vessel was seized by the South Korean navy. In it, they found seven unarmed North Korean sailors, some wearing military uniforms, according to Yonhap. The North Koreans reportedly said they did not plan on defecting and had unintentionally crossed into South Korean territory.
It was unclear if the seized boat was of military use and an investigation is underway, the South Korean military official said.
The Northern Limit Line is a de facto maritime border between North and South Korea. Its origins following the 1950-53 Korean War are in dispute, according to the Wilson Center think-tank; however, North Korea refuses to recognize the boundary.
Stars and Stripes reporter Yoo Kyong Chang contributed to this report.
---
---
---
---