North Korea fires 'possible ballistic missile' off its eastern coast
By
Stars and Stripes
March 5, 2022
---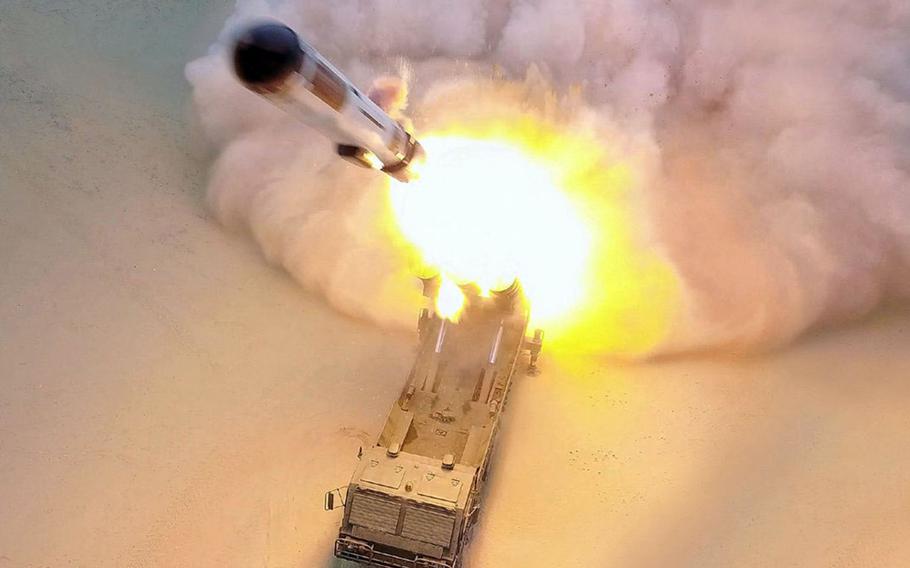 CAMP HUMPHREYS, South Korea — North Korea launched a suspected ballistic missile off its eastern coast Saturday morning, according to South Korean and Japanese officials.
The projectile was fired around 8:48 a.m., South Korea's Joint Chiefs of Staff said in a media alert. The Japanese prime minister's office called it a "possible ballistic missile" in a tweet after the launch.
South Korea's military estimated the projectile flew nearly 168 miles at a peak altitude of about 348 miles.
The joint chiefs' said it was monitoring the incident and that "our military is maintaining preparedness."
The military also urged North Korea to "immediately" halt its ballistic missile tests "due to a significant threat to peace and safety on the Korean Peninsula as well as the international community."
U.S. Indo-Pacific Command said it was closely consulting with Seoul and Tokyo about the launch.
"The United States condemns this launch and calls on [North Korea] to refrain from further destabilizing acts," it said in a statement Saturday.
South Korea's Ministry of Unification, a department tasked with coordinating inter-Korean projects as well as supporting North Korean defectors, in a statement asked Pyongyang to stop tensions as the Winter Paralympics ramp up in Beijing.
The games began Friday and end March 13. North Korea did not conduct any missile tests as the Winter Olympics were underway Feb. 4-20. North Korea analysts theorized this was intentional to refrain from angering China.
The Unification Ministry also noted that Saturday's launch was held five days before South Korea's presidential election on March 9.
The launch comes nearly a week after North Korea carried out what it claimed to be an "important test" of a reconnaissance satellite.
"The test is of great significance in developing the reconnaissance satellite," the state-run Korean Central News Agency reported a day after the launch of Feb. 28.
South Korea's military asserted that the North had fired a ballistic missile that flew about 186 miles at a peak altitude of 385 miles.
North Korea has conducted eight other rounds of missile tests so far this year, including an intermediate-range ballistic missile capable of reaching Guam on Jan. 30.
---
---
---
---