North Korea says it launched a reconnaissance satellite on Sunday
By
Stars and Stripes
February 28, 2022
---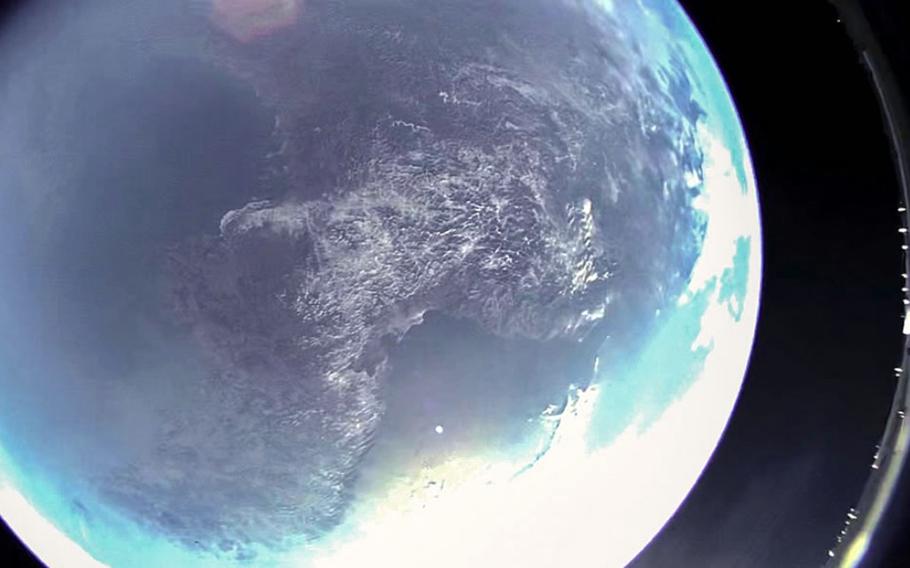 CAMP HUMPHREYS, South Korea — North Korea conducted an "important test" of a "reconnaissance satellite" to verify the capabilities of its high-definition photographing and data-transmission systems, its state-run news agency said Monday.
The country's aerospace and military science organizations conducted the test, according to the Korean Central News Agency. KCNA's report did not include photographs of the launch but had pictures of Earth from space that it said were taken by cameras "loaded on the reconnaissance satellite."
"The test is of great significance in developing the reconnaissance satellite," KCNA claimed in its report.
The communist regime on Sunday launched what South Korea's military believes was a ballistic missile off its eastern coast around 7:52 a.m. The missile, according to the South's military, flew about 186 miles at a peak altitude of 385 miles. The Japan Coast Guard also confirmed the launch and its specifications.
South Korea's Ministry of Unification in a statement Saturday expressed "deep concern" for the launch, which comes "at a time when peace and stability of the Korean Peninsula are paramount."
U.S. Indo-Pacific Command released a statement Sunday condemning the launch and "assessed that this event does not pose an immediate threat to U.S. personnel, territory, or that of our allies."
Pyongyang in recent years has tested several rockets it claimed to be part of its satellite program. The program's stated purpose is to observe and collect data while in orbit, as well as "transmit the hymns" of North Korean leaders, according to analysts at 38 North, a North Korea-monitoring website run by the Stimson Center in Washington, D.C.
Several countries, including the United States, have assessed that North Korea uses its space launches as cover for ballistic missile tests. The U.N. Security Council sanctions North Korea and bans it from test-firing such weapons.
Following a satellite launch attempt in 2012, U.N. Secretary-General Ban Ki-moon in a statement described the move as "deplorable."
North Korea conducted seven rounds of missile tests so far this year, including the Jan. 30 launch of a Hwasong-12 intermediate-range ballistic missile capable of reaching the U.S. territory of Guam.
---
---
---
---