US military retailers say nyet to Russian vodka in wake of Ukraine invasion
By
Matthew M. Burke and Frank Andrews
Stars and Stripes
March 4, 2022
---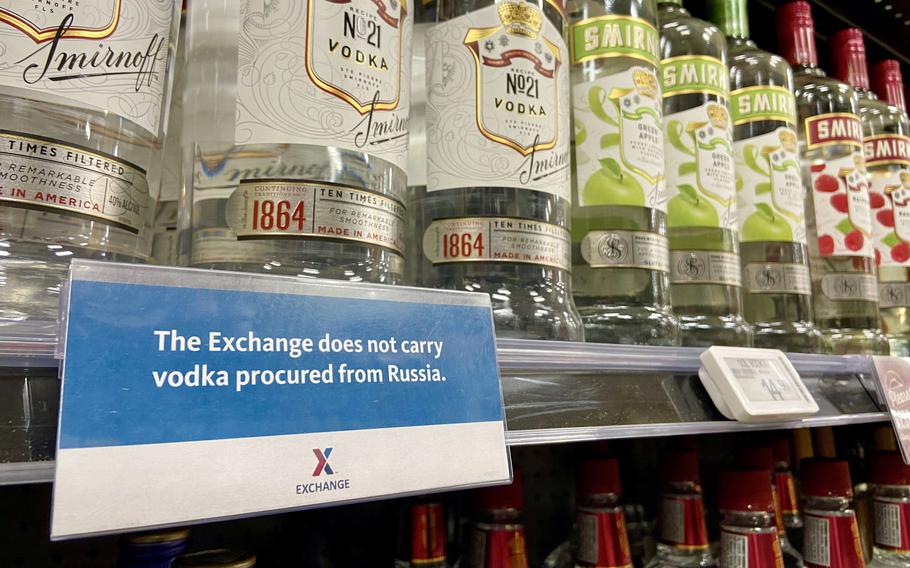 CAMP FOSTER, Okinawa — The Defense Department's largest retailers have removed Russian vodka from their shelves due to the backlash associated with Moscow's bloody campaign against neighboring Ukraine.
The Army and Air Force Exchange Service declined to identify the brands taken from its shelves and where, but they had to be "produced in Russia" to be removed, AAFES vice president of marketing and customer engagement Julie Mitchell wrote in an email Thursday to Stars and Stripes.
"The Exchange has removed all vodka produced in Russia as a result of current events and diminished demand," she said.
The Navy Exchange has also stopped selling Russian vodka at its stores worldwide, spokeswoman Kristine Sturkie told Stars and Stripes in an email Friday.
Two brands — Platinum and Russian Standard Vodka — had been in limited supply at NEX shops in Italy, Spain, Guam, Hawaii and the continental United States.
"We had very little product and removed what did exist," Sturkie said.
Last year, only 1.2% of the vodka imported into the U.S. originated in Russia, according to the Distilled Spirits Council of the United States. The Netherlands accounted for nearly 21%.
Russian vodka has historically represented only about 0.5% of AAFES' total vodka sales, Mitchell said.
Signage "specific to location and assortment" was added at some exchange shops around the world this week to "educate and inform" after AAFES received an influx of questions regarding "country of origin" from customers, Mitchell said.
NEX has no plans to add signage detailing its decision and does not carry other Russian-made products, Sturkie said.
On Thursday, Jeff Nighswander, 40, a civilian employee from Jacksonville, Fla., perused the liquor selection at an AAFES shoppette at Camp Foster on Okinawa.
"I agree with [removing Russian vodka]," he said. "I don't think we should support any country that's doing anything that goes against American values and way of life."
Five miles away at Kadena Air Base, Senior Airman Caleb Collum, 22, of Alabama, agreed.
"We don't want them to profit," he said.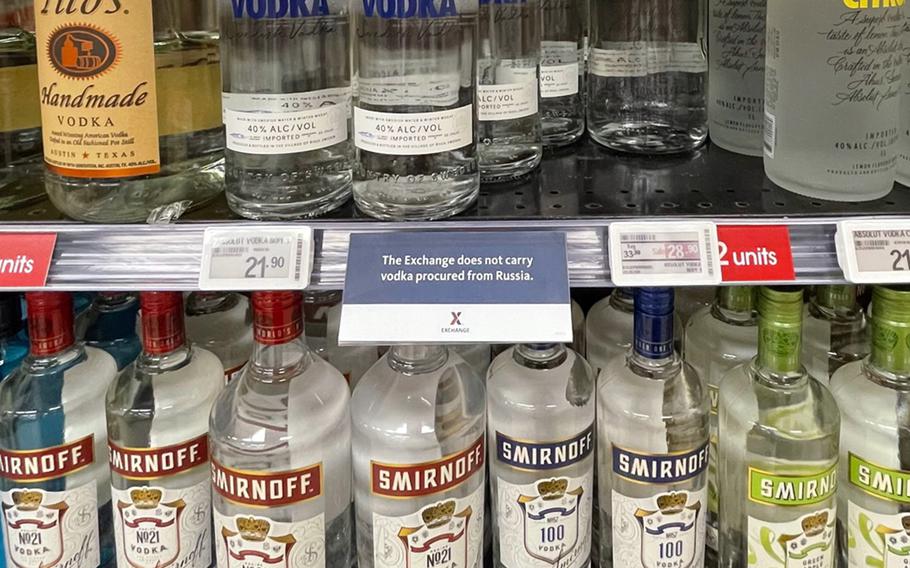 Signs declaring "The Exchange does not carry vodka procured from Russia" were seen Thursday on liquor shelves at exchanges in Japan at Yokota Air Base in western Tokyo, Camp Foster and Kadena Air Base on Okinawa, and in South Korea at Osan Air Base and Camp Humphreys.
A sign reading "None of this assortment is from Russia" was posted at Ramstein Air Base in Germany, according to a Wednesday post on the Air Force amn/nco/snco Facebook page.
Two brands typically confused for being Russian, Stolichnaya and Smirnoff, are actually produced in Latvia and the U.S., according to their websites.
Stoli is made by a Russian exile, Yuri Shefler, and the company website voices support for Russian anti-war protesters and the people of Ukraine.
Vladimir Smirnoff fled Russia and established the brand bearing his name in Europe "more than a century ago," its website said. Smirnoff relocated to America in 1934 and in 1985 the label was sold to a firm that 12 years later became the beverage giant Diageo, a British company.
Thirteen Russian-made products were available at AAFES exchanges, historically about 0.005% of annual sales, when war broke out in Ukraine on Feb. 24, Mitchell said. She did not say whether all these products were discontinued.
Stars and Stripes reporters David Choi, Erica Earl, Wyatt Olson, Jonathan Snyder and Jazzmin Spain contributed to this report.
---
---
---
---