South Korea risks becoming 'Ukraine of Asia' in event of conflict, presidential candidate says
By
Stars and Stripes
March 1, 2022
---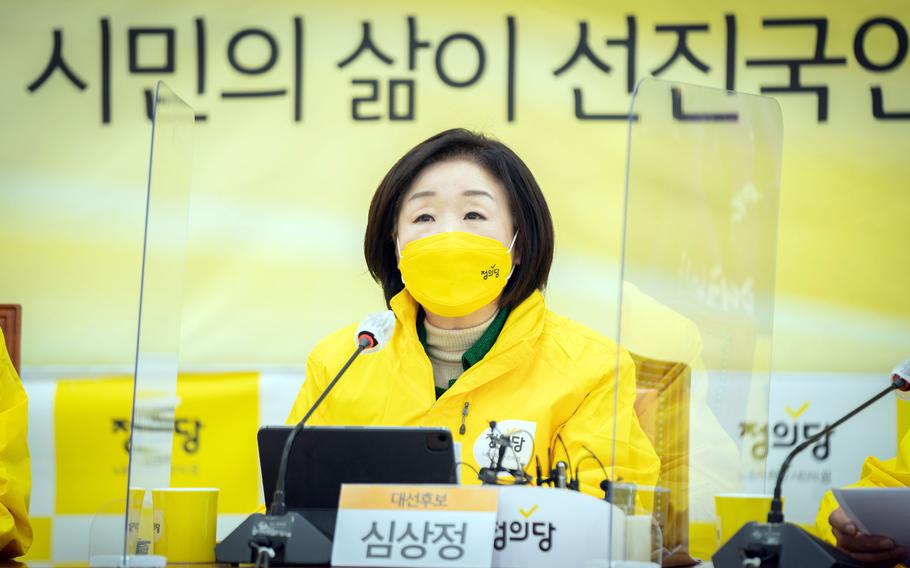 South Korea could become "the Ukraine of Asia" in the event of conflict between its ally the United States and its neighbor China, the progressive candidate for South Korean president said during a recent televised debate.
Sim Sang-jung, a National Assembly lawmaker and a former leader of the minority Justice Party, explained her vision for South Korea's foreign policy on Friday as Russia continued its invasion of Ukraine. Sim and three other candidates are competing in the election March 9.
In her remarks, Sim compared South Korea's relationships with China and the United States to the ongoing instability in Eastern Europe. Seoul's relations with Beijing are experiencing a "breakdown," and talk by other candidates of bolstering South Korea's weapons programs may cause "considerable tension on the Korean Peninsula," Sim said during the debate.
"We should learn from what happened in Ukraine now," she said. "So, to speak, we can be the Ukraine of Asia when some strategic balance in northeast Asia collapses."
Russian President Vladimir Putin sent Russian armed forces into neighboring Ukraine on Thursday. South Korea is among the many nations that have condemned the invasion.
South Korea's government also joined international sanctions against Moscow, and the Foreign Ministry on Monday announced an export ban on strategic items, including semiconductors and aerospace equipment.
China, one of the biggest trading partners for South Korea and Ukraine, has stopped short of condemning Putin's invasion and instead urged all sides to negotiate. China also abstained from voting on a U.N. Security Council draft resolution condemning the invasion. The resolution was sunk by Russia's veto Saturday.
"It is important to reject the Cold War mentality, take seriously and respect the reasonable security concerns of all countries and reach a balanced, effective and sustainable European security mechanism through negotiation," China's Foreign Affairs Ministry said in a statement Friday.
China "has long held the basic position of respecting all countries' sovereignty and territorial integrity and abiding by the purposes and principles of the U.N. charter," the statement said.
President Joe Biden's administration actively supports Kyiv. The U.S. enacted broad sanctions against Russian banks and oligarchs, urged European allies to impose their own restrictions against Moscow and approved an additional $350 million in military aid "for immediate support to Ukraine's defense," according to a State Department press release Saturday.
South Korea's precarious position between China and the U.S. has been a talking point among the leading presidential candidates in the election cycle.
Yoon Seok-youl, a front-runner and the conservative People Power Party's nominee, in recent debates and public speeches has defended the U.S.-South Korea alliance. Yoon advocated for deploying another U.S.-made missile-defense battery in South Korea, a notion criticized by other candidates for its foreign policy implications for China.
Lee Jae-myung, another front-runner and the ruling Democratic Party's candidate, has broadly called for negotiations between all nations and raised concerns about the economic risk to South Korea in taking sides between China and the United States.
---
---
---
---