COVID-19 ebbs in Japan as authorities prepare details for relaxed border controls
By
Stars and Stripes
February 22, 2022
---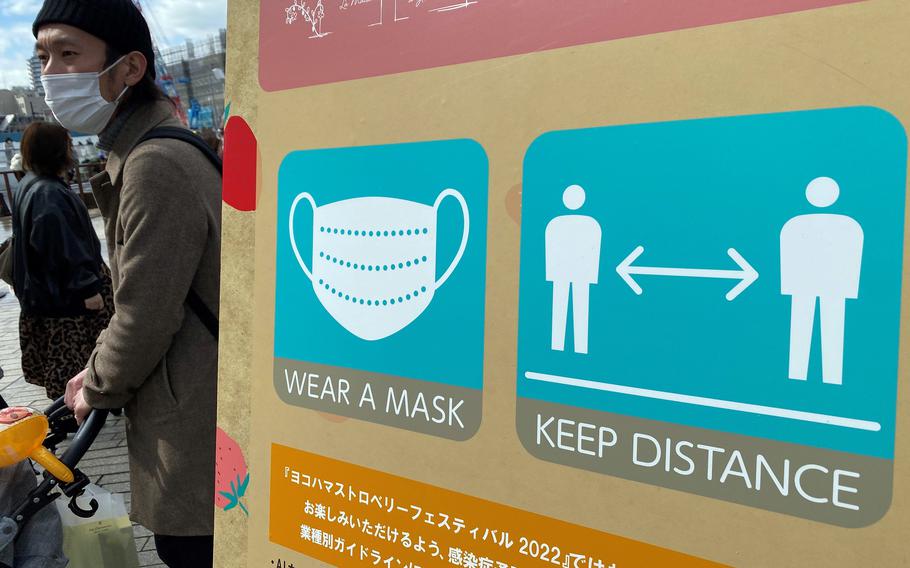 Stars and Stripes is making stories on the coronavirus pandemic available free of charge. See more stories here. Sign up for our daily coronavirus newsletter here. Please support our journalism with a subscription.
TOKYO — The omicron wave of COVID-19 is waning in Japan as weekly averages continue to decline, but the coronavirus continues a daily ebb and flow.
Japan reported 59,909 new infections on Monday, its lowest daily tally in nearly three weeks, according to the Johns Hopkins Coronavirus Resource Center. Meanwhile, the seven-day average of new cases has fallen from 94,058 on Feb. 8 to 80,382 on Monday.
Tokyo registered 11,443 new cases Tuesday, according to public broadcaster NHK and metropolitan government data online. Tuesday's figure is 4,082 less than one week prior, according to metro data.
The city reported 8,805 people tested positive for COVID-19 on Monday, the lowest daily count since 8,503 on Jan. 24.
U.S. Forces Japan had not posted a daily case update as of 6 p.m. Tuesday, a holiday for many U.S. service members and their families in Japan. USFJ last reported 90 new cases on Friday.
Okinawa prefecture, where the bulk of U.S. forces are located, reported 674 new cases on Tuesday, the highest count in four days, according to the prefectural Department of Public Health and Medical Care. Another 128 people in the U.S. military population on the island also tested positive during the period, according to the department.
The Japanese government by Tuesday had not provided further details of its plan announced four days earlier to relax COVID-19 border restrictions and quarantine requirements for inbound travelers starting March 1.
Government spokespeople at a media briefing Friday said vaccinated and unvaccinated travelers may be admitted and must quarantine on principle for seven days, but quarantine measures would differ for each. Quarantine may end for subjects who test negative for COVID-19 on the third day.
All travelers, except those under the status of forces agreement that governs the U.S. military population in Japan, must apply online for entry. Proof of a negative test 72 hours prior to departure, a test on arrival and a test three days later are required of all new arrivals.
Travelers from countries designated higher risks for COVID-19 must quarantine at designated facilities, including hotels. Boosted travelers arriving from those countries may quarantine at home.
The list of designated countries has not been released, and neither has an online site to apply for entry. During the pandemic, the U.S. has been on the list of countries whose travelers are denied entry.
Conversely, the U.S. State Department on Feb. 7 issued a "do not travel" advisory for Japan due to rising numbers of COVID-19 cases at the time.
Boosted, vaccinated travelers from other countries may not need to quarantine in Japan at all after March 1, although the tests are still required, according to conditions outlined on briefing materials provided to reporters on Friday.
Government representatives did not indicate whether SOFA members would be counted under the daily limit for arrivals increased from 3,500 to 5,000. A USFJ spokesman on Friday said the command would "monitor and adjust" its requirements for its population as needed.
Although tourist visas are temporarily ruled out entirely, short visits to "relatives, family members and acquaintances" in Japan may be possible after March 1, according to a spokesman at the Friday briefing.
As long as they have a "receiving organization" and their purpose is not tourism, visitors with family and friends in Japan should be eligible to apply for entry, the spokesman said.
It's customary in Japan for some government officials to speak to the media on condition of anonymity.
Stars and Stripes reporter Mari Higa contributed to this report.
---
---
---
---