Japan to reduce COVID-19 quarantine period, admit more foreigners beginning in March
By
Stars and Stripes
February 18, 2022
---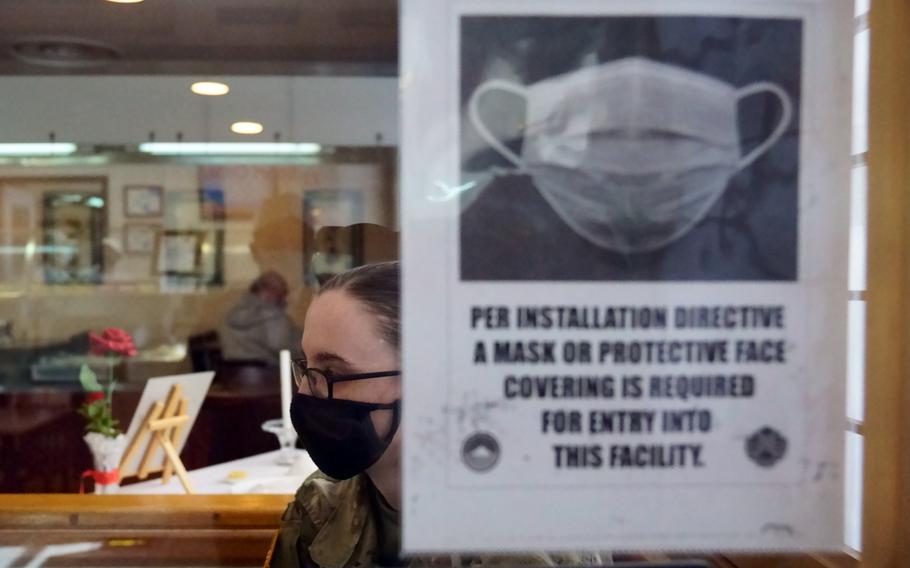 Stars and Stripes is making stories on the coronavirus pandemic available free of charge. See more stories here. Sign up for our daily coronavirus newsletter here. Please support our journalism with a subscription.
TOKYO — Japan announced changes to its longstanding pandemic border controls Friday, including reduced quarantine periods for people vaccinated and boosted against COVID-19 and, starting March 1, an increase to 5,000 people allowed into the country each day.
Japan will still require a basic, seven-day quarantine at home by all travelers, according to a media briefing by government officials Friday. However, a negative test on the third day will be enough to end that quarantine.
Estimates of the backlog in students and businesspeople awaiting entry to Japan are in the tens of thousands. The daily limit on entry has been 3,500 since November.
Under relaxed requirements, new entrants must apply online to a system still in development and come "under the supervision of a receiving organization," according to information provided to reporters by the Foreign Ministry. Tourists are not eligible for entry.
"For those who have received a third vaccine shot, a different treatment will apply," a government spokesman said at the briefing.
Boosted travelers arriving from countries designated higher risks for COVID-19 may spend three days at home rather than a designated facility. The list of those countries is still being compiled, a spokesman said. Travelers from the U.S. have consistently been subject to denied entry during the pandemic, thus far, according to the Foreign Ministry website.
Boosted travelers from undesignated countries need not quarantine at all, although a test is apparently still required after three days, according to a briefing sheet provided by the Foreign Ministry.
Government spokespeople in Japan typically speak to the media on condition of anonymity.
A U.S. Forces Japan spokesman had no direct comment Friday on the border control changes. Members of the U.S. military population have routinely exited and entered Japan during the nearly two-year-old pandemic.
"USFJ continues to monitor and adjust COVID-19 mitigation measures in coordination with [government of Japan] counterparts as we have done for the past 24 months," Air Force Maj. Thomas Barger said in an email to Stars and Stripes.
Meanwhile, omicron persisted Friday in infecting tens of thousands across Japan. Tokyo reported 16,129 people tested positive for the coronavirus, and 26 people died, a record number on a Friday, according to public broadcaster NHK.
Japan on Thursday confirmed another 95,115 people infected with the virus, and 271 related deaths, according to the Johns Hopkins Coronavirus Resource Center.
USFJ reported 90 cases at 13 installations and two awaiting confirmation since the command's Thursday update. None are hospitalized or considered serious. USFJ reported 401 new cases between Tuesday and Friday.
Kadena Air Base on Okinawa accounted for 26 new cases in the latest USFJ update. The air base on its website reported 100 active cases on Friday, the highest caseload there since 113 on Feb. 11.
Four Marine Corps camps, an Army installation and a Navy base on Okinawa together reported 13 new cases, according to USFJ.
Yokosuka Naval Base, the headquarters for Naval Forces Japan south of Tokyo, reported 24 new cases, according to USFJ. Yokota Air Base in western Tokyo, where USFJ is headquartered, reported 13. Yokota on its website Friday said 27 people tested positive there between Tuesday and Thursday.
Okinawa prefecture reported 681 people tested positive Friday, and another 50 in the U.S. military population, according to the prefectural Department of Public Health and Medical Care. New cases in the island prefecture have topped 600 for four days for a total 2,764, and another 111 U.S. cases.
Stars and Stripes reporter Mari Higa contributed to this report.
---
---
---
---