Rahm Emanuel, ambassador to Japan, welcomes new US citizens aboard USS Ronald Reagan
By
Stars and Stripes
February 18, 2022
---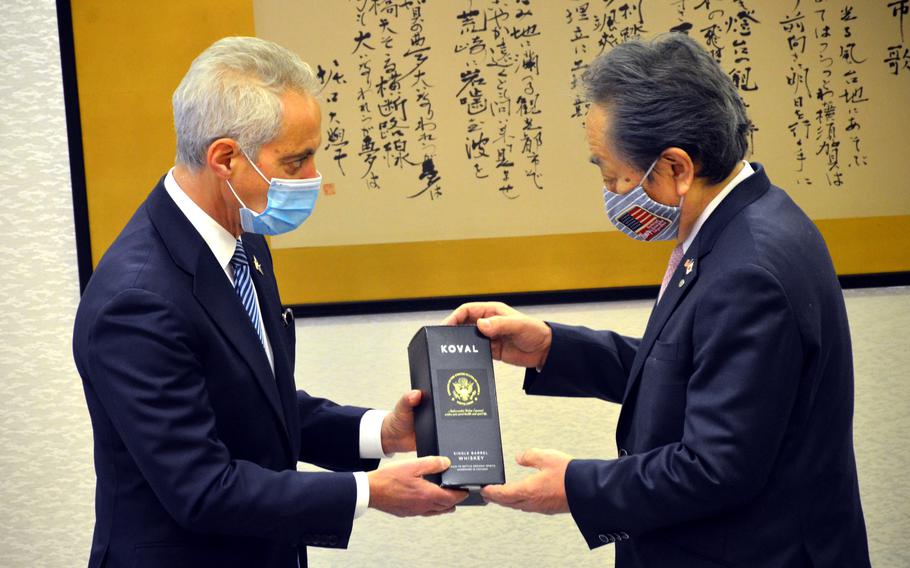 YOKOSUKA NAVAL BASE, Japan – Rahm Emanuel's first trip to the U.S. Navy's largest installation in Japan left little time for catching his breath.
The new U.S. ambassador to Japan arrived by train Thursday at Yokosuka-chuo Station after the morning commuter rush and met immediately with the city's mayor, Katsuaki Kamiji. The two spoke briefly and exchanged gifts: Chicago-distilled whiskey and a book on Yokosuka's history.
Then Emanuel was off to the nearby naval base to meet with high-ranking officers and preside over a naturalization ceremony aboard the aircraft carrier USS Ronald Reagan.
"When our two countries stay strong together and work together like our armed forces do, it's an example of what our ideals can bring in the sense of collaboration and cooperation," Emanuel, a former mayor of Chicago, told Kamiji.
The Yokosuka mayor was welcoming. "Once again, I would like to express that I'm very honored by your visit to Yokosuka, and I'm deeply grateful to have this opportunity to meet you for the first time ever," he said.
Emanuel next stopped for a headquarters reception at Naval Forces Japan, then toured the Ronald Reagan prior to the ceremony where 17 sailors and military spouses from 11 countries were sworn in as U.S. citizens.
Previous ceremonies took place in the chapel or elsewhere on base, but Emanuel's visit presented a unique opportunity, a spokeswoman for the carrier, Lt. Cmdr. Dawn Stankus, told Stars and Stripes on Thursday.
Emanuel, the son and grandson of immigrants, warmed to his audience.
"Like America at its best, the Ronald Reagan, this ship, derives its strength from the diversity of the sailors and families working towards a common purpose as one," he said. "America at its best is captured here by Ronald Reagan."
His father, Benjamin Emanuel, left Israel for the United States "with only $13 dollars in his pocket," Emanuel said. His maternal grandfather, Herman Smulevitz, came from Russia in 1917, according to Emanuel's book, "The Nation City: Why Mayors are Now Running the World."
Emanuel arrived in Japan on Jan. 23, a month after being sworn in as the 31st U.S. ambassador to Japan. He succeeds William Hagerty, who resigned in 2019 to run for U.S. Senate.
A Chicago native, Emanuel was a senior adviser to former President Bill Clinton, and served in the House of Representatives, as White House chief of staff under former President Barack Obama and as mayor of Chicago.
"The son and grandson of immigrants became a United States ambassador to Japan. Only in America is that possible," he said during the naturalization ceremony. "There's nowhere else, no country, that the son or a grandson of immigrants can not only become an ambassador or a mayor or a chief of staff, but a sailor, a police officer, a teacher or a doctor."
---
---
---
---