Volunteer shoppers resurface at US bases in Japan as COVID-19 surges
By
Alex Wilson and Jonathan Snyder
Stars and Stripes
February 3, 2022
---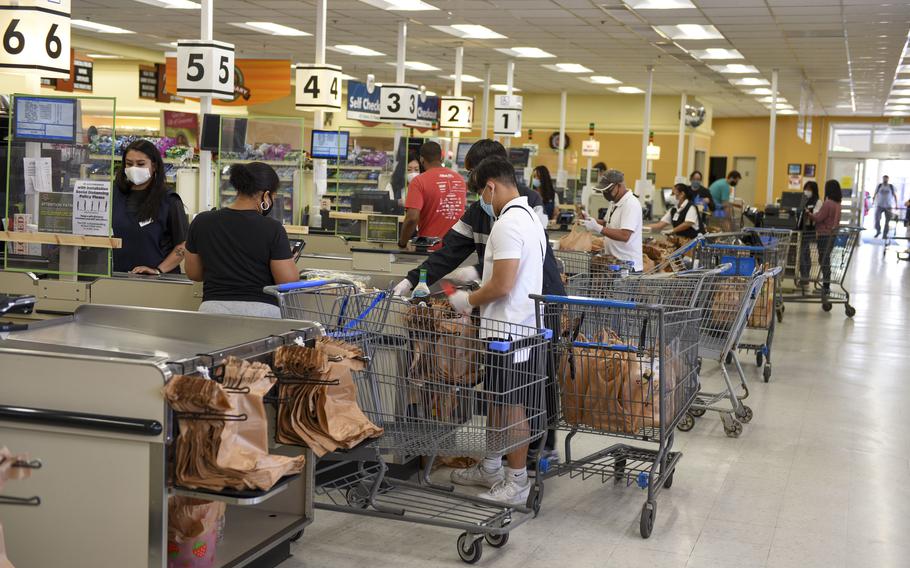 Stars and Stripes is making stories on the coronavirus pandemic available free of charge. See more stories here. Sign up for our daily coronavirus newsletter here. Please support our journalism with a subscription.
YOKOSUKA NAVAL BASE, Japan — A volunteer program that delivers food to people stuck in quarantine resurfaced recently at this base south of Tokyo, where hundreds of people contracted COVID-19 in the latest wave to wash over Japan.
The Samaritan Shopper Program was launched in summer 2020 and remained active until summer 2021, when vaccinations became widespread, and demand dropped off.
However, a new, record-breaking surge of infections led to the program's resurgence, coordinator Megan McMehan told Stars and Stripes last week.
"So, in late spring, early summer, we really stopped the program because we were having maybe one request a month," she said by phone Jan. 27. "Then, all of the sudden, omicron started."
The omicron variant of the coronavirus is more transmissible than its predecessor, the delta variant, but is less virulent and results in fewer hospitalizations and deaths, according to the Centers for Disease Control and Prevention.
Of 678 active cases at the Yokosuka base on Jan. 28, none were hospitalized.
That meant hundreds were in restriction of movement, or ROM, a modified form of quarantine that keeps COVID-19 patients and close contacts isolated for up to 10 days.
Some signed up for food deliveries via Samaritan Shopper's Facebook page, where they were matched with a shopper.
With a detailed grocery list, the shopper picks up the items at the commissary and delivers them to the customer's door. Customers pay directly to the commissary over the phone with a credit card.
Seaman Seth Buzzell, a culinary specialist aboard the aircraft carrier USS Ronald Reagan, said he's taken advantage of the program several times. He first used it when he was placed in ROM after arriving at Yokosuka, and again when he tested positive for COVID-19.
"I appreciated, extremely, the people that take time out of their day to go shopping for us. It was critically needed, it was a super morale booster," he said by phone Thursday.
Other U.S. military installations across Japan created their own version of the Samaritan Shopper program. At Marine Corps Air Station Iwakuni, south of Hiroshima, the all-volunteer ROM Runners sprang to life as the pandemic became a fixture of life on base.
It, too, went on hiatus as case numbers plummeted and vaccination rates climbed last year. But informal networks kept the occasional COVID-19 patient or close contact fed and cared for during their quarantines.
The Melendez-Medina family, which includes two children, relied only on their neighbors and friends for groceries and supplies while they were in quarantine last month at their home on base.
"I didn't even know they had [ROM Runners] so we never looked into it," Nohely Melendez-Medina, a Navy spouse, told Stars and Stripes by Facebook Messenger on Monday.
At Yokosuka, the 1,431 cases of COVID-19 the base reported in January exceeded the total reported over the two previous years, but demand for Samaritan Shopper wasn't nearly what it once was, McMehan said.
"The big difference right now is that all of the ships are here, and you have more command support here on base than you do when the ships are all deployed," she said.
At its busiest, the group delivered between 10 and 30 orders a day, McMehan said. Now the group handles about 10 orders a week.
Widespread vaccinations, loosening of the quarantine restrictions and other factors allow sailors more flexibility.
"Still, there's demand for it, and it's enough that it's worthwhile for us," she said. "Ten families without groceries, that's too many."
---
---
---
---