Okinawa governor wants US troops to stay on bases as their COVID-19 case numbers decline
By
Stars and Stripes
February 1, 2022
---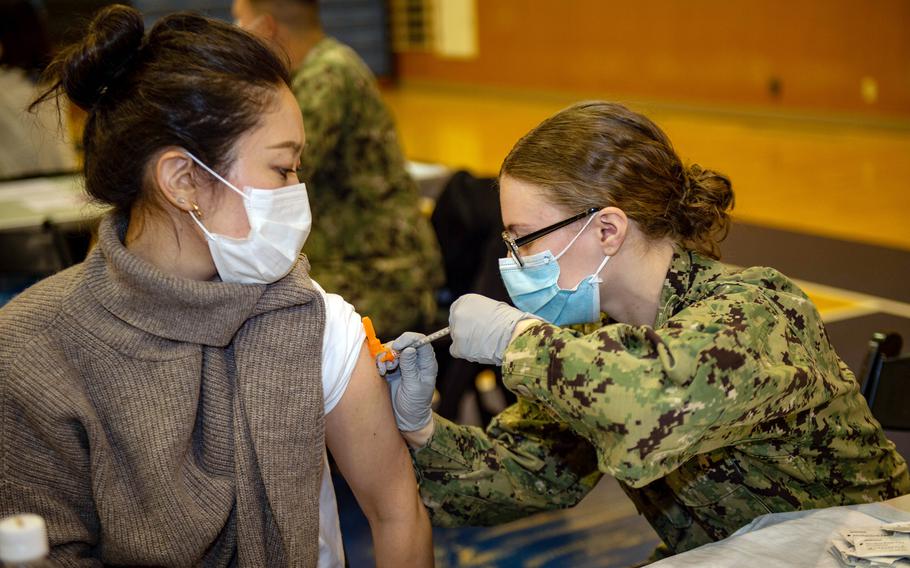 TOKYO — The coronavirus showed no signs of weakening Tuesday in Japan's capital city, where new infections rose above 14,000 again after a day in lower territory.
Tokyo confirmed 14,445 people tested positive for COVID-19, the coronavirus respiratory disease, according to public broadcaster NHK. The city reported 11,751 on Monday
New cases of COVID-19 in the city went above 12,000 on Jan. 25 and with one exception have remained there. Meanwhile, 50% of the hospital beds reserved for routine COVID-19 patients in the city are filled, a benchmark that previously meant tougher public health restrictions.
However, Prime Minister Fumio Kishida on Monday ruled out a higher-level public health emergency for the city, according to Kyodo News. The city and three surrounding prefectures are already under a quasi-emergency until Feb. 13. Kishida told reporters he would wait and see how effective they are.
Also Monday, Okinawa Gov. Denny Tamaki on Twitter said he wrote the commander of III Marine Expeditionary Force, Lt. Gen. James Bierman Jr., asking that U.S. troops on Okinawa remain on their installations, despite the end of a three-week COVID-19 confinement order that lapsed that day. U.S. service members, civilian employees and family members were restricted to their homes and military installations across Japan to help stem the virus' spread.
Tamaki sent the same message to Japan's Ministry of Foreign Affairs, asking that the U.S. military "extend the period of off-base activity restrictions on all military members stationed in US bases in Okinawa until the surge is over."
A III MEF spokesman said the Marines were guided by their higher headquarters, consistent with the prefecture's own messaging.
"We remain in line with [Okinawa prefectural government's] request of its own citizens, per higher headquarters' guidance," Capt. Gabe Adibe told Stars and Stripes by email Tuesday. "Our active cases have declined dramatically due to our aggressive and effective mitigation measures. We are committed to the health of our shared communities and readiness to meet any crisis or contingency alongside our Japanese ally."
Okinawa reported 715 new COVID-19 cases Tuesday, continuing a general decline in case numbers from 1,256 on Jan. 26, according to the prefectural Department of Public Health and Medical Care. The department reported 49 new cases in the U.S. military community. Nearly 30,000 U.S. service members of all branches are stationed on Okinawa, according to the Marine Corps.
U.S. Forces Japan by 6 p.m. Tuesday had not updated its daily COVID-19 case numbers since Saturday when it reported 283 new infections across 17 installations in Japan and 26 individuals awaiting confirmation.
Yokota Air Base, the USFJ headquarters in western Tokyo, on Tuesday said 62 individuals tested positive there between Saturday and Monday, according to an update on its website. It last reported 74 between Jan. 25 and Friday.
Naval Air Facility Atsugi, about 25 miles southwest of Tokyo, in a Facebook post said it had 13 new cases Tuesday and 63 total active cases.
Sasebo Naval Base on Kyushu Island reported eight new cases Tuesday, according to a post on its Facebook page. Seven tested positive after falling ill and one was discovered during a medical screening. None of Sasebo's 137 active cases are hospitalized.
Kadena Air Base on Okinawa reported 307 active cases on Tuesday, 10 fewer than its last update Friday, according to its website.
Stars and Stripes reporter Mari Higa contributed to this report.
---
---
---
---