US military says latest COVID-19 surge may have peaked on Guam
By
Stars and Stripes
February 1, 2022
---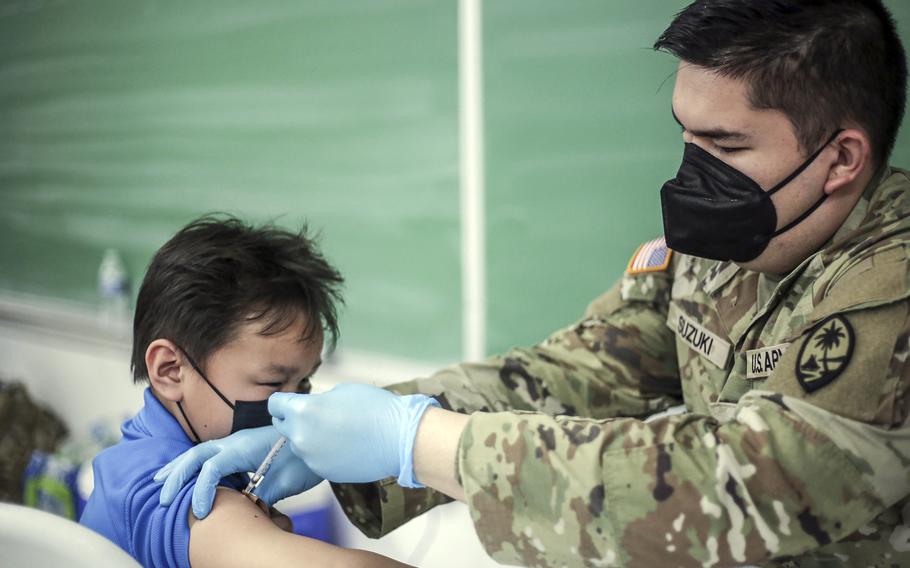 COVID-19 is surging across the island of Guam, but indications suggest military cases may have already peaked, a spokeswoman for the military command on the U.S. territory said Tuesday.
U.S. Naval Hospital Guam reported 824 positive cases that day, Joint Region Marianas spokeswoman Lt. Cmdr. Katie Koenig told Stars and Stripes by email. Of those, 364 are uniformed personnel and 97 are Defense Department civilians or contractors.
"Cases are holding steady both on and off-base," Koenig said.
The island's Joint Information Center reported 777 new cases on Tuesday and 39 hospitalizations. The island community has 5,948 active cases, according to the information center.
The current surge could be attributed to the omicron variant. Guam sends its samples elsewhere for genome sequencing, which can determine a specific COVID-19 variant, Krystal Paco-San Agustin, a spokeswoman for Guam's Gov. Lou Leon Guerrero, told Stars and Stripes by email Tuesday. Only 17 cases have been identified as omicron; however, the samples were collected between Dec. 19 and Jan. 10
Omicron infects its patients more easily than the delta variant but causes less severe illness and fewer deaths, according to the Centers for Disease Control and Prevention.
Only three people have been admitted to intensive care and none are currently on a ventilator, Paco-San Agustin said.
The current wave is "not as serious as our experience with the Delta variant," she said. "This is a manageable figure, especially when compared to the 102 COVID admissions we saw in November 2020" before vaccinations were available.
Four deaths were confirmed Tuesday, bringing Guam's total to 294 since the pandemic began, the information center said. Three were vaccinated and all had underlying health conditions.
The youngest was a 68-year-old woman who was unvaccinated, the information center reported.
Mitigation measures on Guam include mandatory masks in congregate settings, limits on gathering size and restricting indoor dining and bars to those with proof of vaccination, Koenig said. No changes are expected.
Air forces from Australia and Japan have joined their American counterparts at Andersen Air Force Base this week for exercise Cope North 2022, 36th Wing spokeswoman 1st Lt. Jade Abelon wrote in an email to Stars and Stripes on Tuesday.
Quarantine requirements were updated Jan. 26 to seven days for incoming personnel to protect the local community.
"Our mitigation efforts are working thus far," Abelon said. Restrictions may be updated depending on conditions.
Guam's government has adjusted its testing policy, prioritizing those with symptoms and high-risk close contacts, to conserve tests, Paco-San Agustin said. She said Guam plans to "stay the course" as omicron appears to be retreating.
---
---
---
---