Okinawa winter sports season over, but others to resume
By
Stars and Stripes
January 31, 2022
---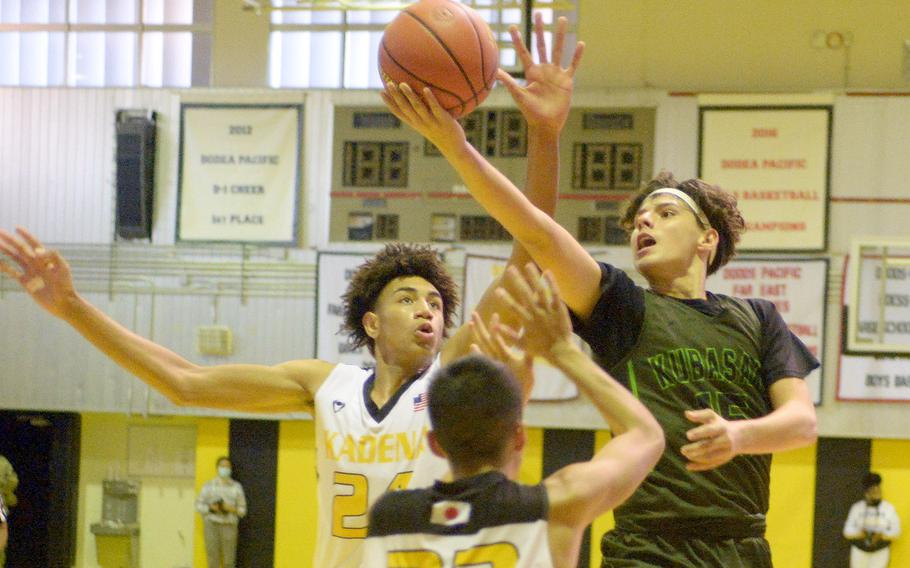 Stars and Stripes is making stories on the coronavirus pandemic available free of charge. See more stories here. Sign up for our daily coronavirus newsletter here. Please support our journalism with a subscription.
URUMA, Okinawa – While practice will get the go-ahead to restart Tuesday, any hope the Okinawa high schools will play each other in basketball and wrestling the rest of the winter season is pretty much off the table, DODEA officials said.
Citing an uptick in coronavirus cases and student-athletes out of school due to illness and contact tracing, Kadena and Kubasaki "are working together to determine how they can best end the winter season," DODEA-Okinawa community superintendent Jacqueline Ferguson said.
The season is "unlikely to proceed in a traditional manner," Ferguson said, meaning games between the schools likely won't happen.
Meanwhile, teams in DODEA's Japan and Korea districts have gotten the nod to begin practicing and will play the next two weekends in Korea and the next three in Japan. Guam High has already resumed competition, with wrestling dual meets on Saturday.
Kadena's boys and girls basketball teams are scheduled for in-house black-and-gold games Feb. 10. "We all really wanted a different end to this season, but (we) have to put safety first," Kadena athletics director Jason Stevens said.
Kubasaki is also planning a similar event, but no date has been set or announced, DODEA-Pacific athletics coordinator Tom McKinney said.
Kadena and Kubasaki played each other four times in boys basketball and three times each in girls basketball and wrestling.
DODEA-Korea's basketball games are now boys at Osan and girls at Humphreys this weekend and boys at Daegu and girls at Osan the following weekend.
"We're a go until we hear no," Daegu athletics director Blake Sims said.
The Warriors wrestling team has shut down, Sims said, citing too few wrestlers to continue. Thus, Korea wrestling will feature Humphreys vs. Osan the next two weeks.
It means Korea will have just three weeks of competition this season, including the Dec. 11 openers.
"But that's better than what we had last year, which was nothing," Sims said of the canceled 2020-21 season. "This is a big step forward."
DODEA-Japan schools get the season back underway Tuesday with Yokota facing Nile C. Kinnick in basketball.
Matthew C. Perry and Robert D. Edgren host basketball competitions Friday and Saturday, while Nile C. Kinnick and Perry each host wrestling tri-meets. DODEA-Japan's tournaments follow Feb. 10-12, boys basketball at Yokota, girls at Zama and wrestling at Kinnick.
The regular season winds up Feb. 15 with Kinnick facing Yokota in basketball, then Feb. 18-19 with Perry at E.J. King and Kinnick at Edgren in basketball and Yokota, Zama and Kinnick at Edgren in a wrestling quad-meet.
Reaction among basketball coaches and athletes at Japan schools was positive. "Having the (DODEA-Japan) tournament is huge," Yokota boys coach Dan Galvin said.
King's boys players were "cheerful and in high spirits" when they learned the Japan season would continue, Cobras coach Travis Elliott said. "COVID has taken a toll on them, so any positive news about their high school experience is good news."
The go-ahead for high school sports coincides with U.S. Forces Japan lifting its stay-at-home order implemented Jan. 10. It was lifted 6 a.m. Monday.
---
---
---
---