Tokyo's coronavirus surge continues as US military begins a third week under lockdown
By
Stars and Stripes
January 24, 2022
---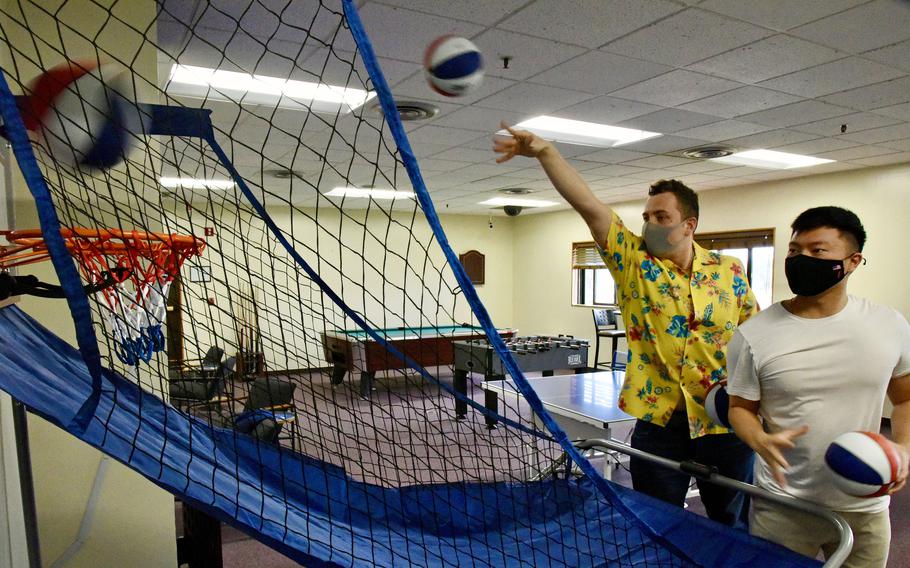 Stars and Stripes is making stories on the coronavirus pandemic available free of charge. See more stories here. Sign up for our daily coronavirus newsletter here. Please support our journalism with a subscription.
TOKYO — The sixth wave of COVID-19 pushed past its own record in Japan's capital city on Saturday with 11,227 new cases reported by the metropolitan government.
The new record in Tokyo is nearly double the previous pandemic high of 5,908 in August, according to metropolitan government data online. On Monday, the city reported a modest decline to 8,503 new infections, according to public broadcaster NHK.
Japan reported more than 100,000 new cases on Saturday and Sunday, both record-setting days, according to Johns Hopkins Coronavirus Resource Center.
Americans in Japan with the U.S. military began a third week confined to their military installations or off-base homes Monday under an agreement between the U.S. and Japanese governments to help stem the virus' spread. A two-week stay-at-home order expected to end that day was extended another week by U.S. Forces Japan on Friday.
Service members, civilian employees and their families are expected to stay on their installations or in their homes except for essential services and travel to and from work. A 10 p.m. to 6 a.m. curfew was imposed separately, and masks are required anywhere on or off base.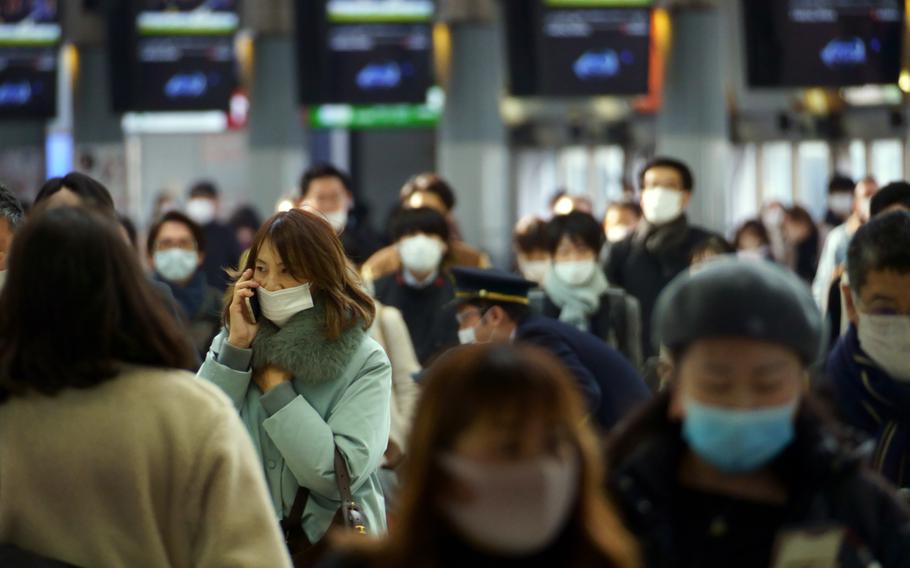 Like the original order announced Jan. 7, the extension was preceded by a high-level meeting of government officials, this time the nation's chief executives.
President Joe Biden and Prime Minister Fumio Kishida held a 90-minute virtual meeting Friday, according to a readback of their call released the same day in Washington by the State Department. The two leaders talked at length on many subjects, but the pandemic got only a brief mention.
USFJ made no report of new cases by 6 p.m. Monday. It last announced 550 new cases Friday at 18 installations across Japan, and 17 individuals awaiting confirmation. None of the U.S. bases reported any hospitalizations or severe COVID-19 cases.
Sasebo Naval Base on Kyushu Island confirmed 92 newly infected individuals between Friday and Monday, according to a post on the official base Facebook page. Of those, 77 had fallen ill before testing positive and 15 were discovered by medical screenings. The base has 220 active cases, none hospitalized, and, so far, in January has reported 408 new cases.
The omicron wave, although considered less virulent than the delta variant before it, is nonetheless racking up record numbers of infections, causing government alarm in Japan as hospitals fill up. Tokyo reported 35% of hospital beds set aside for COVID-19 patients are filled and 2.5% of those for severe patients, who number 13, as of Sunday.
Tokyo and 12 other prefectures entered a quasi-emergency Friday until Feb. 13 whose restrictions include reduced hours and curtailed alcohol sales at cooperating bars and restaurants. Some restaurants may ask for proof of vaccination to seat groups of five, according to the prefectural government.
About a dozen more prefectures, including Kyoto and Osaka, asked the government to extend the same emergency there, according to public broadcaster NHK. That decision could be announced Tuesday by Kishida.
Okinawa, Yamaguchi and Hiroshima prefectures asked that their emergencies, declared earlier than the rest, be extended beyond their Monday deadlines, according to Japan's Asahi newspaper.
Okinawa, where the majority of U.S. troops are stationed, reported 611 new cases Monday, 956 on Sunday and 1,313 on Saturday, according to the prefectural Department of Health and Medical Care.
On Friday, 13 people at Marine Corps Air Station Iwakuni in Yamaguchi prefecture tested positive, according to a base news release.
The omicron wave is making its presence felt in everyday conveniences, or lack of them. Yokosuka Naval Base on its Facebook page said the base post office was closed Saturday because a staff member tested positive for COVID-19. The base food court was also closed Sunday "until further notice" for the same reason, according to the base.
"Thank you for your understanding while we take the time to deep clean, sanitize, and have staff members tested," the post states.
Other bases have experienced similar closures. The Chili's restaurant at MCAS Iwakuni closed Jan. 15, reopening Monday for takeout service only. The base flag football season opener Tuesday and Harry Potter Book Night at the base library Feb. 3 were postponed, according to Marine Corps Community Services.
Stars and Stripes reporters Mari Higa and Jonathan Snyder contributed to this report.
---
---
---
---