South Korea pressures US military to do more to curb coronavirus infections
By
Stars and Stripes
January 19, 2022
---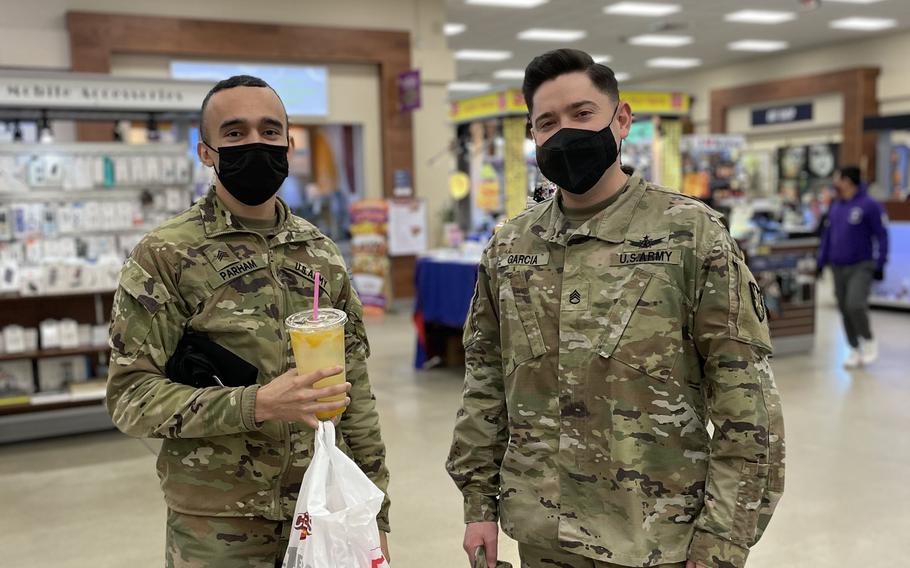 Stars and Stripes is making stories on the coronavirus pandemic available free of charge. See more stories here. Sign up for our daily coronavirus newsletter here. Please support our journalism with a subscription.
CAMP HUMPHREYS, South Korea — South Korean health officials are pressuring the U.S. military to increase its COVID-19 mitigation measures after weeks of record-high infection rates within U.S. Forces Korea.
USFK reported a pandemic record of 1,599 weekly cases between Jan. 4 and 10, more than twice the previous high of 682 cases the preceding week.
In its latest update Wednesday, USFK reported 566 infections between Jan. 11 and Monday. The command provided detailed information on its confirmed cases until late 2021, when it shifted to weekly case counts as "a matter of policy."
South Korea's Ministry of Foreign Affairs on Tuesday "entreated" the U.S. Embassy in Seoul "to urge USFK" to provide daily public updates on its COVID-19 cases and to have its "troops receive booster shots," a ministry official said in an email Wednesday on the customary condition of anonymity.
The Ministry of the Interior and Safety has stepped up its efforts to provide vaccine shots and raise awareness of the pandemic to foreigners living in South Korea. A ministry official told Stars and Stripes by email Wednesday that it will inspect "major airports and harbors around USFK bases" that have reported increased caseloads until Feb. 11.
Pyeongtaek, where Camp Humphreys is located, reported that roughly 42% of the city's COVID-19 cases between Jan. 3 and 16 stemmed from people affiliated with the U.S. military, a public health official told Stars and Stripes by phone on Wednesday.
Humphreys is the largest U.S. military base overseas and is accessed by over 32,000 people on a daily basis.
The base and Pyeongtaek are both part of Gyeonggi province, which continues to report a higher number of daily infections than any other province, including Seoul, the capital city. The province reported 2,176 infections Tuesday, about 37% of South Korea's total caseload the same day.
The rise in positive cases prompted Pyeongtaek's government to administer mandatory COVID-19 tests for South Korean citizens who work at USFK installations in the city, as well as those working in local schools and gyms.
USFK, which is responsible for roughly 28,500 U.S. troops on the Korean Peninsula, also employs around 12,500 Koreans, according to the Korean Employees Union.
The new tests must be conducted between Jan. 17 and 26, regardless of each workers' vaccination status, according to a Pyeongtaek City press release on Wednesday.
Violators can be fined up to roughly $2,500 and can be charged for quarantine expenses "due to the spread of infection caused by the violation against the order," the release said.
"We implement the administrative order due to the rapid increase in the number of confirmed cases in Pyeongtaek City," Pyeongtaek Mayor Jung Jang-seon said in an accompanying statement. "We entreat people to cooperate with us even if they feel inconvenience."
On Jan. 8, USFK responded to the surge of new cases by elevating its health-risk level to Bravo-plus, which curtails many off-base activities, including indoor dining at restaurants and visits to shopping malls, clubs and Seoul.
Eighth Army commander Lt. Gen. Willard Burleson met with Jung on Jan. 7 to discuss his command's pandemic response in relation to Pyeongtaek.
"All members of the Eighth Army are aware of the critical situation and are operating [within] strengthened quarantine guidelines," Burleson said at the meeting.
The command "maintains a very aggressive approach against COVID-19," USFK spokesman Col. Lee Peters told Stars and Stripes in an email Wednesday.
"We can reassure our USFK and South Korean communities we remain at a high level of … readiness and can fulfill our obligation to protect and defend [South Korea] against any threat or adversary," he said.
Peters said the command's medical experts meet routinely with their counterparts from the Korea Disease Control and Prevention Agency in their efforts to curb the spread of COVID-19.
Stars and Stripes reporter Yoo Kyong Chang contributed to this report.
---
---
---
---