North Korea says tactical guided missiles struck island target off its eastern coast
By
Stars and Stripes
January 18, 2022
---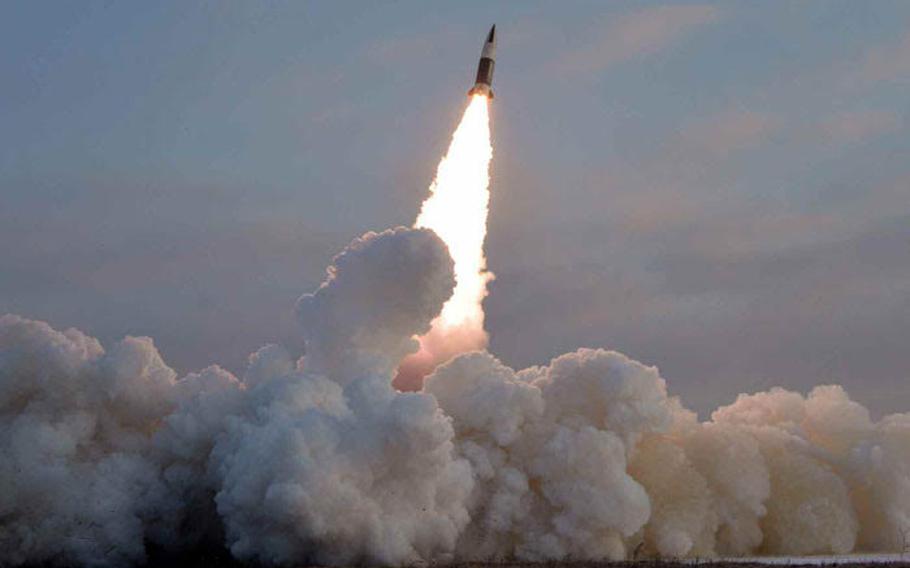 CAMP HUMPHREYS, South Korea — North Korea claims that a pair of guided missiles launched from Pyongyang on Monday "precisely" hit their island target off the country's eastern coast.
The missiles — the fourth and fifth test-fired by the communist regime so far this month — were launched to evaluate the accuracy of the North's weapons system, the state-run Korean Central News Agency said in a statement Tuesday. The missiles' "accuracy, security and efficiency" were verified, the statement added.
The missiles were fired at 8:50 a.m. and 8:54 a.m. Monday, according to a statement from South Korea's Joint Chiefs of Staff. The South's military said both were launched from Sunan Airfield in the capital city.
The Joint Chiefs told reporters Monday it was "paying attention to a possibility that North Korea might have tested the continuous shooting capabilities of a super-large multiple rocket launcher."
The missiles flew 174 miles with a peak altitude of 26 miles before hitting the island, a South Korean military official speaking on the customary condition of anonymity told Stars and Stripes by phone Tuesday.
South Korean Ministry of Defense spokesman Boo Seung-chan described the missiles as "direct and serious military threats," during a press conference Tuesday.
The projectiles appear to be North Korea's KN-24 short-range ballistic missile, which was first tested in 2019, according to Ankit Panda, a senior fellow at the Carnegie Endowment for International Peace.
"North Korea described it as a tactical guided weapon, implying it's potentially not nuclearized just yet, but I think they would be able to convert this for a tactical nuclear weapons use if they decided to do that down the road," Panda told Stars and Stripes by phone Tuesday.
The North fired KN-24s during a launch on March 21, 2020. Those missiles also landed on a small island off the eastern coast.
"It's small enough that they can confirm guidance and accuracy with a relative degree," Panda said.
South Korean President Moon Jae-in on Monday issued a statement through his office saying that he ordered the government to "make sure the situation of the Korean Peninsula is stably managed."
North Korea has test-fired five missiles so far this month. The last launch happened Friday when the regime fired a pair of railway-based missiles.
Prior to that launch, Pyongyang on Jan. 11 fired what South Korean military officials described as a "more advanced" missile that reached 10 times the speed of sound.
Monday's launch comes amid U.S. pressure to curb North Korea's missile tests. The United States on Wednesday slapped sanctions against six North Koreans, a Russian and a Russian company that are suspected of providing material aid to the regime's weapons program.
"Today's actions, part of the United States' ongoing efforts to counter [North Korea's] weapons of mass destruction and ballistic missile programs, target its continued use of overseas representatives to illegally procure goods for weapons," said Brian Nelson, Treasury undersecretary for terrorism and financial intelligence, in a statement Jan. 12.
In addition to the sanctions, the U.S. joined Japan, Albania, France, Ireland and the United Kingdom in condemning North Korea's Jan. 5 launch, which Pyongyang claimed was a hypersonic missile. South Korea did not join the countries in the joint statement.
Stars and Stripes reporter Yoo Kyong Chang contributed to this report.
---
---
---
---