US military elevates coronavirus restrictions in South Korea in wake of latest surge
by
David Choi
Stars and Stripes
January 10, 2022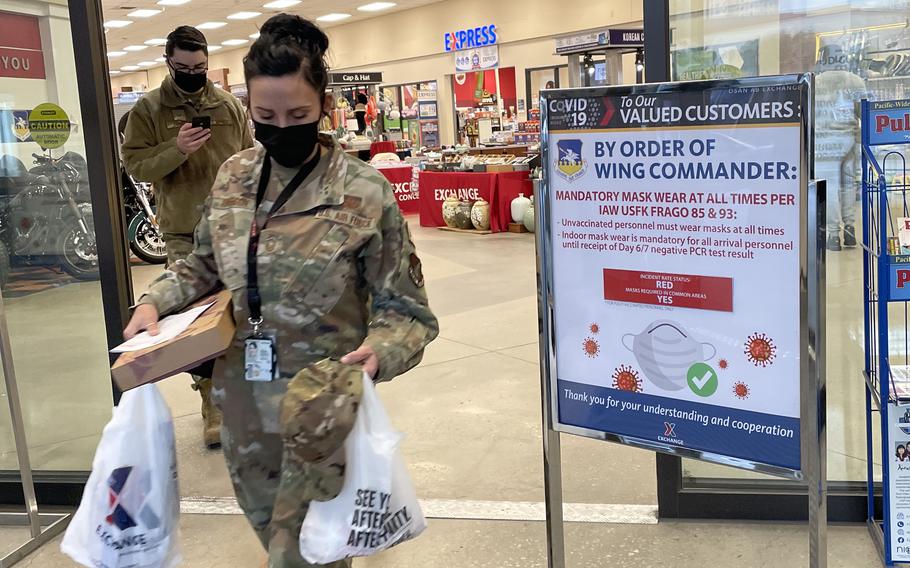 CAMP HUMPHREYS, South Korea — The latest surge of COVID-19 cases in South Korea has prompted the U.S. military to elevate its health-risk level and enact additional restrictions, including a ban on nonessential travel to Seoul.
U.S. Forces Korea, which is responsible for about 28,500 troops on the peninsula, moved to condition Bravo-plus on Saturday, signaling an "elevated" risk of the coronavirus respiratory disease spreading in the community.
The move means a host of off-base activities are no longer authorized. These include dining in at restaurants, along with visits to shopping malls, bars, clubs, gyms, movie theaters, amusement parks and festivals. Off-installation overnight stays are also prohibited.
The restrictions will last "until further notice," USFK said in an announcement posted on its website.
Personnel on the peninsula are, however, clear to travel between installations. They can also go off base for things like grocery shopping, takeout food, medical care, child care, religious services, auto repair and for exercise.
USFK counted 682 new COVID-19 cases between Dec. 28 and Jan. 3, up from its previous high of 467 cases the prior week. All but one of the new infections were community generated, according to the command.
Gyeonggi Province reported higher infection numbers than any other area of the country Sunday with 1,014 new cases, according to the Korea Disease Control and Prevention Agency. The province is home to Camp Humphreys, the largest U.S. military base overseas, and Osan Air Base, home of the 7th Air Force.
Eighth Army's commander, Lt. Gen. Willard Burleson, met Friday with Pyeongtaek City mayor Jung Jang-seon to discuss the military's pandemic response.
"All members of the Eighth Army are aware of the critical situation and are operating [within] strengthened quarantine guidelines," Burleson said at the meeting.
Visits to Seoul are limited to official duty "due to the associated risk of potential exposure to the virus," USFK said in Saturday's announcement. The capital city, which frequently counts higher case numbers than other provinces, reported 781 new infections on Sunday.
The surge of new cases comes after the country reported a one-day record of 7,849 infections on Dec. 15. The uptick prompted the government to roll back its plans to loosen social distancing restrictions by reenacting business curfews and limiting private gatherings to four people.
South Korean President Moon Jae-in on Friday addressed USFK's influx of positive cases and said the government must work closer with the command to control the spread.
"The government should cooperate closely with [USFK] for more rigorous disinfection management of U.S. military bases in Korea and their service members," Moon said in a statement issued by his spokeswoman, Park Kyung-mee.
South Korea's response to the uptick in U.S. military infections stands in contrast to that of Japanese officials. U.S. Forces Japan, dealing with its own surge, has agreed to restrict troops to their military bases, excluding essential off-base activities, for 14 days starting Monday.
---
---
---
---