Navy gets final order from Hawaii Health Department: Close Red Hill fuel facility
by
Wyatt Olson
Stars and Stripes
January 4, 2022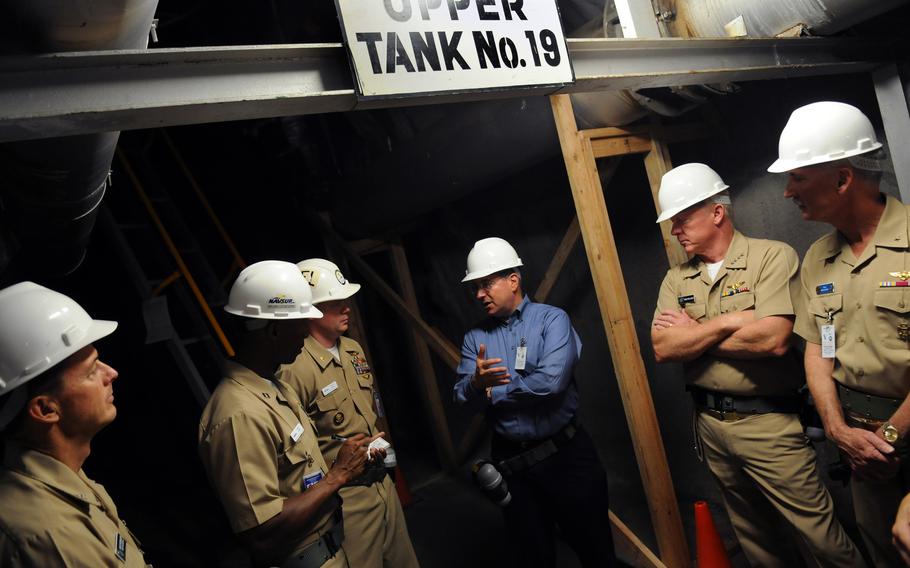 FORT SHAFTER, Hawaii — The Hawaii Department of Health on Monday gave final approval to an emergency order to close the Navy's Red Hill underground fuel storage facility on Oahu that is linked to contaminated water affecting thousands living in military communities.
"Today's decision affirms DOH's actions to safeguard the drinking water that we share as a community," Kathleen Ho, deputy director of environmental health, said in a news release.
Ho ordered the facility closed Dec. 6, about a week after people living on and near Joint Base Pearl Harbor-Hickam began complaining of foul-smelling tap water that carried an oily sheen.
The Navy traced the problem to petroleum contamination in one of the three wells used in its water distribution system.
Hundreds were sickened from drinking or bathing in the water, and thousands of residents have been living temporarily in hotels as the Navy works at flushing out the contamination.
"In light of today's ruling, we call upon the Navy to act without further delay to address the imminent peril this facility poses to the people and environment of Hawai'i," Ho wrote.
The Navy contested the emergency order, which prompted a lengthy evidentiary hearing shortly before Christmas heard by David Day, deputy attorney general of Hawaii.
Day upheld the emergency order, describing it as an "imminent peril" sitting about 100 feet above Oahu's primary aquifer.
"The Red Hill Facility has already damaged human health and the environment and, as currently situated, inevitably threatens to do so into the future," wrote Day, noting that the "weight of the evidence establishes" that the facility is "a metaphorical ticking timebomb located 100 feet above the most important aquifer on Hawaii's most populous island."
In a lengthy 15-point rebuttal last week, the Navy argued that the Health Department lacks the authority to order the World War II-era facility closed. It holds about 150 million gallons of fuel used by all the service branches.
Navy attorney Craig Jensen wrote that the state's order was the product of a "truncated, expedited and limited process" and that decisions about the facility's future would be properly considered during the permitting process.
The Navy has 30 days to appeal the Health Department's final order in Hawaii Circuit Court, the news release said.
Navy spokeswoman Cmdr. Reann Mommsen said in a written statement Monday that the Navy is reviewing the decision.
"The order will remain in effect unless it is stayed by a court," the news release said.
---
---
---
---