India, Russia move ahead with missile defense sale despite risk of US sanctions
by
Wyatt Olson
Stars and Stripes
December 10, 2021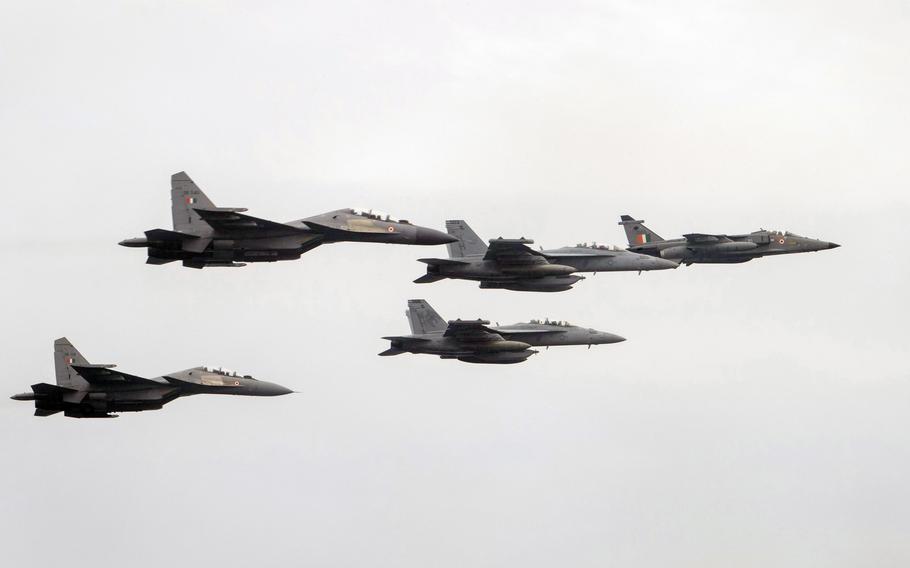 India is moving ahead with a $5.4 billion deal to buy a missile defense system from Russia, despite earlier warnings from U.S. officials of possible sanctions against the South Asian nation.
Indian Prime Minister Narendra Modi and Russian President Vladimir Putin met Dec. 6 in New Delhi for the 21st India-Russia Summit, during which the leaders agreed to expand defense ties.
Harsh Vardhan Shringla, India's foreign secretary, told reporters Dec. 6 that the transfer of components for the S-400 Triumf air-defense system was already taking place.
"Supplies have begun this month and will continue to happen," he said, according to a New York Times report Dec. 6.
India is also slated to buy $600 million worth of Russian AK-203 rifles, the Times reported.
The deal could potentially trigger U.S. sanctions against India under the Countering America's Adversaries Through Sanctions Act, which was passed to hold Russia accountable for pernicious behavior.
Since inking the missile defense deal in 2018, India's quest for a more robust defense sector has only grown.
Its relations with China, its neighbor to the north, have badly deteriorated since the summer of 2020, when Indian and Chinese troops clashed in hand-to-hand combat on the disputed border between the two countries, leaving at least 20 Indian soldiers dead in the Galwan Valley.
That summer's hostilities marked the first time that shots were fired since the two sides entered into a no-fire agreement in 1996.
India's perceived threat from China is one reason military cooperation has grown between it and the United States.
India and the U.S., along with Australia and Japan, have increased cooperation through participation in the Quadrilateral Security Dialogue, or Quad. Its stated purpose is to promote "a free-and-open Indo-Pacific," but it is essentially a means of countering China's growing economic, political and military influence in the region.
India has long been leery of aligning too closely with any single superpower, a reluctance that stretches back to the Cold War between the U.S. and Soviet Union.
Given that history, it is not surprising that India would seek parallel cooperation with Russia.
In October, U.S. senators John Cornyn of Texas and Mark Warner of Virginia, who cochair the India Caucus, encouraged President Joe Biden to waive any potential sanctions against India for buying arms from Russia.
"While India has taken significant steps to reduce its purchases of Russian military equipment, it has a long history of purchasing arms from the Soviet Union, and later Russia," they wrote in a letter.
"In cases where granting a waiver would advance the national security interests of the U.S., this waiver authority, as written into the law by Congress, allows the President additional discretion in applying sanctions," they wrote.
As of Thursday, neither the White House nor the State Department had issued a statement about the culmination of the missile defense deal.
---
---
---
---