US combat troops for Ukraine not on table, Biden says
by
John Wagner, Ashley Parker
The Washington Post
December 9, 2021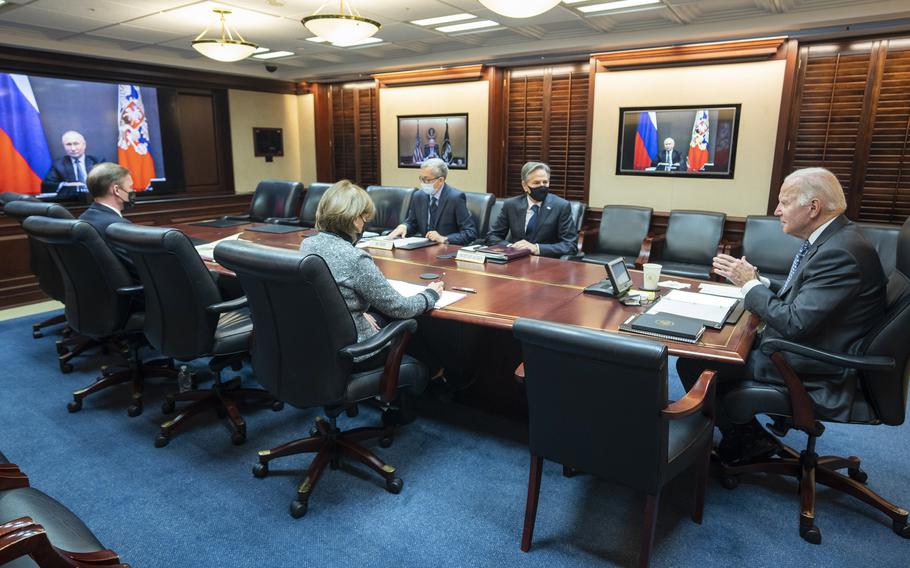 WASHINGTON - President Joe Biden on Wednesday ruled out putting U.S. combat troops in Ukraine for now, a day after he warned Russian President Vladimir Putin in a video call that Russia would face severe economic sanctions if he mounts an invasion.
"That is not on the table," Biden said when asked if he was considering, as some lawmakers have suggested, stationing U.S. troops in or around Ukraine to protect against a potential Russian move.
Biden's comments to reporters as he left the White House for an event in Kansas City, Mo., marked his clearest articulation of what the United States is and is not willing to do to curb Russian aggression in the region.
The White House has long rejected the notion of putting U.S. combat troops at risk in an area that Russia considers part of its sphere of influence - and Biden, having endured a rocky exit from Afghanistan, is not eager to jump into another complex military conflict. But his emphatic restatement of his position at this crisis point was notable.
Instead, the president reiterated his broad commitment to punishing Russia should Putin choose to move ahead with an invasion of its western neighbor. "I made very clear if in fact he invades Ukraine, there will be severe consequences, severe consequences, economic consequences like ones he's never seen," Biden said. "His immediate response was he understood that."
Biden also said an invasion would lead to an increased U.S. presence in the NATO countries in the region and suggested his calculus could change if one of them were attacked by Russia. From Estonia to Turkey, a line of NATO countries lies just to the west of Russia and Ukraine.
Biden is scheduled to speak with Ukrainian President Volodymyr Zelensky on Thursday, the White House said. After that call, Biden will speak to the leaders of nine eastern European countries that are NATO members.
"We have a moral obligation and a legal obligation to our NATO allies" to respond if they are attacked, Biden said, referring to Article Five of the alliance's treaty, which states that an attack on one member is viewed as an attack on all.
"That obligation does not extend to . . . Ukraine," Biden said pointedly. "The idea that the United States is going to unilaterally use force to confront Russia invading Ukraine is not in the cards right now."
During a two-hour video call between Biden and Putin on Tuesday, the Russian president made clear that he wants assurances from the United States that Ukraine will not join NATO - an unlikely near-term outcome regardless, despite Ukraine's eagerness. He also complained that the U.S.-led military alliance is encroaching on Russia's borders and conducting threatening activities on Ukrainian territory.
Biden said last week that he would reject any demands by Putin on a prospective Ukraine membership in NATO. "I don't accept anybody's red lines," he said.
The current crisis has its origins in 2014, when Russia invaded and annexed the Ukrainian region of Crimea, a move condemned by the United States and its allies as brazenly illegal. Since then, Russian-backed fighters have battled Ukrainian forces in eastern Ukraine.
Biden's comments came as Russia has positioned additional troops on the Ukrainian border. According to U.S. officials and an intelligence document obtained by The Washington Post and U.S. officials, U.S. intelligence thinks Russia may be planning a multi-front offensive into Ukraine involving as many as 175,000 troops as early as next year.
Still, Russia experts say it can be hard to fathom Putin's motives, and the show of force could be aimed at gaining diplomatic leverage more than an actual invasion.
Karine Jean-Pierre, the deputy White House press secretary, said that although the United States is not planning unilateral military force to confront Russia, all options remain open.
"That's not our focus - our current focus," Jean-Pierre said. "But we are preparing for all contingencies, as we have been doing for weeks now, including preparing specific robust responses to Russian escalation should they be required."
The United States has placed troops in Ukraine for training, so the discussion has revolved around the question of combat troops.
Overall, Biden characterized his video call with Putin as "very straightforward" and said he did "not mince words."
---
---
---
---