US lawmakers make unannounced trip to Taiwan amid tense relations with China
by
David Choi
Stars and Stripes
November 26, 2021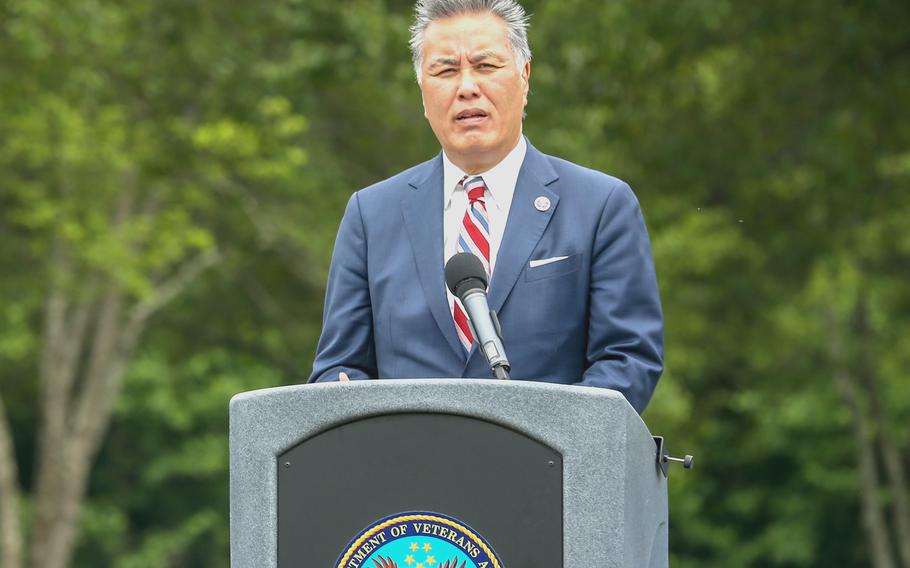 A bipartisan U.S. congressional delegation traveled to Taiwan on Thursday to discuss "U.S.-Taiwan relations, regional security, and other significant issues of mutual interest," the State Department's affiliate in the country said in a statement.
The delegation consisted of Democratic Reps. Mark Takano of California, Elissa Slotkin of Michigan, Colin Allred of Texas, Sara Jacobs of California and Republican Rep. Nancy Mace of South Carolina. Slotkin and Jacobs are members of the House Armed Services Committee; the remaining lawmakers serve on the House Veterans Affairs Committee.
No additional details of the discussions were immediately released by the lawmakers or the American Institute in Taiwan, the de facto embassy in Taipei. The U.S. does not officially recognize Taiwan as a country and instead has a close, informal relationship that includes defense assurances in the event of a military conflict.
Slotkin, a former CIA analyst, tweeted Thursday night that her office "received a blunt message" from the Chinese embassy "telling me to call off the trip."
"But just as with other stops, we're here to learn about the region and reaffirm the U.S. commitment to our hosts, the Taiwanese," Slotkin continued on Twitter. "I'm looking forward to an informative trip."
The congressional delegation earlier in the week traveled to Okinawa, Japan, and met with U.S. troops and their commanders. On Thursday they served U.S. troops stationed in South Korea a Thanksgiving meal.
Takano, during the delegation's trip to South Korea, told Stars and Stripes in an interview Thursday that U.S. forces stationed in the country were pivotal due to a "sense of heightened stakes."
"The stakes have always been high here in Korea with an aggressive and erratic North Korea," Takano said. "But I think the fact that these service members are also positioned so closely to the Taiwan Straits, we can't help but feel … that these particular service members face heightened stakes."
The unannounced trip follows a separate congressional delegation that traveled to Taiwan earlier this month. Following that trip, Chinese Foreign Ministry spokesman Wang Wenbin warned that it "gravely violates the one-China principle," Beijing's claim that it has sovereignty over Taiwan and its 24 million residents.
"We ask the U.S. side to immediately stop all forms of official interactions with Taiwan and avoid sending wrong signals to the 'Taiwan independence' separatist forces, lest it should seriously undermine China-U.S. relations and peace and stability across the Taiwan Strait," Wang said in a statement to reporters Nov. 10.
The White House this week invited Taiwan to a virtual "Summit for Democracy" in December to advance an "affirmative agenda for democratic renewal and to tackle the greatest threats faced by democracies today through collective action."
President Joe Biden's invitation to Taiwan sparked backlash from Beijing, whose spokesman alleged the U.S. was "only using democracy as a cover and tool to advance its geo-strategic goals, suppress other countries, divide the world, and serve its selfish agenda of maintaining hegemony."
"Those offering platform to 'Taiwan independence' forces will find themselves in an awkward place," Chinese Foreign Ministry spokesman Zhao Lijian said to reporters Thursday. "Those playing with fire with 'Taiwan independence' forces will end up getting burned."
---
---
---