Military aircraft will be grounded in South Korea as students take college-entrance exam
by
David Choi
Stars and Stripes
November 17, 2021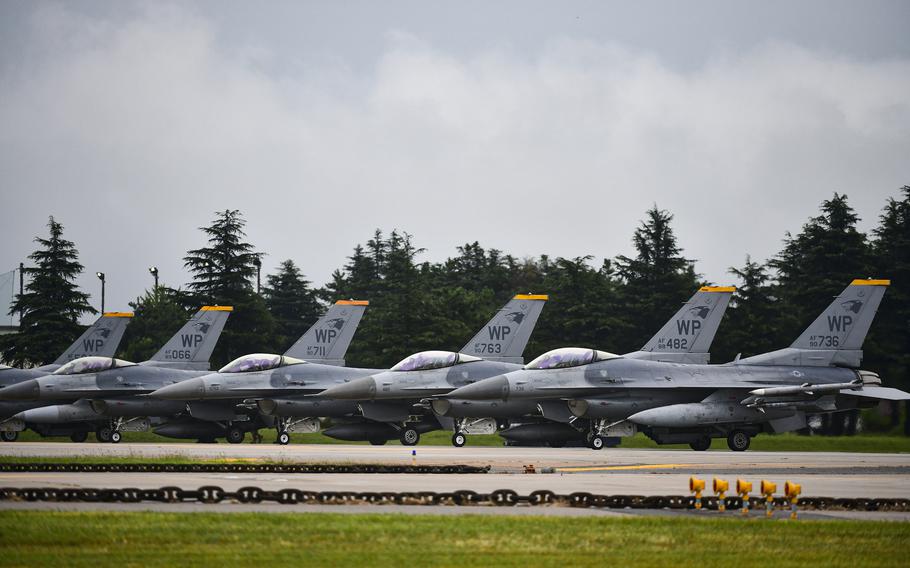 CAMP HUMPHREYS, South Korea — All aircraft operated by the U.S. and South Korean militaries will be grounded Thursday on the Korean Peninsula as high school seniors take a highly competitive college entrance exam.
The College Scholastic Ability Test, or suneung, is administered to high school students in South Korea every third Thursday in November. The test was pushed back last year to December due to the COVID-19 pandemic.
Aircraft from the South Korean air force, navy and army will be grounded to reduce noise levels during the exam, a Ministry of Defense official speaking on the customary condition of anonymity told Stars and Stripes by phone on Tuesday.
U.S. military aviation will also be silenced, public affairs officers told Stars and Stripes.
Army helicopters will be grounded throughout the day and firing ranges on military bases will be temporarily shut down, Eighth Army spokesman Lt. Col. Neil Penttila said by phone Wednesday. Medevac aircraft will be standing by in the event of an emergency.
The 8th Fighter Wing out of Kunsan Air Base will pause training during the exam and the 51st Fighter Wing has no scheduled flights on exam day, 7th Air Force spokeswoman Lt. Col. Kelley Jeter said in an email Tuesday.
Commercial aircraft will also be grounded between 1:05 p.m. and 1:40 p.m., an Incheon International Airport customer service representative speaking on the customary condition of anonymity said by phone Wednesday.
Park Gun Su, 18, a senior from Hwaseong, said he began intensely preparing for the exam last year, which was much later than most of his peers.
"I studied differently from everyone else and started a little bit late," Park told Stars and Stripes by phone Wednesday. He said he has taken practice tests every quarter since last year.
Park is not worried about the upcoming exam, he said, but "as the exam day nears, with no airplanes flying overhead, it feels more serious."
South Korean society places a heavy emphasis on preparing for the exam, which is widely viewed as the deciding factor for college admission and job prospects. Students who fail to achieve their desired score may retake the exam after they graduate from high school.
According to the Korea Institute for Curriculum and Evaluation's website, the exam's six subjects include mathematics, English, Korean history and language and a foreign language. The sixth category, an investigation section, includes vocational topics like basic drafting, commercial economy and an understanding of oceanography.
Exam participants are required to be at testing sites by 8:10 a.m. and are expected to finish at around 5 p.m. Several 20- to 50-minute breaks are allowed between sessions.
---
---
---