South Korea's military is considering updates to its rigid hairstyle policies
by
David Choi and Yoo Kyong Chang
Stars and Stripes
October 27, 2021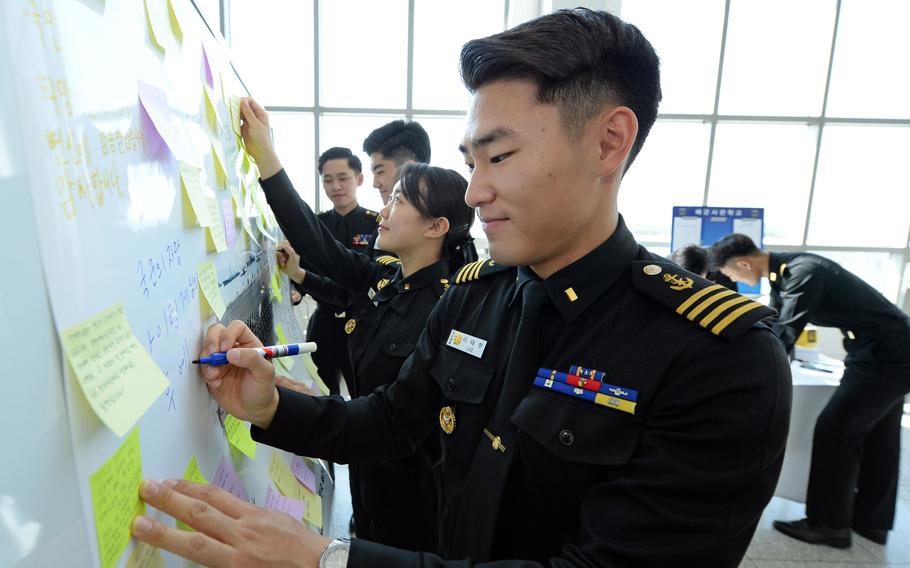 CAMP HUMPHREYS, South Korea — The South Korean military is considering changes to "eliminate differences" in hair regulations between male officers and enlisted service members, a move welcomed by a human rights organization in the country.
Grooming standards vary across the ranks and branches. In the navy, for example, male officers may choose between a crew cut, with hair no longer than 2 inches from the front and 1.18 inches from the top; or a standard cut with a side part extending up to 3.15 inches long.
Meanwhile, male enlisted sailors are limited to a crew cut.
In the South Korean air force, noncommissioned officers may part their hair "neatly" or wear a crew cut.
Women serving in the navy and air force must "do their hair up neat," according to military regulations, and their lengths and styles "must not disrupt the wearing of military caps."
A South Korean military official on Monday said the Ministry of National Defense was considering changes for men and women but that "nothing has been finalized yet."
"It does not mean that the military will definitely implement or has already set a starting date," the official told Stars and Stripes by phone on the customary condition of anonymity.
The Center for Military Human Rights Korea, a South Korean nonprofit organization focused on social issues in the armed forces, applauded the potential changes.
"There's no apparent reason" for the differences in hair regulations, Bang Hye-lin, the organization's counseling manager, told Stars and Stripes on Monday.
South Korea's military carried over customs and traditions from the United States after the 1950-53 Korean War, Bang said, and the country's grooming standards may be outdated.
On the other hand, U.S. military grooming standards are continuously changing.
In 1981, for example, then-Chief of Naval Operations Adm. Thomas Hayward banned beards for sailors below petty officer third class, according to the U.S. Naval Institute. Today the Navy permits mustaches, as long as they are "kept neatly and closely trimmed."
More recently, the Army began permitting female soldiers to wear ponytails with all of their uniforms, giving them "flexibility" and allowing them to "alleviate hair loss and damage to the scalp," according to an Army press release in May.
Bang said it's time the South Korean military followed suit.
"We've heard lots of complaints from soldiers about the difference in haircuts," Bang said. "In the case of the U.S. military, the regulations changed a lot — such a thing has not happened in our military."
Some South Korean troops, which include male conscripts, complain they are discriminated against when they attempt to rejoin civil society, Bang said.
"It is right that each soldier should have a decent appearance," Bang said. "But it is our center's basic position that there should not be a difference depending on military ranks. We believe that the military should establish flexible regulations."
---
---
---