Japanese court sends AAFES employee to prison on attempted rape, theft convictions
by
Matthew M. Burke and Mari Higa
Stars and Stripes
October 18, 2021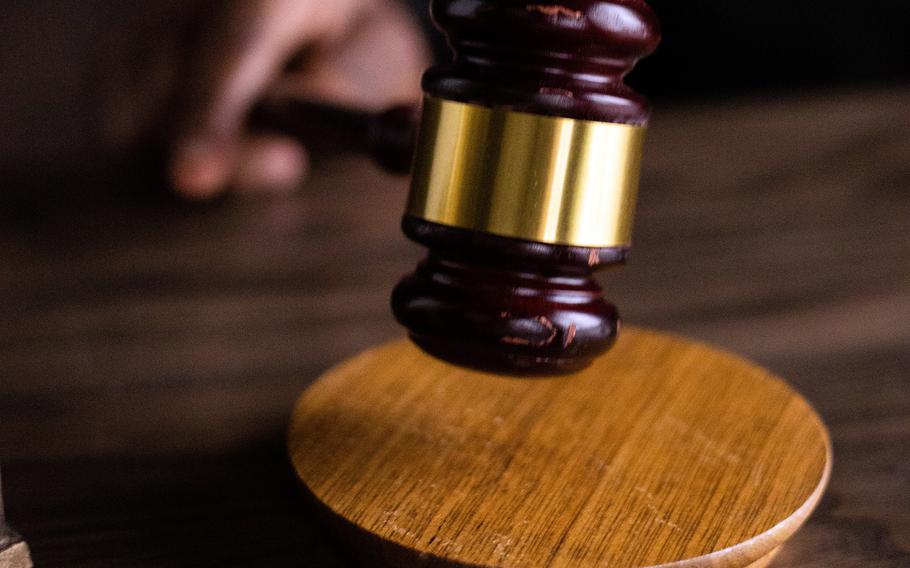 NAHA, Okinawa – A U.S. civilian employee at a Marine Corps base on Okinawa was sentenced to four years in prison with labor by a Japanese court Monday for attempted rape and unrelated theft convictions.
Rushane Joel McKoy, 25, of Chatan Town, an employee at an Army and Air Force Exchange Service store at Marine Corps Air Station Futenma, pleaded guilty to both charges in Naha District Court on Oct. 6.
Prosecutors charged McKoy with trying to force a local woman into sex acts in April. The theft charge stems from an incident in August 2020, when he was accused of taking a shoulder bag containing 7,000 yen in cash, or about $62.
McKoy's wife took the stand Oct. 6 and said he needs mental health counseling.
The three judges hearing the case were unmoved.
"The manner of the crime is malicious," head Judge Koji Oohashi said during sentencing Monday morning. "The defendant's attitude clearly shows a disregard for the victim's dignity."
McKoy's remorse appeared superficial, Oohashi said: "It is hard to say that he faced his actions in a sincere manner."
Defendants in Japanese courts generally receive less than five years in prison with hard labor for an attempted rape conviction, a spokesman from Japan's Ministry of Justice told Stars and Stripes previously. McKoy also faced up to 10 years or about $4,500 in fines for the theft.
He has 14 days to appeal his sentence, Oohashi said.
McKoy was led into court Monday morning, wearing a cloth mask, white T-shirt, light gray sweatpants and black sandals, his hands shackled in front of him. He looked at the visitors' gallery nervously at times. He has been jailed since July 15.
Oohashi wasted little time in rendering a verdict during McKoy's sentencing hearing, which only lasted 20 minutes. He condemned McKoy's decision to commit a crime while already under investigation for another crime and for the malicious targeting of a woman walking alone at night.
"Even considering his wife promised to watch and supervise him, there is no room for suspending the execution of the sentence," Oohashi said.
Oohashi repeatedly asked McKoy if he understood what had transpired during the hearing, but McKoy stood still and ignored the judge. He was eventually led out by guards to begin his sentence.
According to prosecutors, McKoy grabbed a women in her 30s from behind in a parking lot in an undisclosed location just before 6 a.m. April 17. He fondled the woman's breasts, pushed her to the ground, exposed himself and attempted but failed to sodomize her orally.
The attack ended when the woman screamed, according to police. McKoy ran to his car and drove away, prosecutors said, and the woman called police.
McKoy was first placed on house arrest July 2 while under investigation for the theft charge. He was taken into custody July 15 for allegedly pushing a police officer during a search of his home. Authorities released him July 30 but immediately rearrested him on the attempted rape charge.
An AAFES spokesman in an email Monday declined to comment on McKoy's employment status, citing service policy.
"AAFES has and will continue to cooperate with the local law enforcement authorities regarding this case," wrote Army Staff Sgt. Mark Kauffman.
---
---
---