Two South Korea-based troops accused of fighting, throwing bottle at car in Seoul 
by
David Choi
Stars and Stripes
October 12, 2021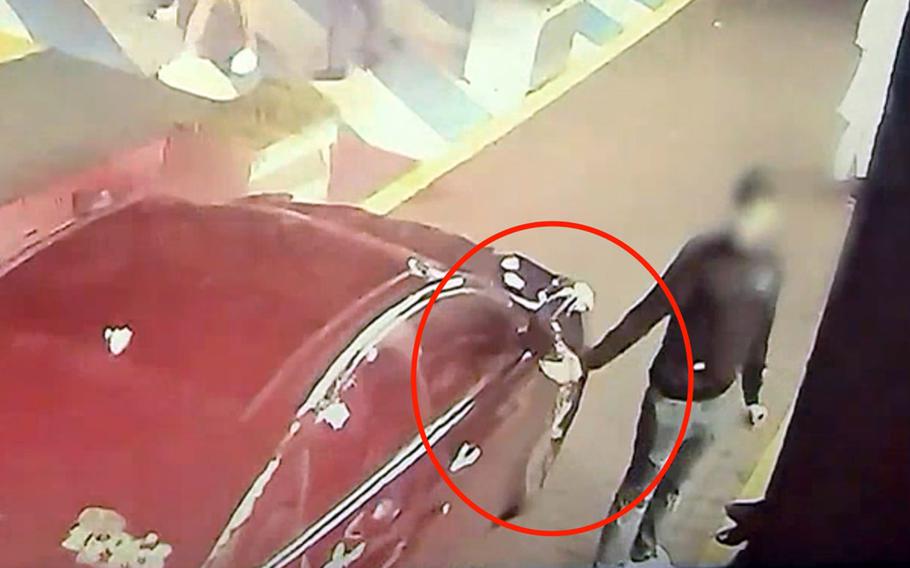 CAMP HUMPHREYS, South Korea — Two U.S. troops are under investigation following a fight with a local man in a bustling district in Seoul over the weekend, according to local news reports Tuesday.
Video cameras caught a U.S. service member swiping the side-view mirror of a moving car with his hand near Hongik University at midnight Saturday, several South Korean news outlets reported.
The neighborhood is known for its bars and clubs and caters to students and foreigners during the weekends.
Shortly after the driver exited the vehicle, the man who swiped the sideview mirror lunged at him and threw a bottle at the car's windshield. His companion, who initially attempted to separate the two, was also seen throwing a punch at the driver.
"The other guy was trying to stop the fight," a witness told Seoul Broadcasting System News. "He went wild and started attacking by joining the fight."
The two men reportedly serve at Camp Humphreys, the largest U.S. military base overseas. The base is in Pyeongtaek, roughly 40 miles south of Seoul.
Local law enforcement officers arrived and released the service members to U.S. military police. A spokesperson for the district's police station was unavailable for comment Tuesday.
U.S. Forces Korea's spokesman, Army Col. Lee Peters, said an investigation is underway and the command "remains committed to being good ambassadors and neighbors with our host nation.
"We take reports of inappropriate behavior very seriously, and are cooperating with the [Korean National Police] who maintain jurisdiction of this incident," he said in a statement Tuesday. "This type of behavior does not represent USFK's values or the respect we hold for Korean people or their culture."
In a separate incident in June, a USFK civilian employee was caught on video shoving and tripping a uniformed parking attendant.
Service members have been allowed to freely move around most of the country after changes in USFK's COVID-19 travel policy in August. According to the updated rules, personnel are barred from visiting districts with 50 or more confirmed COVID-19 patients per 100,000 people over a seven-day period.
The area surrounding Hongik University in Seoul was not one of the prohibited districts, according to the last update by USFK on Wednesday.
Stars and Stripes reporter Yoo Kyong Chang contributed to this report.