North Korea warns of 'gloomier' relations with Japan as it downplays abduction issue
by
David Choi and Hana Kusumoto
Stars and Stripes
October 8, 2021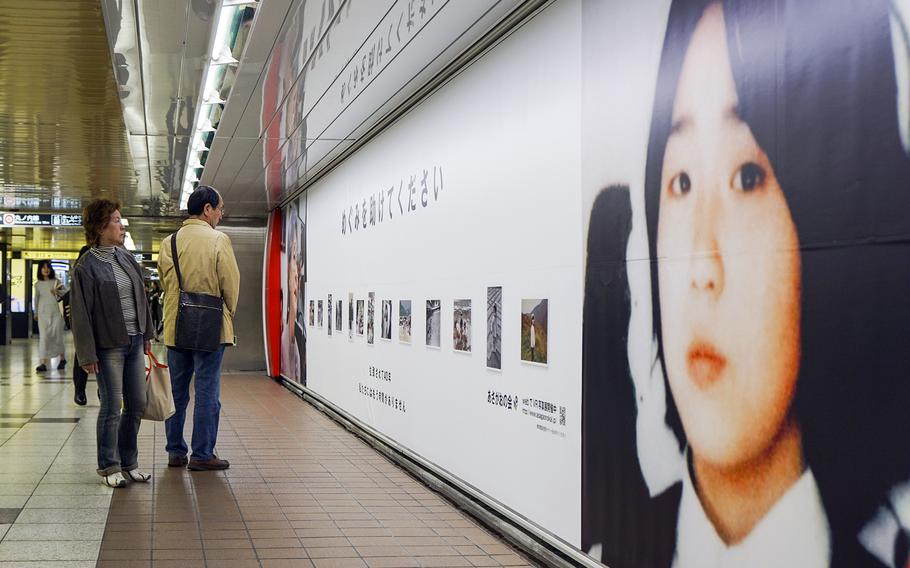 CAMP HUMPHREYS, South Korea — North Korea on Thursday downplayed its unresolved history of abducting Japanese citizen and called for new Prime Minister Fumio Kishida to be "discreet about his words and actions," days after he raised the issue with the U.S. president.
The abduction issue "was long resolved perfectly and completely" after past summits with Tokyo, North Korea's Ministry of Foreign Affairs said in a statement. Japan's insistence on raising the issue again is moot, it added.
The communist regime admitted to abducting 13 Japanese citizens in the 1970s and 1980s. Although then-North Korean leader Kim Jong-il claimed in 2002 that they were taken by rogue groups motivated by patriotism, regional governments widely believe they were kidnapped by state agents to provide cultural intelligence on Japan.
In 2014, North Korea created a special investigative committee to track down Japanese citizens in its country in exchange for loosened sanctions. Pyongyang dissolved the group two years later because of the tense relations spurred by a North Korean nuclear test.
The Japanese government has identified 17 victims so far, but many more are believed to have been kidnapped. Five were repatriated in 2002 following negotiations between the two countries.
Kishida, who took office on Oct. 4, campaigned on raising the issue during his administration, including the possibility of hosting a summit with North Korea.
He mentioned the abductions during a 20-minute call with President Joe Biden on Oct. 5, his first conversation with a world leader. Kishida asked for "continued understanding and cooperation towards the immediate resolution" of the issue, according to a readout of the call from Japan's Ministry of Foreign Affairs. Biden responded by offering his support.
North Korea said in its statement Thursday that Kishida's conversation had an "ulterior purpose" and asked "what he is really trying to get from the issue."
"It is most likely that the [North Korea-Japan] relations would be set gloomier if the Japanese Prime Minister makes a wrong start from the beginning, as it is doing now," the statement said.
Japan's chief cabinet secretary, Hirokazu Matsuno, declined to comment on the North's statement at a news conference Friday, but said "we can't absolutely accept its claim that the abduction issue has been resolved."
The government's position on the matter has not changed, Matsuno said, and it will continue its attempts to normalize relations between Japan and North Korea through a comprehensive agenda that includes the abduction issue.
"Abduction is the most important issue for the cabinet," Matsuno said, adding that time is of the essence due to the old age of the abductees and their families.