Former CIA head in South Korea expects Moon and Kim to meet in coming months
by
David Choi
Stars and Stripes
October 6, 2021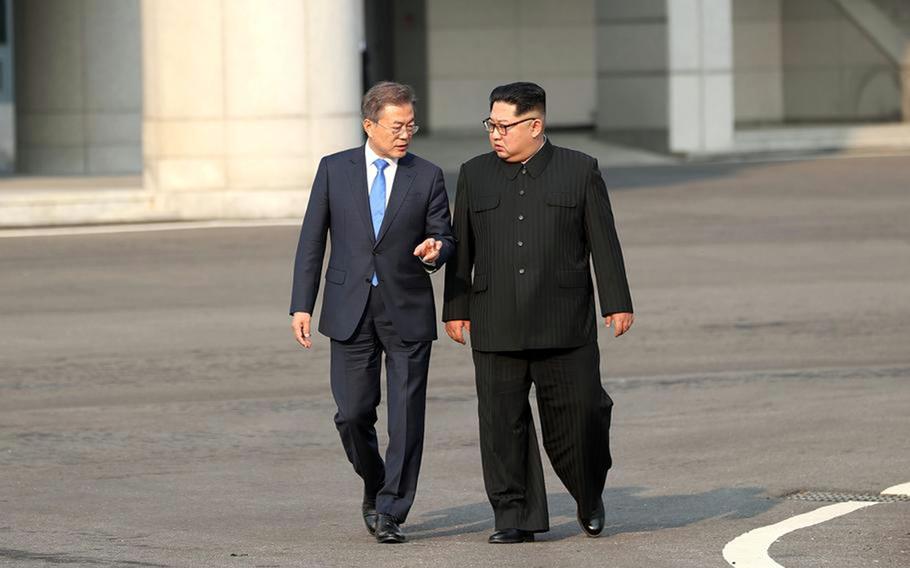 CAMP HUMPHREYS, South Korea – The former head of a CIA center tasked with countering serious threats from North Korea expects that country's leader to meet again with South Korean President Moon Jae-in before he leaves office next year.
However, such a summit will likely happen online and not face to face, said Andrew Kim, a veteran CIA officer and founding director of the Korean Mission Center established in 2017.
Kim, who served as the point man for summits between the North Korean leader and then-President Donald Trump, made his comments during a panel discussion with The Washington Brief on Tuesday.
The Moon administration has been cautiously optimistic about improving relations with North Korea. The president, whose term ends in March, frequently calls for the Korean War signatories to declare an official end to the conflict and has volunteered to meet with Kim Jong Un and other North Korean leaders without preconditions.
Moon and Kim held three summits in 2018, where they discussed the goals of formally ending the 1950-53 Korean War and restarting inter-Korean programs. The results of those meetings were widely panned by critics for lacking specific details and requirements.
Andrew Kim did not elaborate on why he believed the next summit would be held virtually; however, orchestrating the highly choreographed meetings can be time-intensive and financially costly. The cost of hosting the Singapore summit was roughly $15 million, that nation's leader, Lee Hsien Loong, told reporters in 2018.
An in-person summit would also require delegates from both nations to account for the ongoing COVID-19 pandemic, of which little is known about within North Korea's borders. Pyongyang has rejected millions of coronavirus vaccines and said it has zero confirmed infections, a claim that is widely disputed by international health experts.
Trump and Kim met first in Singapore in 2018, then again in Hanoi the following year. The leaders also met briefly at the Joint Security Area inside the Demilitarized Zone in 2019, during which Trump stepped across the border and became the first sitting U.S. president to visit North Korea.
Kim described his negotiations with North Korean officials leading up to those meetings as "very challenging."
"We weren't going anywhere with any kind of a meaningful, detailed agreement," he said of his discussions with North Korean officials prior to the Singapore summit. "They wanted to pursue a kind of a bigger, overall agreement. We wanted more detail — it went through several meetings and it led up to almost a day before the summit."
Kim retired from the CIA in November 2018 after 28 years. He is now a non-resident fellow with the Korea Project at the Harvard Kennedy School's Belfer Center for Science and International Affairs.