North Korea answers call from the South after restoring inter-Korean hotlines
by
David Choi
Stars and Stripes
October 3, 2021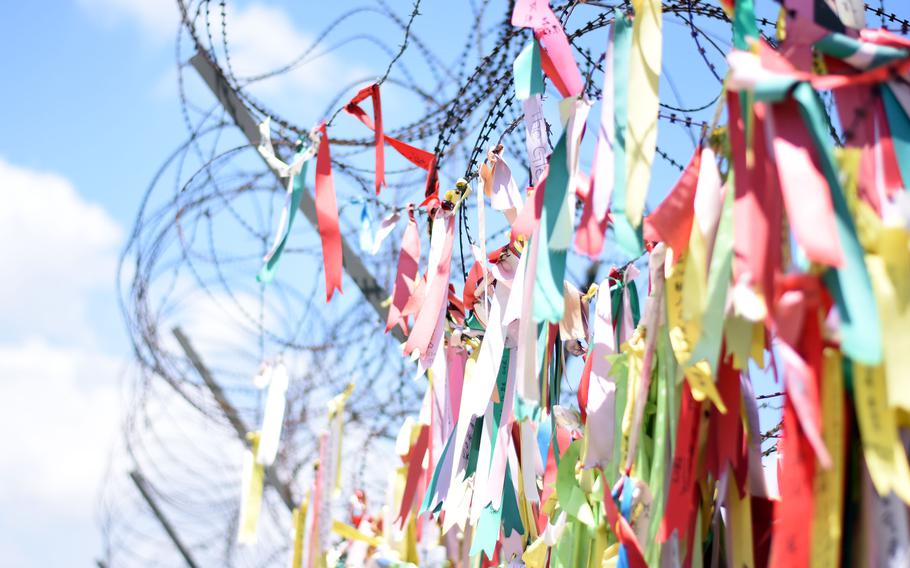 CAMP HUMPHREYS, South Korea — Communication hotlines between the two Koreas were restored at 9 a.m. Monday after lying dormant since this summer, according to South Korea's Ministry of Unification.
An opening call was made from the joint liaison office channel, laying a "foundation for stabilizing the situation on the Korean Peninsula and restoring inter-Korean relations," the ministry said in a statement Monday.
The South Korean government expects "practical discussions" to restore relations between the two countries, the statement added.
North Korea's state-run Korean Central News Agency announced the hotlines' restoration in a report early Monday, noting that Seoul "should keep in mind the meaning of reopening of the communication lines and make active efforts to solve pending important issues for saving the inter-Korean relations and opening its bright prospect."
China's special envoy to the Korean Peninsula, Liu Xiaoming, who held talks about inter-Korean relations with South Korean officials last week, described the restoration as "remarkable progress," in a tweet Monday.
The nearly 50 communication channels between the two Koreas are intended to reduce tensions during a crisis and to build a dialogue for better relations. The countries conduct two calls each morning and afternoon. South Korea, regardless of the North's bellicose statements, attempts to contact its neighbor at the same time every day.
The lines have been cut and restored many times throughout the years, as relations soured and improved between Seoul and Pyongyang.
North Korea discontinued the daily calls last year after anti-North Korean protesters and defectors flew propaganda leaflets across the border. Communication was reinstated in July, but Pyongyang severed them again after two weeks in an apparent protest over joint U.S.-South Korean military drills.
North Korean leader Kim Jong Un in a speech last month signaled the hotlines would be restored by early October "to improve the current strained ties," but also called the U.S.'s policy toward his country "hostile."
The reconnection of the hotlines comes as both Koreas have publicly shown interest in formally ending the Korean War. They technically remain at war after the 1950-53 conflict ended with the signing of an armistice agreement instead of a peace treaty.
South Korean President Moon Jae-in floated the idea in a speech before the United Nations General Assembly last month; and Kim Yo Jong, a senior North Korean official and the North Korean leader's sister, described the proposal as "not bad."
Despite the overtures from Pyongyang, the communist regime has raised tensions with a series of weapons tests in recent weeks.
North Korea conducted four tests in a span of a month, including a surface-to-air missile; a ballistic missile launched from a train; a long-range cruise missile capable of reaching Japan; and a hypersonic short-range missile.