Chinese president orders military to turn up the heat on Taiwan, report says
by
Seth Robson
Stars and Stripes
October 6, 2021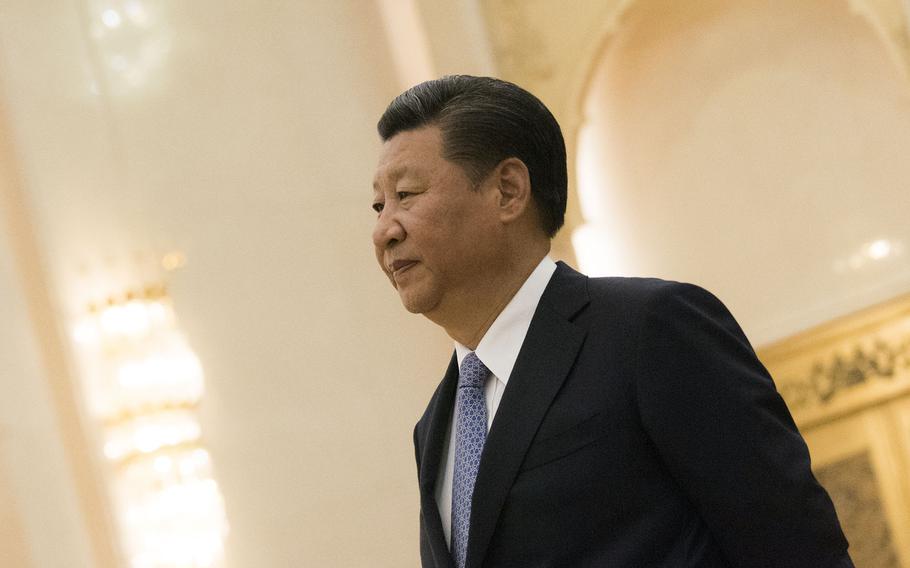 Chinese President Xi Jinping has ordered his military to pump up pressure on the southwestern region of Taiwan, according to sources quoted by a Japanese news agency this week.
The order was issued at a recent meeting of China's top military body, the Central Military Commission, after three aircraft carriers from the United States and United Kingdom participated in weekend drills near Taiwan, Kyodo News reported Tuesday.
Nearly 150 Chinese warplanes buzzed through Taiwan's air defense zone between Friday and Monday, the island's Ministry of National Defense said in a series of press statements this week.
Taiwan said it is preparing to defend itself after the record-breaking number of incursions. The comments were made Monday by Foreign Minister Joseph Wu on the Australian Broadcasting Corporation Television program "China Tonight."
China and Taiwan have been governed separately since splitting, in 1949 after a civil war. The U.S. military had troops on the island until 1979, when President Jimmy Carter withdrew from the Sino-American Mutual Defense Treaty. Congress responded by passing the Taiwan Relations Act, which requires the U.S. to sell arms to the island.
Xi is thought to believe that the recent carrier drills, which also involved more than a dozen warships from Japan, New Zealand, Canada and the Netherlands, were aimed at stopping Beijing from unifying democratic Taiwan with the mainland and from capturing the Japanese-administered Senkaku Islands, which are also claimed by China, Kyodo reported.
At the Central Military Commission, Xi said China should demonstrate that it is "always ready to fight," though he wants to avoid a head-on confrontation with the U.S., according to unnamed sources quoted by Kyodo.
Meanwhile, President Joe Biden has sent White House national security adviser Jake Sullivan to Switzerland for meetings with senior Chinese foreign policy adviser Yang Jiechi, the White House said in a statement Tuesday.
The talks, slated for Wednesday in Zurich, are to be a follow-up to Biden's call with Xi last month as the administration continues "to seek to responsibly manage the competition" between the two countries, National Security Council spokeswoman Emily Horne said in the White House statement.
Chinese aircraft have been flying into Taiwan's airspace since last year, but the large number of warplanes in the latest incursions have attracted attention, said Norah Huang, director for international relations at the Prospect Foundation, a security and foreign affairs think tank in Taipei.
The incursions send a stronger message, which security experts have correctly characterized as psychological warfare and intimidation, she said in a telephone interview Wednesday.
"This kind of action won't win the hearts and minds of Taiwanese people," she said, noting that even the island's opposition politicians have blamed Beijing for the incursions rather than trying to score points against the ruling party.
The Chinese military activity may also be an effort to pressure the Biden administration not to push forward with a plan to rename Taiwan's mission in Washington, D.C., Huang said.
Last month, Taiwan asked to change the name of the office from "Taipei Economic and Cultural Representative Office" to "Taiwan Representative Office," according to the Financial Times.
"China does not want to give Taiwan an international identity that is distinctive from China," Huang said. "They don't want people to easily differentiate Taiwan from China."
The U.S. and Taiwan should protect their interests, she said in a follow up email.
"The decision to allow the name changing or not should not [be based] on Beijing's reaction," she said.