Marines are helping Japan test warship's ability to handle vertical-landing F-35B stealth jets
by
Seth Robson
Stars and Stripes
October 1, 2021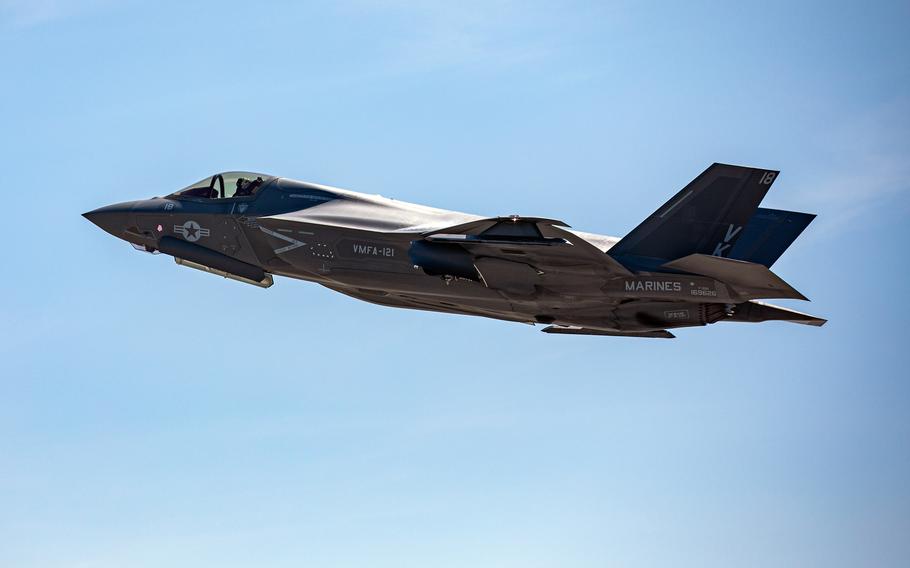 Marine Corps aviators are preparing to fly two of their F-35B Lightning II fighters from the Japanese flattop JS Izumo, a test of the warship's newly acquired ability to carry the stealthy aircraft.
Plans to land and launch the short-takeoff, vertical-landing F-35s from the Izumo were announced Thursday by the Defense Ministry, although they'd been signaled by Marine Corps Commandant Gen. David Berger during a security dialogue last month.
The drills are scheduled to happen between Sunday and Thursday in the Pacific Ocean and involve jets from Marine Corps Air Station Iwakuni, the ministry said in its announcement. The Izumo arrived at the coastal air station on Thursday.
MCAS Iwakuni, about 50 miles south of Hiroshima, is home to two F-35B squadrons, Marine Fighter Attack Squadron 121 and Marine Fighter Attack Squadron 242.
The aircraft landing on the Izumo will be from VMFA-242, known as the "Bats," according to 1st Marine Aircraft Wing spokesman Maj. Ken Kunze.
Marine aircraft controllers and public affairs staff are already on the Izumo ahead of the operation, he said in a telephone interview Friday.
"It's a demonstration for the Japanese as they begin to accept F-35Bs and they begin carrier operations," he said. "This is … landing on the Izumo and showing that it is capable of handling them."
The ship, commissioned in 2015 as a helicopter carrier, had heat-resistant coating added to its deck this year, enabling it to support F-35B vertical landings.
Its sister ship, the JS Kaga, is scheduled for a similar makeover ahead of Japan's acquisition of 42 F-35Bs, which are slated to arrive sometime in the next five years. U.S. CV-22 Osprey tiltrotor aircraft made their first-ever landing on the Kaga during the Keen Sword drills off Japan's coast in October 2020.
Japan already operates the F-35A, a conventional takeoff-and-landing version of aircraft, from Misawa Air Base in the country's northeast.
Japan's return to carrier operations for the first time since World War II comes as China builds its own fleet of flattops. Beijing launched its first carrier, the Liaoning in 2012 and a second, the Shandong, in 2017.
A third carrier, similar in size to the Navy's USS Gerald R. Ford, is under construction in Shanghai, Naval News reported April. 15.
Stars and Stripes reporter Mari Higa contributed to this report.