Missing Man display in the Korean DMZ honors POW/MIA troops
by
David Choi
Stars and Stripes
September 30, 2021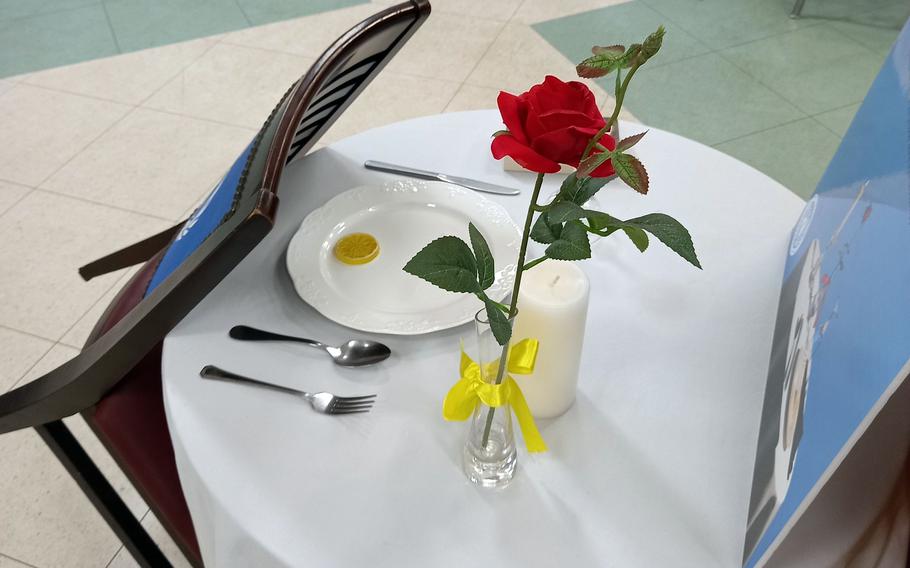 Troops from the United Nations Command Security Battalion have set up a Missing Man display in the Demilitarized Zone to honor U.S. prisoners of war and those listed as missing in action.
A small round table set with a white tablecloth, a candle, an inverted glass, a red rose and other items was prominently displayed in a dining facility at the heavily guarded Joint Security Area between the two Koreas on Sept. 17.
That date, known as POW/MIA Recognition Day, was established in 1979 and is observed throughout the United States and at overseas military bases on the third Friday of September.
The items on display are intended to symbolize the loss of the service members, according to a sign above the table.
They include a reserved chair placed at an angle to represent missing troops and a white tablecloth symbolizing the "purity of their response when answering the call to serve their country."
On the table is a rose serving as a reminder of their families; a lemon slice representing the "bitter fate" endured by prisoners; salt symbolizing loved ones' tears; and a candle and ribbon that stand for hope for their return and a reunion.
The inverted glass represents "their inability to share a toast."
U.S. Army Lt. Col. Ric Luce, the security battalion's commander, said the symbolism is not tied to one event.
"The POW table is a constant reminder of their sacrifice and the unsettled loss of the families who can never come to a complete peace," he said in a statement through the U.N. Command.
Over 81,600 Americans who participated in conflicts since World War II remain missing, according to the Defense POW/MIA Accounting Agency. Of these, 75% are in the Indo-Pacific region and over half are believed to have been lost at sea.
The remains of U.S. and allied troops killed in the 1950-53 Korean War continue to be discovered on the Korean Peninsula. Roughly 36,500 U.S. troops were killed, and about 7,500 remain unaccounted for.
President Moon Jae-in last week attended a repatriation ceremony at Joint Base Pearl Harbor-Hickam in Hawaii to receive the remains of 68 South Korean troops and to oversee the transfer of six remains to the United States.