'Ultimate sacrifice': South Korean military academy honors West Point grads killed in Korean War
by
David Choi
Stars and Stripes
September 29, 2021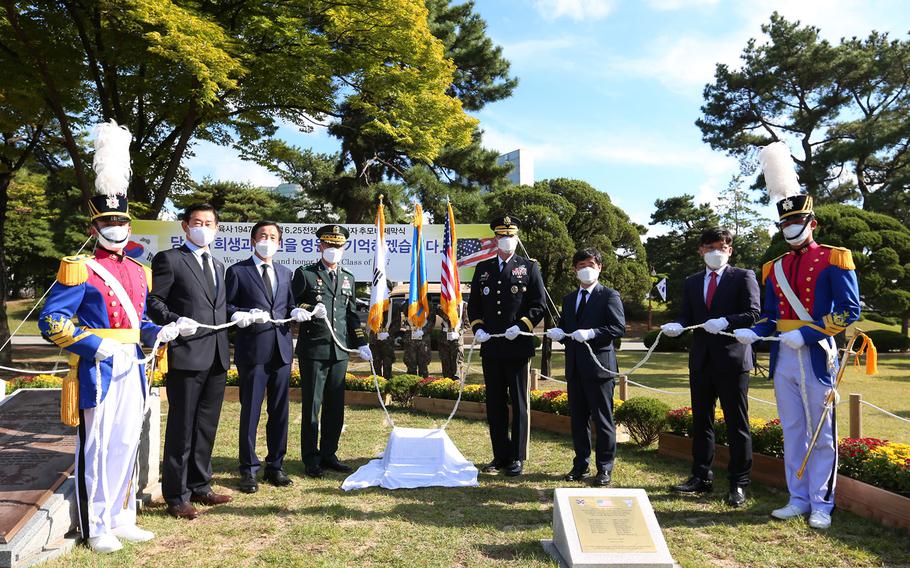 CAMP HUMPHREYS, South Korea — Twelve West Point graduates killed during the 1950-53 Korean War were memorialized in a plaque erected last week at South Korea's military academy.
The Korea Military Academy, about seven miles from Seoul, was established in 1946, one year before the 12 cadets graduated from the U.S. Military Academy in West Point, N.Y.
The 12 West Pointers from the class of 1947 took part in fierce battles during the Korean War, including the 55-day Nakdong River Defense Line Battle of 1950. Of the dozen killed from that graduating class, the remains of three have yet to be found.
"We will admire their ultimate sacrifice and professional military spirit," said a statement from the Korea Military Academy. "Their sacrifice reminds people of the importance of the [South Korea]-U.S. alliance."
Three other memorials honoring West Point alumni from other graduating classes are on the South Korean academy grounds and three more are to be constructed by 2023.
The academy's superintendent, Lt. Gen. Kim Jeong-soo, said during the unveiling ceremony on Friday: "Cadets, who are going to be key leaders in future national security, will realize the importance of the enhancement of the [South Korea]-U.S. alliance and strive more to grow up as elite officers, who devote to the state and the people."
More than 23,600 U.S. troops were killed in combat during the Korean War, according to the Defense Casualty Analysis System. Thousands of service members from the war are listed as missing in action and unidentified remains are still discovered on the Korean Peninsula.
Last week, South Korean President Moon Jae-in attended a repatriation ceremony at Joint Base Pearl Harbor-Hickam in Hawaii and received the remains of 68 South Korean troops from the U.S.'s Defense POW/MIA Accounting Agency. South Korea's Ministry of Defense also transferred to the U.S. the remains of six service members from unmarked graves.
"What our heroes wanted to see on the Korean Peninsula was a complete peace," Moon said during the transfer ceremony.
Stars and Stripes reporter Yoo Kyong Chang contributed to this report.