'Extremely serious': Japan says flotilla of gun-equipped Chinese ships appeared near Senkakus
by
Matthew M. Burke and Mari Higa
Stars and Stripes
September 16, 2021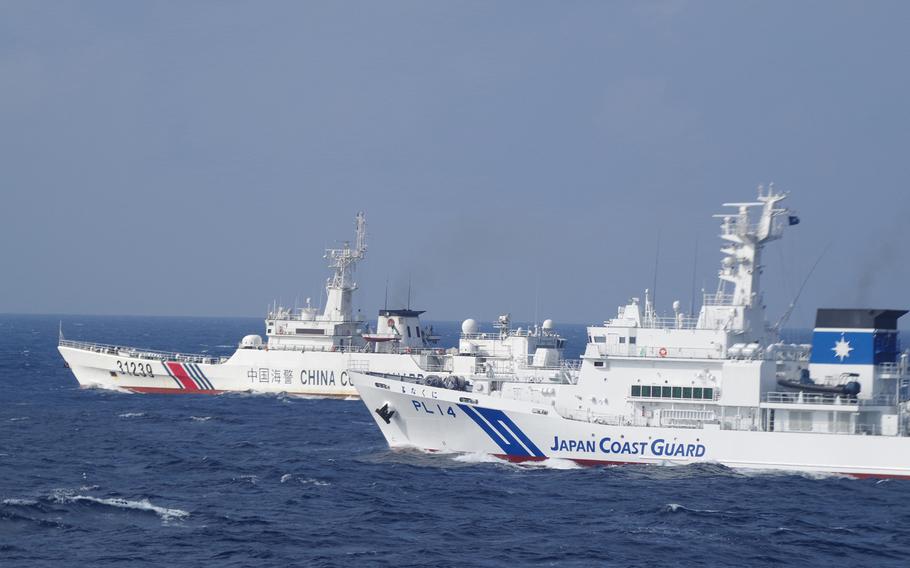 The Japanese government filed a protest with Beijing after seven Chinese coast guard ships — four outfitted with "cannons" — appeared together last month in waters around disputed southern islets in the East China Sea.
The flotilla was spotted near the Senkaku Islands on Aug. 30, a Japan Coast Guard spokesman told Stars and Stripes by phone on Thursday. It was nearly double the usual contingent of Chinese ships patrolling the area and the largest since 2016.
"We consider this incident extremely serious," the Japan Coast Guard spokesman said. The "Japanese coast guard is always prepared with force that exceeds them."
Japan's Ministry of Foreign Affairs filed a protest over the incident with its Chinese counterpart, the spokesman said. The spokesman did not know when the protest was made or at what level.
Kyodo News first reported the protest on Wednesday. A ministry spokesman was unavailable to comment this week, the office told Stars and Stripes on Thursday.
The Senkakus are five uninhabited islets 280 miles west of Okinawa. They are controlled by Japan but claimed by both Taiwan and China, which refers to them as Diaoyu Dao.
China maintains an almost daily presence in the waters off the islands, according to the Japan Coast Guard website. In 2020, Chinese-flagged vessels were spotted in the area a record 333 times, besting the previous year's record of 282.
On Aug. 30, two Chinese vessels were patrolling in Japan's contiguous zone around the islands when five more arrived at approximately 1 a.m., the coast guard spokesman said. Four of the vessels were equipped with the deck "cannons." The contiguous zone is a 24-mile-wide band beyond the 12-mile territorial limit. Nations may exercise limited control in their contiguous zones, according to the United Nations.
Four of the ships, including one with a deck gun, then entered Japan's territorial waters at 2:42 a.m., the spokesman said. They departed 23 minutes later after being warned off by the Japan Coast Guard.
Some of the Chinese ships attempted to approach five Japanese fishing vessels operating in the area but were prevented from reaching them by the coast guard, the spokesman said. The Chinese Coast Guard vessels often engage and harass Japanese fishermen in the area, he said.
The Chinese vessels remained in the contiguous zone until 5:30 p.m. when three departed, the spokesman said. They decreased their number further three days later.
The Aug. 30 incursion remains the most serious incident involving Chinese ships in the area since 2016 when they sent 15 ships, the Japan Coast Guard spokesman said. From Aug. 7-9, three to six ships entered Japan's territorial waters several times.
It's customary in Japan for some government officials to speak to the media on condition of anonymity.