Tokyo's COVID-19 count dips below 900; no new cases announced by Japan's US bases
by
Joseph Ditzler
Stars and Stripes
September 16, 2021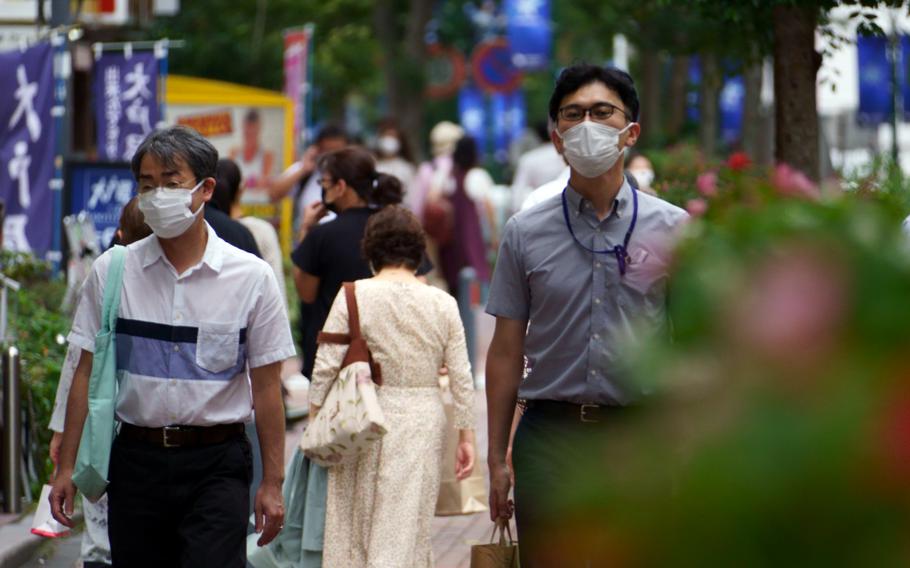 TOKYO – New coronavirus cases in Japan's capital city fell below 1,000 on Thursday for the third time in 11 days.
Tokyo reported 831 newly infected people, about half the number a week prior, according to public broadcaster NHK and metropolitan government data. The city's fifth and most severe coronavirus wave peaked at 5,773 new cases on Aug. 13 and continues to wane.
Japan on Wednesday reported 6,809 new cases, a slight increase over previous days but far from the Aug. 27 peak of 26,050, according to the Johns Hopkins Coronavirus Resource Center and the World Health Organization. Another 74 people died of complications of COVID-19, the coronavirus respiratory disease, according to Johns Hopkins.
More than half – 52.3% – of Japan's population is fully vaccinated, according to the center.
None of the U.S. military installations in Japan had reported new COVID-19 cases by 5:30 p.m. Thursday.
On Okinawa, Amelia Earhart Intermediate School at Kadena Air Base closed a fourth-grade classroom Thursday until testing and quarantine requirements were complete after another positive case, according to the school principal.
The school closed a classroom earlier in the week after someone tested positive, but the message Wednesday from principal Jason Federico did not specify if the same classroom was involved. His message, posted on the Marine Corps Community Service, School Liaison Officer Facebook page, said students would receive remote learning in the interim.
"You will receive a message from Mr. Furusho outlining the remote learning plan for your students while the classroom is closed," Federico wrote in a separate Facebook post.
Okinawa prefecture, where Kadena and the headquarters of III Marine Expeditionary Force are located, reported 229 new infections Thursday, according to the prefectural Department of Public Health and Medical Care.
South Korea update
U.S. Forces Korea reported another 12 people tested positive since Sept. 4, according to a news release Wednesday.
Four people had fallen ill with COVID-19 symptoms: a service member and a Defense Department civilian employee at Camp Humphreys and two service members at K-16 Army airfield.
Contact tracing discovered another seven: two service members at K-16, one South Korean employee at Yongsan Garrison, two family members at Humphreys, one at Osan and one at Daegu.
One service member planning an international flight tested positive prior to departure, according to USFK.
South Korea reported 1,943 new cases on Thursday, including 717 in Seoul and 652 in Gyeonggi province, where Osan and Humphreys are located, according to the Korean Disease Control and Prevention Agency.
South Korea has fully vaccinated 41.2% of its population, or 21.2 million people, KDCA reported. Another 68.1%, or 35 million, have received the first of two shots.
Stars and Stripes reporter Mari Higa contributed to this report.