Afghanistan withdrawal not a precursor to US evacuation of South Korea, lawmakers say
by
David Choi
Stars and Stripes
September 9, 2021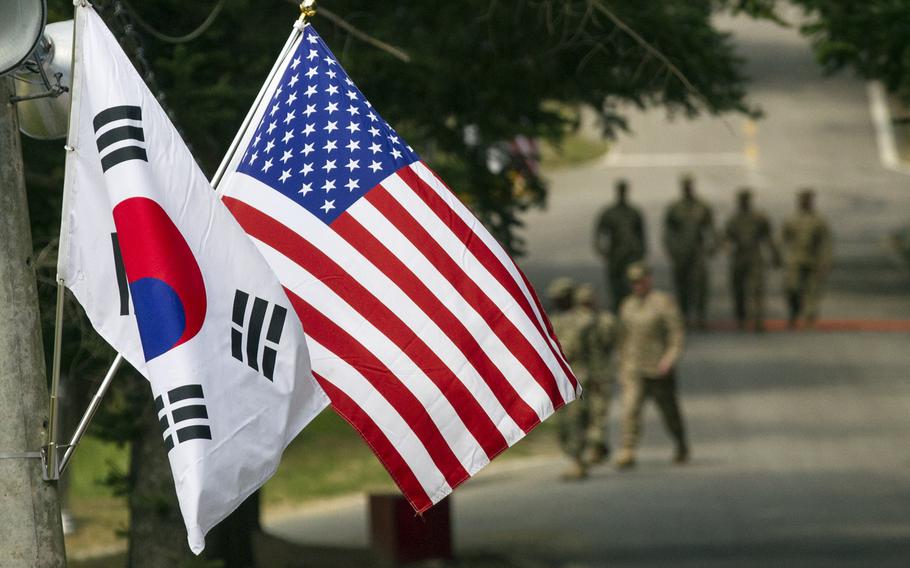 CAMP HUMPHREYS, South Korea — A bipartisan pair of U.S. lawmakers said Thursday the alliance with South Korea remains strong, despite fears that the U.S. withdrawal from Afghanistan signals weakened resolve on the Korean Peninsula.
Reps. Ami Bera, D-Calif., and Young Kim, R-Calif., gave their assessment of the alliance with South Korea during a virtual panel discussion hosted by the Center for Strategic and International Studies in Washington, D.C.
Bera, a co-chair of the bipartisan Congressional Study Group on Korea, advised policy watchers not to read too deeply into President Joe Biden's decision to withdraw from Afghanistan.
"Korea is a totally different country — it's one of the most developed democracies in the world," he said. "It's certainly a developed economy. We have a long geopolitical, strategic relationship and our security commitments are extremely important to members of Congress in a bilateral way."
Kim, one of the first Korean American women elected to Congress and a study group member, said the abrupt U.S. withdrawal from Afghanistan raises valid questions, but the nation's long-term commitment to South Korea is stronger and friendlier than ever.
"We are there as a deterrence to any potential conflict in the Korean Peninsula," she said. "We will be there … to lend our voice and be your advocate. And please, trust us. The United States can lead, and we will lead once again, and show that we can come out of those difficult challenges."
Roughly 28,500 U.S. troops are stationed in South Korea, most of them at Camp Humphreys, the largest U.S. military bases overseas and headquarters for U.S. Forces Korea. The USFK mission is to "deter aggression and if necessary, defend [South Korea] to maintain stability in Northeast Asia," according to the command's website.
South Korea is technically still at war with North Korea despite the lapse in armed conflict. The Korean War ended with an armistice agreement in 1953, not a peace treaty.
Former President Donald Trump threatened to withdraw U.S. troops from South Korea during his tenure, saying Seoul's share of the cost to station American forces in the country was not enough. Trump reportedly demanded South Korea spend $5 billion for the U.S. military presence, an offer Seoul rebuffed.
Biden's administration recently agreed to a new Special Measures Agreement in which South Korea contributes roughly $1 billion for U.S. troops and South Korean civilian workers on military bases.
Kim described South Korea as "one of our most important allies" and said the U.S. "must treat them like the strong partner that they are."
South Korea was the United States' sixth-largest trading partner in 2020, after $127 billion in products flowed between the two nations, according to the U.S. Trade Representative. The Department of Commerce estimates the allies' trade relationship generated around 256,000 jobs in 2019.