Global Hawk maker scores $40 million software contract for Japan, South Korea fleets
by
Seth Robson
Stars and Stripes
September 8, 2021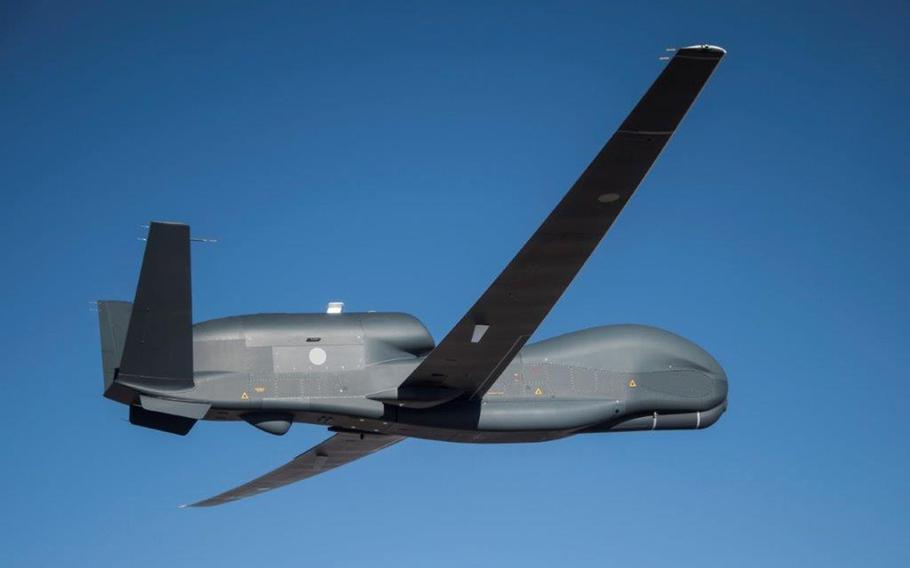 The maker of the U.S. military's longest-range unmanned surveillance aircraft will get nearly $40 million to develop software for RQ-4 Global Hawks operated by Japan and South Korea.
The contract, awarded to San Diego-based Northrop Grumman Aerospace Systems, is worth up to $39.9 million for work on both countries' drones under the Foreign Military Sales program the Defense Department announced Sept. 1.
Northrop Grumman manufactures the aircraft, which have been in service with the Air Force since 2001.
The Foreign Military Sales program authorizes sales of weapons and services to other countries when the deals strengthen U.S. security and promote world peace.
South Korea has four Global Hawks that are believed to be flown out of Sacheon Air Base, near the port of Busan, according to an October report by Jane's Defence Weekly.
The first of three Global Hawks the Japan Air Self-Defense Force will operate from Misawa Air Base in the country's northeast made its maiden flight in California in April.
Northrop Grumman's deal provides for the co-development, testing and integration of software for the U.S. allies' Global Hawk fleets, according to the DOD announcement.
The work, due to be completed by July 31, 2023, will be done in San Diego with integration efforts at Misawa and Sacheon, the announcement states.
The Global Hawk flies at 60,000 feet and has a line of sight to targets more than 340 miles away, according to Northrop Grumman.
The exact range of the aircraft's cameras and sensors is classified, but a Global Hawk flying near the Korean Demilitarized Zone, for example, could see well beyond the Yalu River that marks North Korea's border with China.
A single RQ-4 costs about $130 million, according to the Reuters news agency, quoting industry sources in 2019.
The Air Force has positioned its own Global Hawks at Misawa for several summers since 2014. The drones come to Japan to avoid typhoons at Andersen Air Force Base, Guam. In recent years, including 2020, they have operated out of Yokota Air Base in western Tokyo during summer.