UK ambassador, naval chief say Queen Elizabeth patrol is diplomacy afloat
by
Alex Wilson
Stars and Stripes
September 7, 2021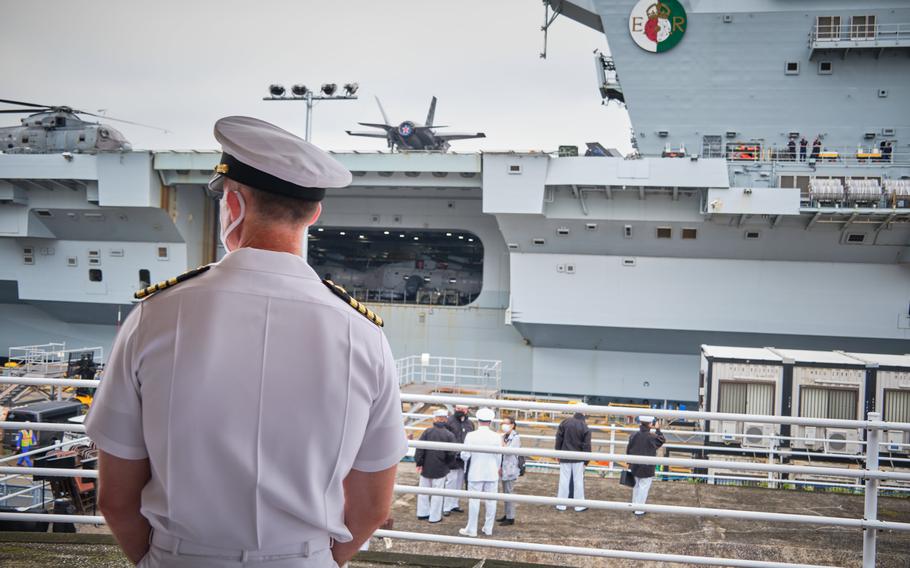 The visiting aircraft carrier HMS Queen Elizabeth is building stronger ties in the Indo-Pacific for Great Britain rather than projecting its sea power in a contentious part of the world, the British ambassador to Japan said Tuesday.
The Queen Elizabeth, which docked over the weekend with its escorts at Yokosuka Naval Base, is preparing for the second half of its deployment, which began in May and will cover approximately 26,000 nautical miles. The U.K. Carrier Strike Group, led by Commodore Steve Moorhouse, is expected to start back home soon by heading west from Japan.
Moorhouse and Ambassador Julia Longbottom took questions during a digital press conference at the Japan National Press Club in Tokyo. They described the Queen Elizabeth's mission as largely diplomatic. The carrier is expected to visit 40 countries on its first patrol.
Longbottom said a "shift in the balance" of global power and economic growth towards the Indo-Pacific has led the United Kingdom to reevaluate its lack of presence in the region.
"Under our Indo-Pacific tilt framework, the U.K. is determined to build stronger diplomatic, trading and security ties in the Indo-Pacific," she said. "In all this, Japan is a hugely important partner."
Moorhouse said the numerous joint naval exercises the carrier strike group took part in the past few months, and the sheer number of countries working together, highlight the growing importance of the Indo-Pacific region.
The Queen Elizabeth on Saturday became the first British aircraft carrier to visit Japan since the HMS Illustrious arrived at Tokyo in 1997. Capt. Simon Staley, the British defense attaché in Tokyo, on Saturday also described the strike group's mission as primarily diplomatic.
"This is about relationship-building, the friendly sharing of information and the strengthening of relationships with our partners," Staley said.
However, China, the rising power in the region, and even the Japanese government appear to view the situation differently.
Japanese Defense Minister Nobuo Kishi told reporters on Monday that the U.K. and other European countries' interest in the Indo-Pacific helped contribute "peace and stability in this region," according to a Monday report from the Associated Press.
Wang Wenbin, spokesman for China's Foreign Ministry, during a news conference Friday, said the numerous joint exercises between Japan, the United States and the U.K. are detrimental to the region's stability.
"The practice of saber-rattling is not constructive," Wenbin said, according to a transcript. "We hope relevant countries will play a constructive role in promoting peace and stability in the Asia-Pacific, rather than doing the opposite."