US military records 82 new coronavirus cases at bases across Japan
by
Matthew M. Burke
Stars and Stripes
September 3, 2021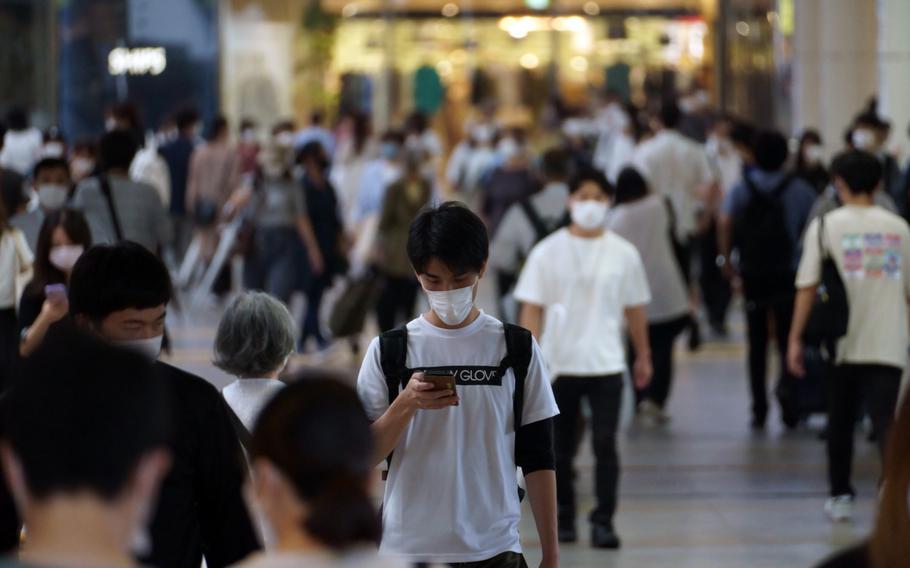 CAMP FOSTER, Okinawa – U.S. military commands across Japan announced 82 new cases of the coronavirus respiratory disease on Friday, mostly at Kadena Air Base on Okinawa.
Meanwhile, new infections in the nation's capital city continued to slide for a 12th consecutive day, according to Tokyo Metropolitan Government data.
Tokyo reported 2,539 coronavirus infections and 10 deaths, according to public broadcaster NHK, which cited metropolitan government data. That's 1,688 fewer cases than the same day last week.
Kadena has 47 new infections discovered between Aug. 28 and Friday, the base announced on its website. The installation's number of active cases stands at 72. No other information was provided.
Yokota Air Base, the home of U.S. Forces Japan in western Tokyo, reported 19 new infections from the previous week.
One person tested positive after arriving in Japan from the United States, a base statement said. Eight were already quarantined as close contacts, and the other 10 were identified by public health authorities.
Yokosuka Naval Base, the 7th Fleet's homeport south of Tokyo, had a dozen people contract COVID-19 since Tuesday, according to a base news release. Four immunized individuals tested positive after displaying symptoms, and another infection was discovered during a medical screening.
The remaining seven were not immunized, the release said. Yokosuka has 65 active cases.
Marine Corps Air Station Iwakuni, near Hiroshima, had four people test positive in the past 24 hours, the base announced Friday. Three were already in quarantine; one has since been moved into quarantine.
Contact tracing is ongoing, the statement said.
Japan reported 16,738 new coronavirus cases as of 6:30 p.m. Friday, 9,312 less than the same day last week, according to public broadcaster NHK and the World Health Organization. There were 63 deaths nationwide.
The government has counted more than 1.5 million COVID-19 cases during the pandemic and 16,100 deaths, the WHO said.
Okinawa prefecture, home to most U.S. troops in Japan, reported another 507 new infections — 185 fewer than the same day last week — and three deaths Friday, according to the prefecture's Department of Public Health and Medical Care. Okinawa is under a state of emergency until Sept. 12.
South Korea update
No new cases of COVID-19 were reported by U.S. Forces Korea by 6 p.m. Friday.
South Korea added 1,709 new infections at midnight Thursday and five deaths, according to the Korea Disease Control and Prevention Agency's Central Disease Control Headquarters.
The government has counted over 255,400 COVID-19 cases during the pandemic and 2,300 deaths, the WHO said.