'I'll listen to you': Marine contractor thwarts suicide attempt on Okinawa bridge
by
Matthew M. Burke
Stars and Stripes
September 3, 2021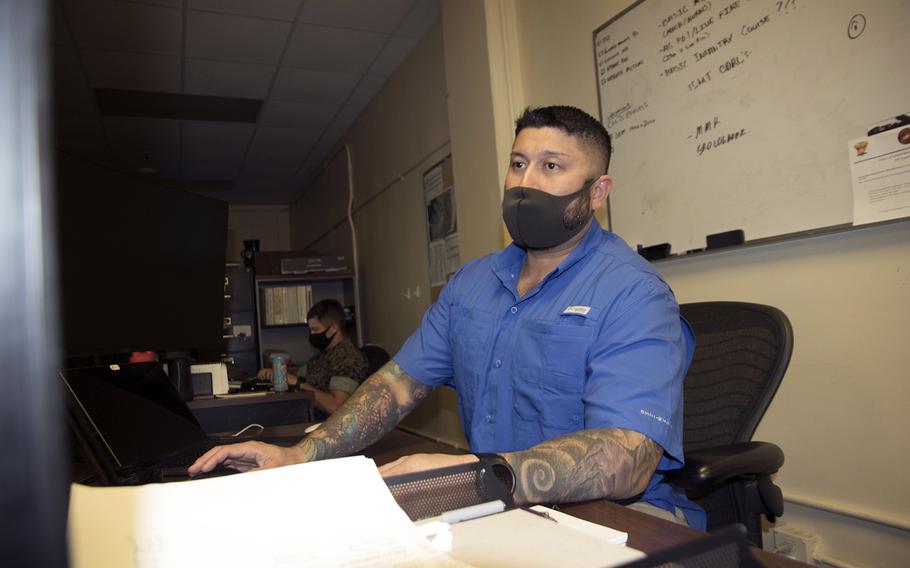 CAMP FOSTER, Okinawa — A 52-year-old Okinawan man may have jumped to his death late last month had Marine Corps contractor Joe Ornauer not come along the bridge that day.
The man lost his job due to COVID-19, then his house and finally his family, Ornauer, 36, recalled Wednesday from his office at Camp Kinser, where he serves as an instructor for 3rd Marine Logistics Group's indoor marksmanship simulator.
Ornauer said he, too, has experienced homelessness and empathized with the man. The former soldier and New York paramedic was also trained to save the man's life.
"He just wanted someone to listen to him," Ornauer said. "He was pretty distraught."
Aug. 24 started like any other day for Ornauer, who was driving to work on the Route 58 bypass in Urasoe around 7:30 a.m. when he saw a motorcycle parked on the bridge, packed with someone's worldly possessions.
Instinct told him to stop, Ornauer said. As traffic began to pile up behind his car, he saw a man on the outer side of the bridge's railing, standing on rickety aluminum scaffolding, looking down at a concrete surface 90 feet below.
Ornauer said he thought the man was a construction worker at first but knew something wasn't right after noticing his attire: T-shirt, sweatpants and flip flops.
Ornauer, who has a Japanese mother and an American father, spoke to the man in Japanese. His father is longtime Stars and Stripes sports reporter Dave Ornauer.
"I rolled the window down and I asked him, 'What are you doing?' " Ornauer recalled. "He said he was going to jump. I said, 'No, you're not.' "
Ornauer's suicide response training from being a paramedic kicked in. He exited his vehicle and approached the man, being careful not to get too close.
"I started talking to him, making eye contact, trying to get him to stop looking down at the concrete area he was about to jump into," Ornauer said.
The man told him about everything he'd lost. He had been crying for a while and had "a lot of stuff built up around his eyes," Ornauer said.
"I told him, 'Come over; let's talk,' " Ornauer recalled. "He was saying he doesn't have anybody that would listen to him, what his problems are. I said, 'I'll listen to you.' "
Meanwhile, people below shouted for the man not to jump.
"I said, 'Let's sit here and talk and we'll figure out what's going on,' " Ornauer recalled. The man then climbed back over the railing from the scaffolding, and the two sat on the bridge together.
Ornauer said he called Okinawa police after getting control of the situation. He stayed on the phone with them while continuing to chat with the man.
The man tried to get up twice, but Ornauer pressured him to stay seated.
Police arrived not long after and took over, Ornauer said.
A spokesman from the Urasoe police station confirmed Ornauer's account in a call with Stars and Stripes on Thursday. The homeless man has since been seeing a doctor for his mental health issues.
"He is now under the care of his family," the spokesman said. It's customary in Japan for some government spokespeople to speak to the media without giving their names.
Ornauer said he thinks of the man often.
"I pray for the guy every day," Ornauer said. "I hope everything turns out OK for him."
The Marines whom Ornauer supports called him a "trusted member of the team" and "well respected" by all.
"These actions were very in line with his character," Capt. Adam Barrett wrote to Stars and Stripes. He is the tactical readiness and training assistant officer in charge and works closely with Ornauer.
"I was not surprised to hear that he had done something like this," Barrett said.
Stars and Stripes reporter Mari Higa contributed to this report.